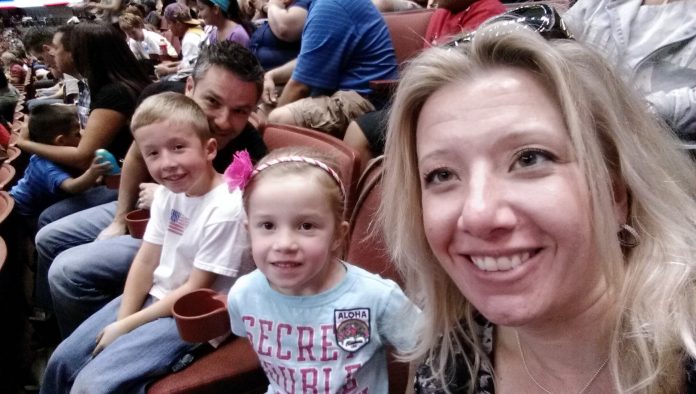 This site contains affiliate links. Please read our Policies for information.
You may have caught my earlier post letting you know we were heading to our first Harlem Globetrotters game, which was also our first event at the Honda Center in Anaheim.
Being that my husband and I grew up with the Globetrotters as a common name, we were both really excited to see our first game with Lil A, 6 years-old, and C, 8.75 years-old.  But part of us really wondered if what we remembered about the Harlem Globetrotters would still ring true so many years later.
Well, I am thrilled to share with you that we had a BLAST at the game on Saturday.  The tricks and fun and all of the Globie magic is still there; it was honestly quite refreshing to see that some things still remain the same in this fast paced world of ours.
If you not take time to read this whole post – please just take the time to watch this video of Big G's entertainment at the game.  I guarantee it will make you laugh. 🙂
If you are looking for some quality time with your family that will bring you together, I encourage you to get your tickets to the Harlem Globetrotters "You Write the Rules" tour!  "The Harlem Globetrotters love seeing families laugh together during our games, and would love to see your family when we come to a city near you.  If you're looking for an awesome event the whole family will enjoy, get your tickets to the Harlem Globetrotters "You Write the Rules" tour.  Your family's smiles will start before you even get to the game because this year, your family can vote at harlemglobetrotters.com, and decide rules for the game…Save $7 per ticket* by using the promo code "TOGETHER".  Get ready to experience a show your family will remember for a lifetime!  *Discount available on select ticket levels"
It was pretty awesome to see social media in action and see a special rule enforced for each quarter of the game.  Who would have ever thought we would see the day where we could tweet real time and have our vote change the rules of a sporting event?
Good old fashioned family fun that everyone can enjoy…that's our favorite thing as a family and the Harlem Globetrotters Game was exactly that.  Have you seen the Harlem Globetrotters or would you like to?
Disclosure: We received tickets as part of the Harlem Globetrotters affiliate program.  All thoughts and opinions are my own.