This site contains affiliate links. Please read our Policies for information.
Finding fresh healthy food when we are dining out as a family is always a plus for our family. Sharky's Woodfired Mexican Grill recently invited our family to come experience their menu; with fresh food at the heart of their restaurant everyone was excited to try their food.
Sharky's Woodfired Mexican Grill offers an expansive affordable menu with healthy ingredients.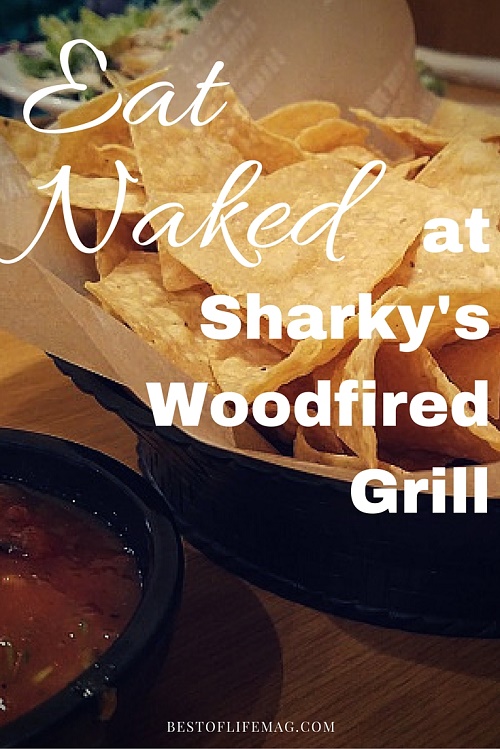 We grabbed a menu upon entering so we could all figure out what we wanted. The menu was well organized so it was easy to find what we were in the mood for. For our group of 4 adults and two children we each ordered more than enough food, drinks for everyone and an appetizer and our bill came in around $67. We are willing to pay more for quality and thought this price was very fair for food made fresh to order.
We were all very impressed with the fast service at Sharky's. Considering it was the noon rush hour and seats were almost full we expected to wait so were pleasantly surprised. The staff brought meals out as they were ready which was also nice with our larger group and hungry kids. We would definitely recommend starting with Sharky's chips and salsa so you can experience their salsa bar to the fullest.
I love an awesome salad as does my step-mom so we both ordered the Sharky's Salad. The half portion was huge and comparable to the size of most salads served at restaurants. I ordered the full sized salad and happily ate my leftovers the day after for lunch. I would love to be able to put any salad in a tostada but that was not an option; that would have been my true happy place.
The kids opted for a cheese quesadilla and my dad did as well with added chicken. They were both made to perfection offering flavor that not only makes a wonderful meal but also perfect to share or enjoy as an appetizer.
Now onto the nachos.
Served on a pizza pan, they certainly got our attention when they were delivered to the table. The nacho meat was tender; steak nachos can be rather beef jerkeyish so the quality meat was very appreciated by my nacho aficionado husband. The tomatoes were juice and added flavor throughout.
We would recommend asking for less beans if you aren't a huge fan as there are a lot in this dish. And it would be nice to have the option of refried beans as well.
All ingredients in our dishes at Sharky's were fresh including the quacamole and the salads were green and crisp which can both be hard to find at restaurants. With food that is locally sourced, natural and organic whenever possible, Sharky's Woodfired Mexican Grill is a natural choice for anyone that wants to enjoy delicious food when dining out without the time needed for dining at a full service restaurant.  Sharky's makes eating naked easy.