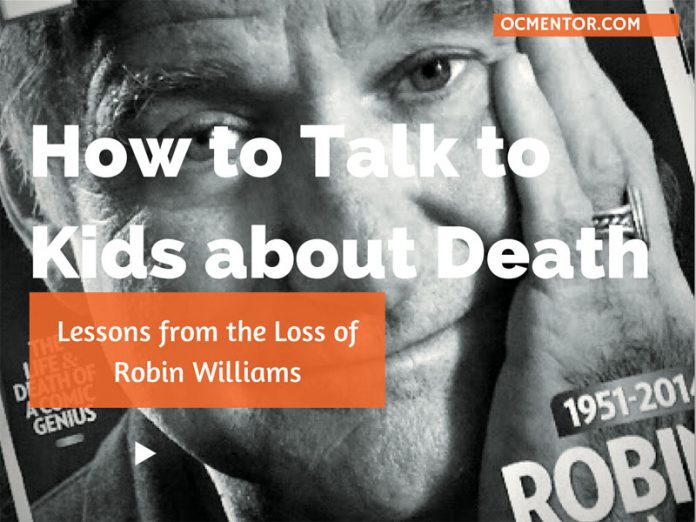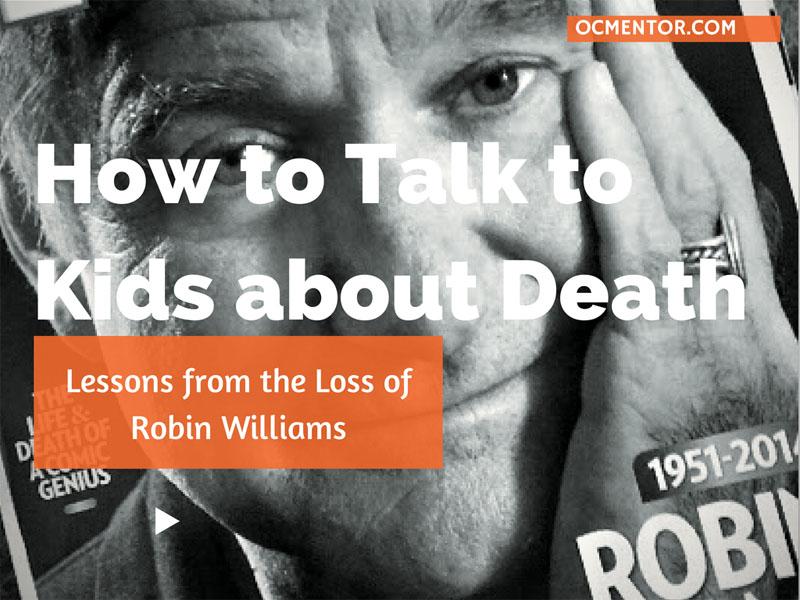 This site contains affiliate links. Please read our Policies for information.
This week we lost an amazing person that entertained us for decades.  As I heard the tragic news that Robin Williams died, I reflected on how much I loved the characters he played in movies and was filled with so much sadness.  As news spread rapidly, I noticed that my children received news from friends and social media on his death and had their own thoughts and feelings.  Dealing with death is never easy but there are some key points that can help as you talk to kids about this sensitive topic.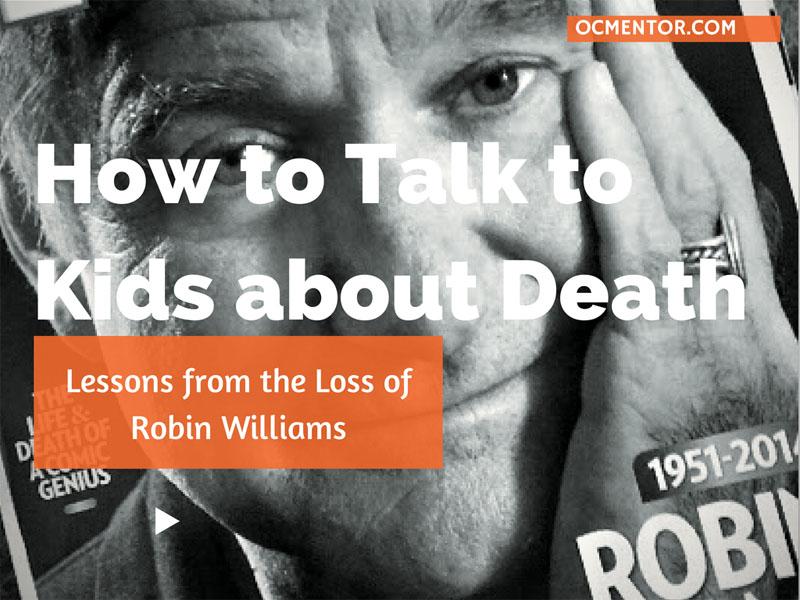 This week we lost Robin Williams. Dealing with death is never easy but there are some key points that can help as you talk to kids about this topic.
After our conversation, it got me thinking about the importance of helping children understand death in a way that would be helpful whether it happens within or outside our families.
Educate
One of the most helpful things you can do for a child that has suffered a loss is to educate them on the experience.  This doesn't need to be an intense process, but more of an opportunity to learn about a natural process that everyone goes through in their lives. "When Dinosaurs Die. A Guide to Understanding Death", written by Laurie Krasny Brown and Marc Brown is a heartfelt and informative book to help children and families understand death. What I like about this book is that it covers key points to educate young children and families understand death.  For example, in the book, the characters explain the difference between being alive and being dead.  It also describes the different ways people die in a way that children can understand and process.  It also normalizes the different types of feeling states that children might have after they lose a loved one and what parents can say and do to support them. Lastly, the book offers support and activities a child can do as it relates to saying goodbye to a loved one.
Safety and Routine
After a child experiences the death of a loved one, your home needs to be a place of safety and routine.  This also applies to a death that may impact them that is not necessarily someone within the family or a close loved one.
Although there might be a lot of things going on, try your best to keep things within your home as simple as possible.  After a loss, your child's world will be turned upside down and so the more "regular" you can keep things, the better.  Of course, different people grieve in different ways, but if your child knows that their home is a safe place, it is a place they can heal. Safe and simple, doesn't mean that you take them out of things they normally do, but you might ask them how they feel about it.  For example, if your son or daughter loves sports, you may want to keep the same schedule or ask them about what they prefer.  Sometimes being active and doing what they used to do before the loss, can be very helpful in getting things back into balance.  If however, they don't want to do the things they enjoyed, that's okay too.  But try and introduce some kind of regular routine in the next couple weeks because that could be of great support to them.
Listen and Validate
After a loved one dies, it's invaluable to listen and validate your child. Some children will ask a lot of questions and want to "do" a lot in memory of the loved one and others may just need some quiet time. Whatever way your child responds, try and offer them what they might need to find validation. For example, a couple weeks after my stepfather died, my ten-year-old son asked if he could write a report at school to honor his grandfather for his "hero report".  His grandfather had served in the war and that was something he learned about at the memorial service. After getting approval from his teacher,  my son spent time researching his grandfather in greater detail. In the end, writing the report turned out to be both a touching tribute and a helpful way for him to process the loss.  Just by listening and validating, you'll be surprised at the inherent wisdom your children have about how to process the loss.
Get Support
After a family loss, it's important to find support for yourself and your family. It's not something you need to do right away but is essential to offer your children as a tool for healing. One great resource is a nonprofit called Hello Grief. It's a nonprofit that offers support and resources on grief and loss (www.hellogrief.org). Another resource for children is Comfort Zone. Comfort Zone is a wonderful resource for families and offers bereavement camps and support for children ages 7-17 (www.comfortzonecamp.org). Another helpful family resource is a nonprofit organization called Gary's Place. Gary's Place provides grief support to children ages 3-18 and their families, who have experienced the loss of a loved one due to death (www.gpfk.org).
Finding support and resources is invaluable because it is within those organizations that children and families get the education, support, and encouragement they need to heal and recover.