Dairy Free Instant Pot Recipes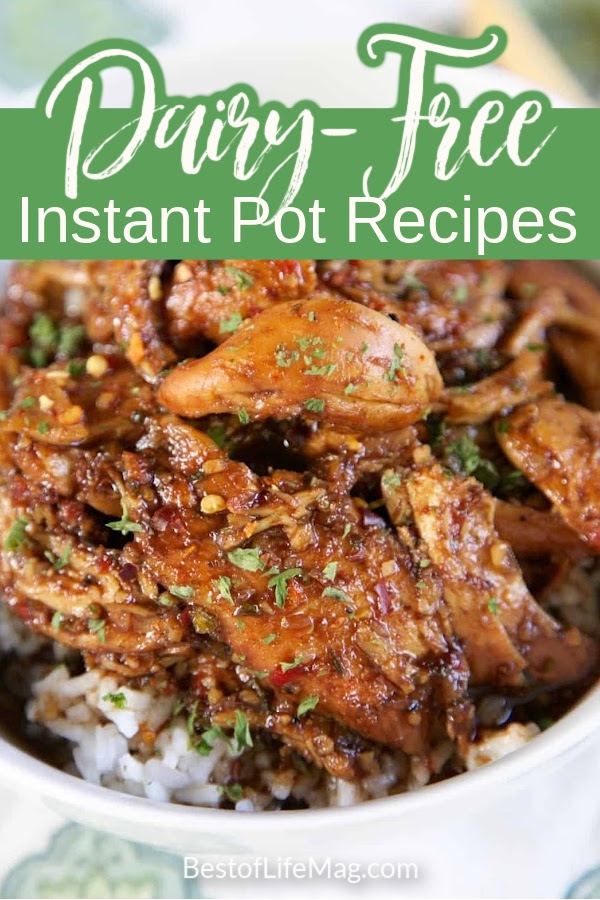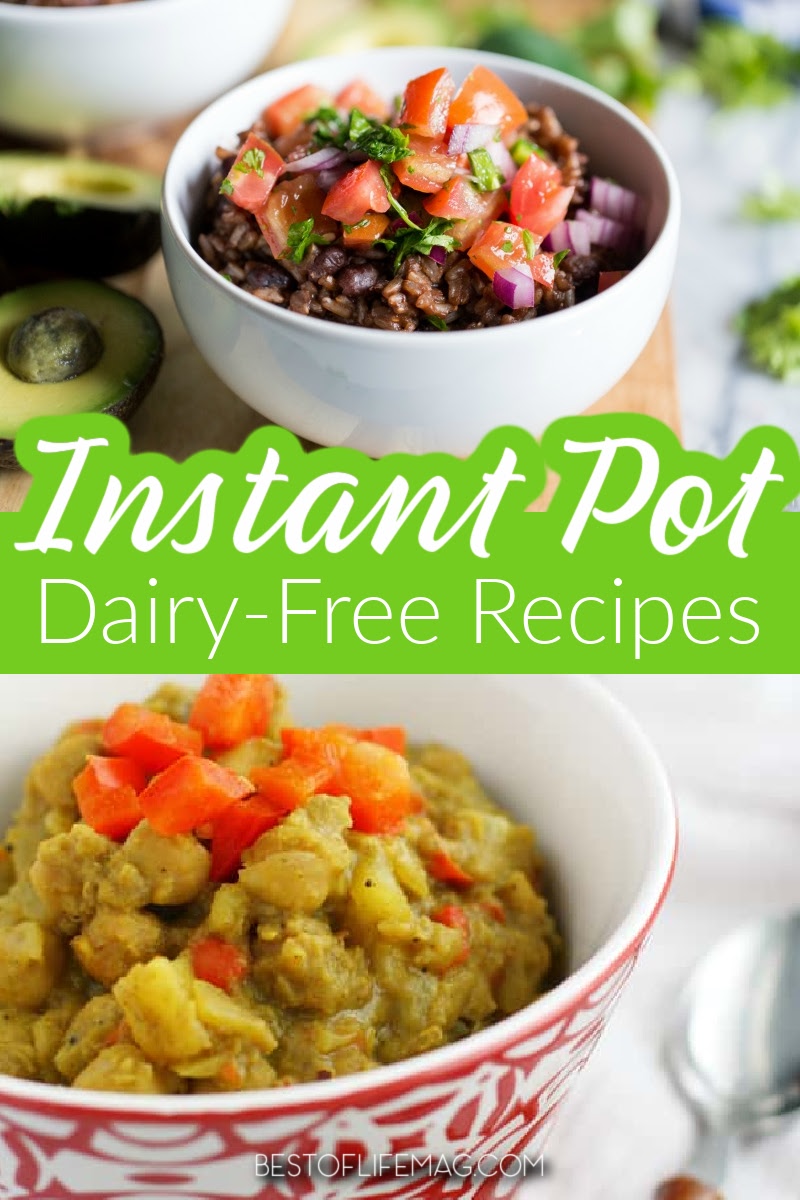 If you're not familiar with the instant pot, let me introduce you! Basically, the instant pot combines the best features of both a pressure cooker and a slow cooker. It can take the place of so many different kitchen appliances, it makes quick work of almost any recipe even dairy free Instant Pot recipes!
One thing that always happens with these kinds of devices: recipes pop up EVERYWHERE. This is great because there's nothing worse than having a new toy and not knowing what to do with it, but there can be a lack of recipes that take into consideration food allergies.
The Instant Pot is a great way to create tons of different recipes in no time! These dairy free instant pot recipes are delicious while honoring dietary restrictions or food allergies. Now that the instant pot is so popular there are tons of amazing recipes that are also dairy free.
Finding recipes that take into consideration food allergies can be difficult, luckily for you, we have a bunch of dairy free instant pot recipes to share with you today!
Dairy Free Instant Pot Recipes
Instant Pot Low Carb Beef Stew | The Best of Life Magazine
Instant Pot Keto Chili – Without Beans | The Best of Life Magazine
Curried Lemon Coconut Chicken | Kitchen Stewardship
Coconut Yogurt | The Primal Desire
Vegan Broccoli Cheese Soup | Pancake Warriors
Tapioca Pudding | Chestnut Grove Academy
Flavorful Dairy Free Recipes
Never fear, dairy-free doesn't mean bland soups or cream of mushroom without the cream! These recipes will SHOCK you, they're delicious and you won't miss that dairy even a little bit! These recipes are filled with flavor and good flavor, at that.
Living a dairy free diet was once a very boring thing to do but things have changed. People have discovered new ways around lactose and dairy in general. That is why you can now enjoy so many different recipes that fit into your healthy diet and are delicious.
Mexican Casserole | My Plant-Based Family
Beef Stew | Wright Things
Potato Soup | Veggie Inspired Journey
Pad Thai Gluten Free | The Bettered Blondie
Greek Chicken and Rice | What Molly Made
Maple Smoked Brisket | Bare Root Girl
Dairy Free Instant Pot Recipes
By now you've discovered the fact that there is a plethora of amazing recipes for the instant pot, dairy free or not this is one versatile machine! You'll have a blast trying out all the awesome settings; it never gets old, finding new things to cook, bake, and create in the kitchen appliance.
In fact, you can make so many diverse types of recipes in an instant pot. You might be worried that you won't find any dessert on this list…wrong! There are a few coming up so make sure you check them out! You can make your entire meal or entire day completely dairy free and delicious.
Berry Crisp | Confessions of a Fit Foodie
Arborio Rice Pudding | Kiss Gluten Goodbye
Apple Cider Sourdough Bread Pudding | All the Nourishing Things
Apple Cake | The Soccer Mom Blog
Banana Bread | Real Food Real Deals
Chocolate Pudding | Recipes to Nourish
Variety of Recipes
I love that there are so many awesome roast recipes out there for the instant pot. It never ceases to amaze me how fast the instant pot can cook these large pieces of meat without drying them out! I guess it really is all in the name.
Perhaps the most amazing thing about the instant pot is that you can make everything from soups and stews to yogurt and cake in this sucker. It does a little bit of everything; it can even make perfectly cooked rice! They say the spice of life is variety and you will definitely get that variety from your instant pot.
Ham & Potato Soup | The Clean Eating Couple
Chicken Curry | Real Food with Jessica
Sweet Potato Turkey Chili | Shuangy's Kitchen Sink
Salsa Verde Chicken | The Wooden Skillet
Tuscan Chicken Pasta | Urban Bliss Life
Egg Roll Bowl | Get Inspired Every Day
Never Bored
Have you found any must try recipes yet?!? There are so many awesome dairy free recipes here that I'll never be bored of cooking with my new favorite appliance. If you find yourself in a dairy free but you should definitely save some of these amazing recipes to try.
Buffalo Chicken Dip | The Healthy Consultant
African Peanut Stew | Cotter Crunch
Crack Chicken | Mama Knows Gluten Free
Zuppa Toscana | Beauty and the Bench Press
Cajun Pasta | Mary's Whole Life
Potato Leek Bacon Soup | Munchkin Time
More Dairy Free Recipes
Slow Cooker Chicken Tortilla Soup | Crockpots are also a great tool to utilize when you're living dairy free.
2B Mindset Buddha Bowl with Dairy Free Sauce | There are so many ways to enjoy a meal than you may have realized when you relied on dairy.
Chicken and Veggies Sheet Pan Dinner | You can have an entire meal cooked on one sheet pan and make little mess.
Crock Pot Dairy Free Beef Stroganoff with Coconut Milk | Coconut milk is such a great ingredient. This "milk" adds flavor and has a similar consistency as cow milk which is why it is perfect.
Shredded Chicken Tacos Crockpot Recipe | Taco Tuesdays may be a little difficult without cheese, but this recipe will give you enough flavor that you won't miss the cheese. If you're just Save