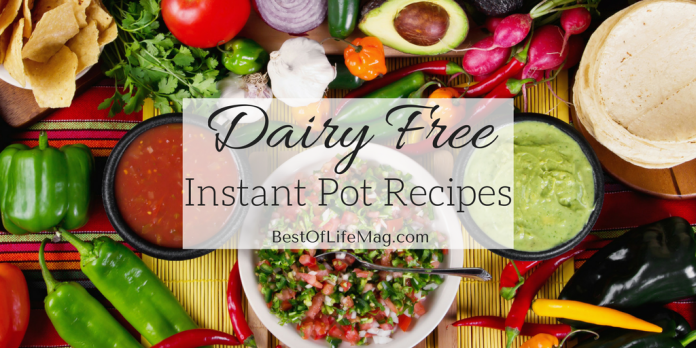 This site contains affiliate links. Please read our Policies for information.
If you're not familiar with the instant pot, let me introduce you! Basically the instant pot combines the best features of both a pressure cooker and a slow cooker. It can take the place of so many different kitchen appliances, it makes quick work of almost any recipe! One thing that always happens with these kinds of devices: recipes pop up EVERYWHERE. This is great because there's nothing worse than having a new toy and not knowing what to do with it, but there can be a lack of recipes that take into consideration food allergies.
Now that the instant pot is so popular there are tons of amazing recipes that are also dairy free. Finding recipes that take into consideration food allergies can be difficult, luckily for you we have a bunch of dairy free instant pot recipes to share with you today!
If you prefer to stay away from dairy products or if you need to avoid them for health reasons, you can still enjoy the instant pot and all it offers in the kitchen. Check out some of these amazing recipes, they're all dairy free!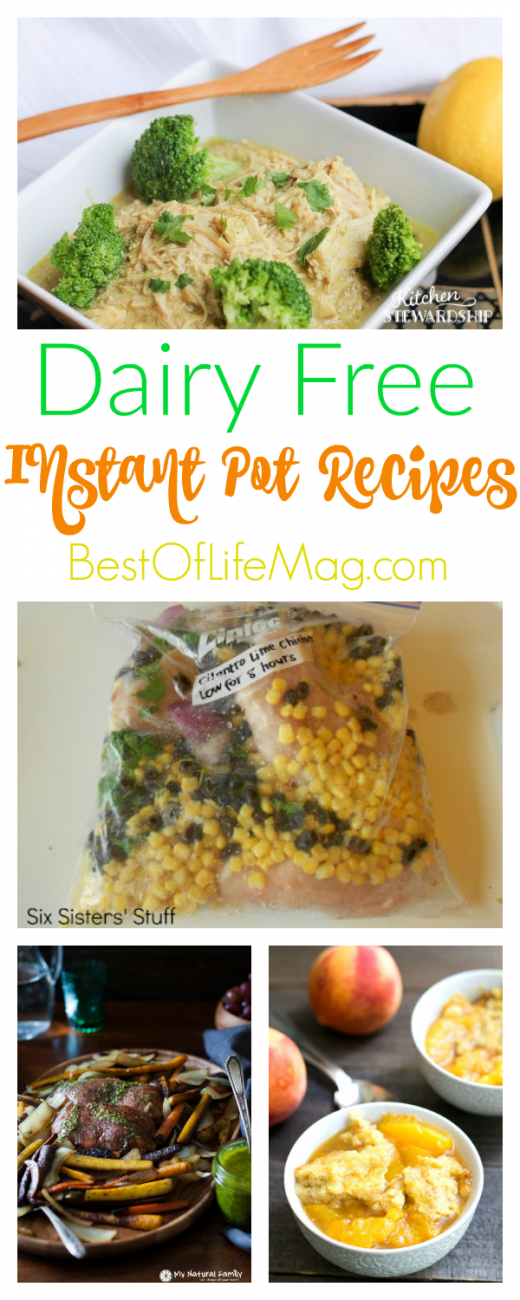 Dairy Free Instant Pot Recipes:
Curried Lemon Coconut Chicken from Kitchen Stewardship
Coconut Yogurt from The Primal Desire
White Chicken Chili from My Natural Family
Pulled Tandoori Chicken from The Big Mans World
Crockpot Mongolian Beef from Once a Month Meals
Never fear, dairy free doesn't mean bland soups or cream of mushroom without the cream! These recipes will SHOCK you, they're delicious and you won't miss that dairy even a little bit!
Vegan Broccoli Cheese Soup from Pancake Warriors
Cream of Mushroom Soup from Making Thyme for Health
Tapioca Pudding from Chestnut Grove Academy
Cilantro Lime Chicken from Six Sisters' Stuff
White Bean Chicken Chili from The Pretty Bee
By now you've probably discovered the fact that there are a plethora of amazing recipes for the instant pot, dairy free or not this is one versatile machine! You'll have a blast trying out all the awesome settings; it never gets old, finding new things to cook, bake, and create in the instant pot.
Maple Smoked Brisket from Bare Root Girl
Tortilla Soup from My Natural Family
Beef Stew from Wright Things
Italian Chicken from The Frugal Girls
Curried Mango Pork from Ziploc
You might be worried that you won't find any dessert on this list…wrong! There are a few coming up so make sure you check them out!
Crockpot Beef Stew from Graciously Saved
Greek Chicken from Two Under Two Blog
Potato Soup from Veggie Inspired Journey
Coconut Curry Chicken from Twin Dragonfly Designs
Taco Chili from Grace and Good Eats
I love that there are so many awesome roast recipes out there for the instant pot. It never ceases to amaze me how fast the instant pot can cook these large pieces of meat without drying them out! I guess it really is all in the name…
Rosemary Dijon Chicken and Potatoes from Ziploc
Slow Cooker Pork Chops with Sweet Potatoes and Apples from 5 Dollar Dinners
Mexican Casserole from My Plant Based Family
Pot Roast from My Natural Family
Apple Dump Cake from Mom's with Crock Pots
Rice Pudding from Low Carb Yum
Chili Spiced Pulled Pork Burrito Bowls from My  Natural Family
Perhaps the most amazing thing about the instant pot is that you can make everything from soups and stews to yogurt and cake in this sucker. It does a little bit of everything; the instant pot can even make perfectly cooked rice!
Blackberry Cobbler from Mom's with Crock Pots
Peach Cobbler from Real Food Real Deals
Marinated London Broil from Two Under Two Blog
Honey Teriyaki Chicken from Twin Dragonfly Designs (use tamari instead of soy sauce)
Pepper Steak from Ring Around the Rosies (use tamari instead of soy sauce)
Taco Soup from Ring Around the Rosies
Have you found any must try recipes yet?!? There are so many awesome dairy free instant pot recipes here that I'll never be bored of cooking with my new favorite appliance. If you find yourself in a dairy free rut you should definitely save some of these amazing recipes to try.
Honey Rosemary Chicken from Making Our Marx
Ranch Chicken Dinner from Mom's with Crock Pots
French Dip Sandwiches from Six Sisters' Stuff
Crockpot Beef Fajitas from New Leaf Wellness
Chickpea and Potato Curry from The Pretty Bee
Sweet Garlic Chicken from Plain Chicken
If you're just starting out with the instant pot craze here are some must have item!
If you're just Save