This site contains affiliate links. Please read our Policies for information.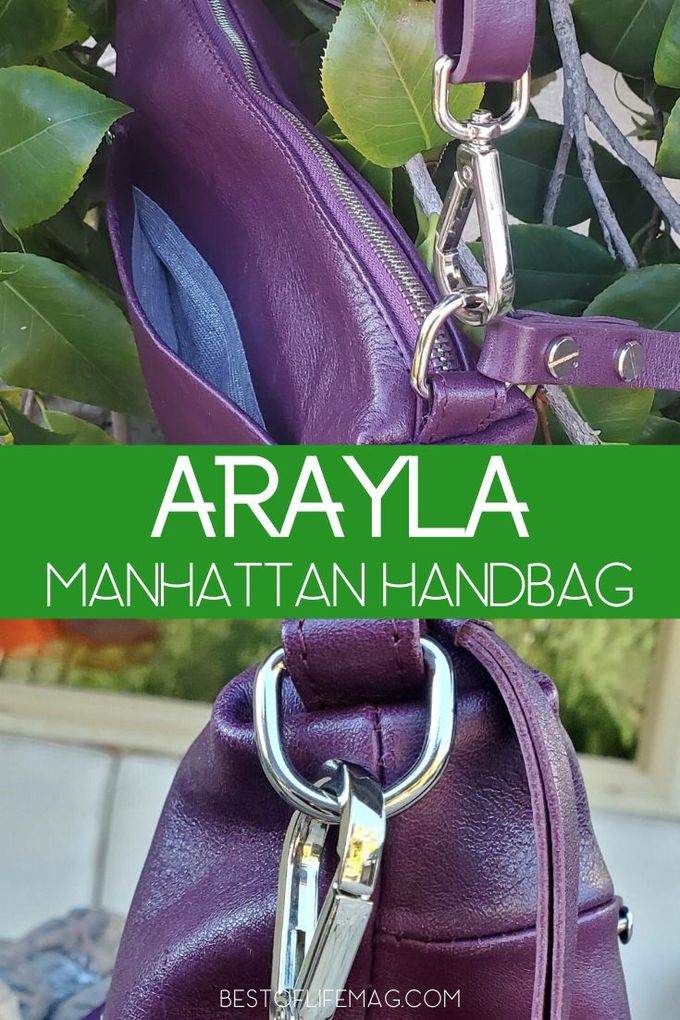 It's no secret I love handbags. Every woman has her vice and handbags are mine. They are a form of expression, much like a good pair of shoes, and provide not only the features I need for my day, but are a form of self-expression each day as well. My family often laughs at me because I often have three to four handbags out so I can easily rotate between them. And regardless of how many I have, there is always room for more when I find a handbag that has something special like the Arayla Manhattan.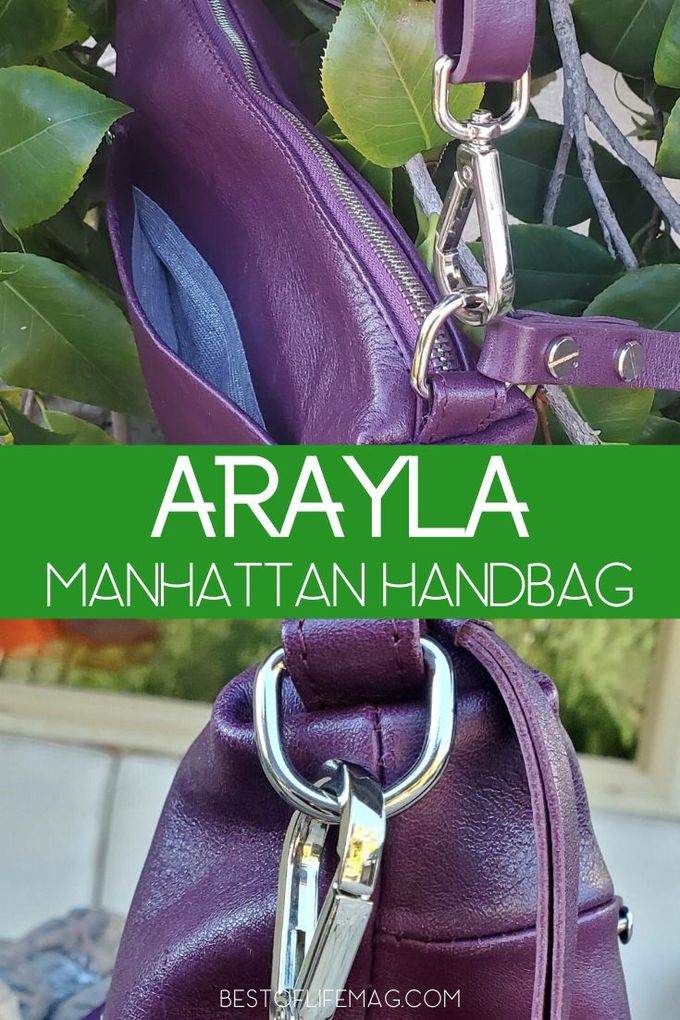 The Arayla Manhattan handbag is chic and functional making it a must have handbag and you can save 10% with this Arayla coupon code.
Arayla Leather and Brand
The rich plum sheen leather was what first caught my attention when shopping for a high-end crossbody handbag. The purple tones are definitely deeper to start, but as the leather ages, the eggplant takes on the plum sheen tones.
The leather on the Manhattan is incredibly smooth to the touch. I knew I wanted this handbag to be a workhorse for me; the silky leather has not needed any babying or extra care. In fact, I simply go about my day and as you can see from the photo, the corners and overall look and feel of this butter leather from Arayla handles it all.
Arayla prides itself on providing customers the luxury and high-end features they desire in a handbag without excessively high prices – an accessible luxury. They have full sight over their production channels to ensure each item stands true to the Arayla brand.
Personally, I love supporting companies that stand behind companies like Arayla that can proudly say, "Made in the USA". Arayla handbags are crafted in small batches by expert leather artisans in a family-run atelier in Los Angeles, California.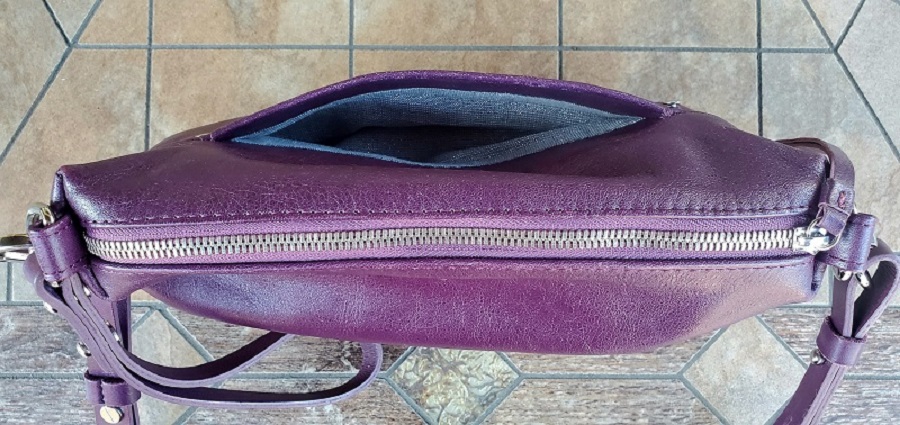 Arayla Manhattan Handbag and Features
Now for the details! The Manhattan is that bag that I personally think almost every woman craves in their stash. Measuring 11.5″ wide x 7 inches high x 2" deep, the Manhattan is not too big, yet not too small, and versatile in how it can be worn.
The zipper is buttery smooth just like the plum sheen leather! As a working mom, it seems I can always use an extra hand; being able to zip and unzip the Manhattan with one hand is a prized feature for me. Quite honestly, a zipper tells a lot about a handbag and the attention or lack thereof that a company gives its products. There are many designer bags that simply do not deliver the high-end quality of the zipper that Arayla handbags feature.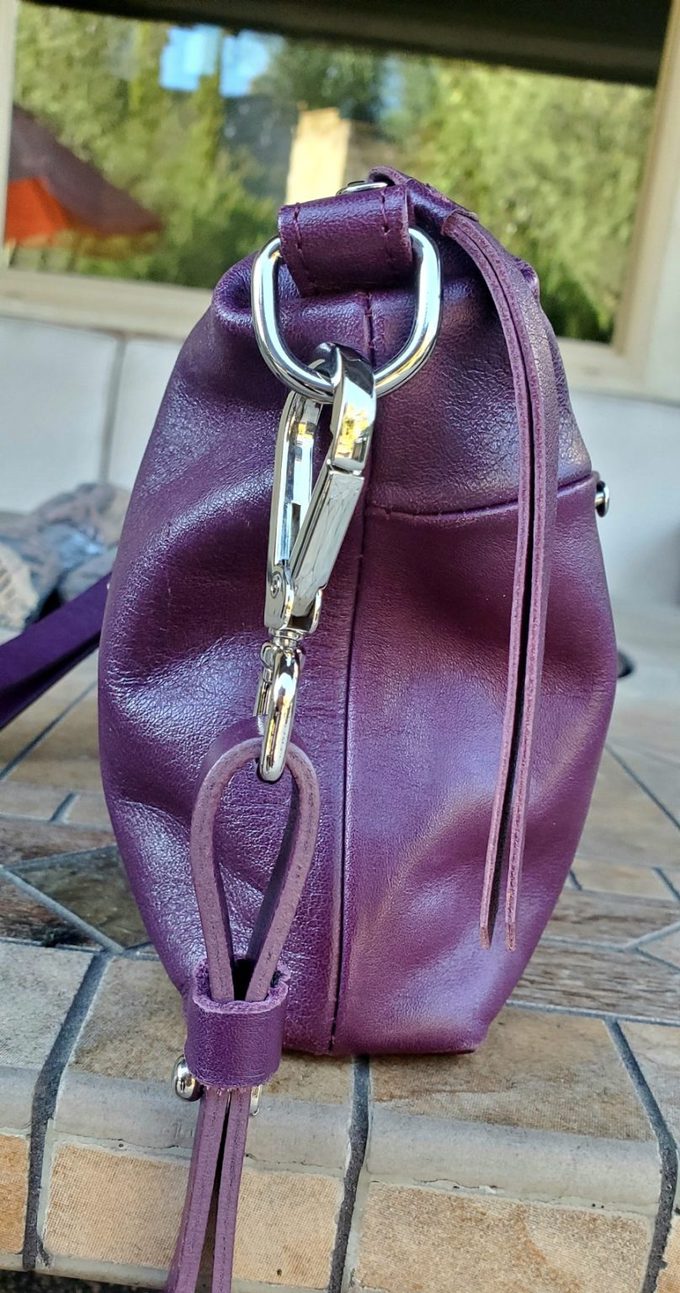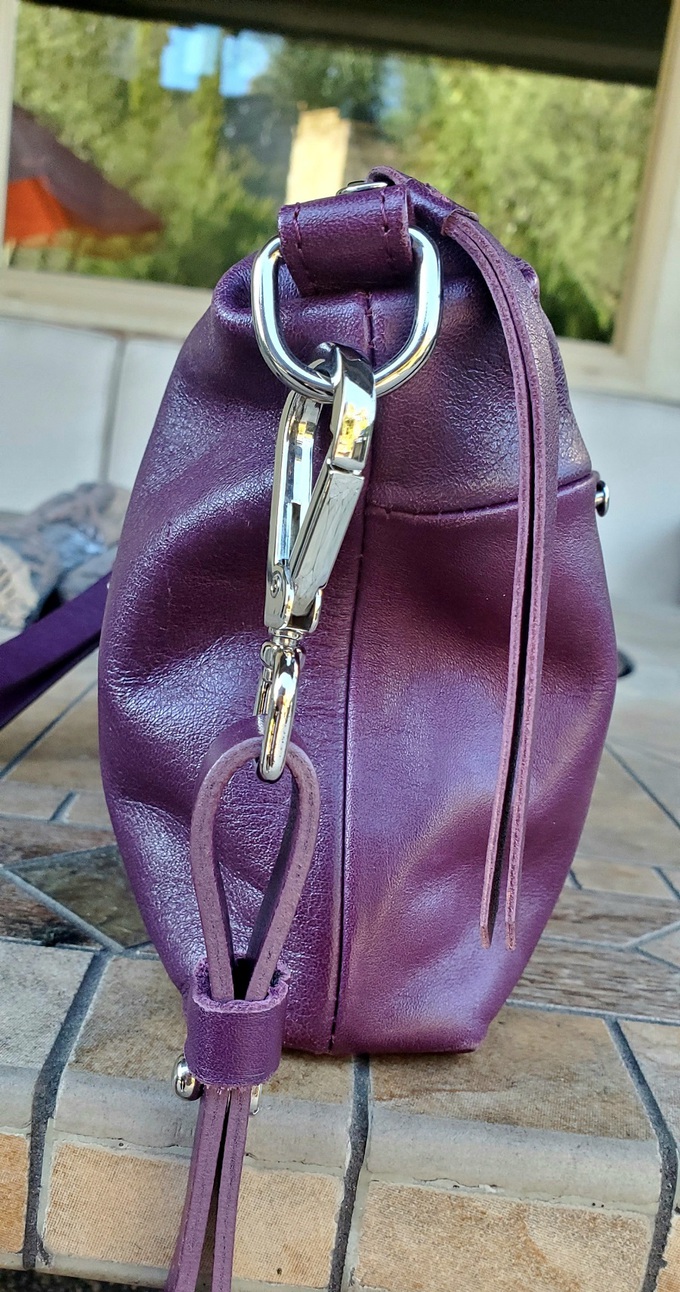 As with all Arayla interior lining colors and textiles, the grey metallic offers a touch of subtle glam making it easy to find everything inside. It features a front exterior slip pocket that holds most phones. I have the Samsung S10+ and with a case, the phone technically fits in the slip pocket. However, I was straining the edge seems too much so choose to just put my phone in the main compartment.
The wrist strap on the Arayla Manhattan is a beautiful and functional feature. In fact, I frequently find myself grabbing that strap as I get in and out of the car. The 24-inch extendable strap easily goes cross body and can be shortened for use on the shoulder if desired. On a recent weekend on our boat, I loved having the ability to detach the long strap so I could use the Plum Sheen Manhattan tucked under my arm as a classy chic evening bag.
Arayla Coupon Code
The Arayla Manhattan retails for $248.00. Use our coupon code "THEBESTOFLIFE" to save 10% at Arayla. Check out the Manhattan, browse their full collection of handbags and small leather goods, and be sure to let us know what you buy!
Cheers!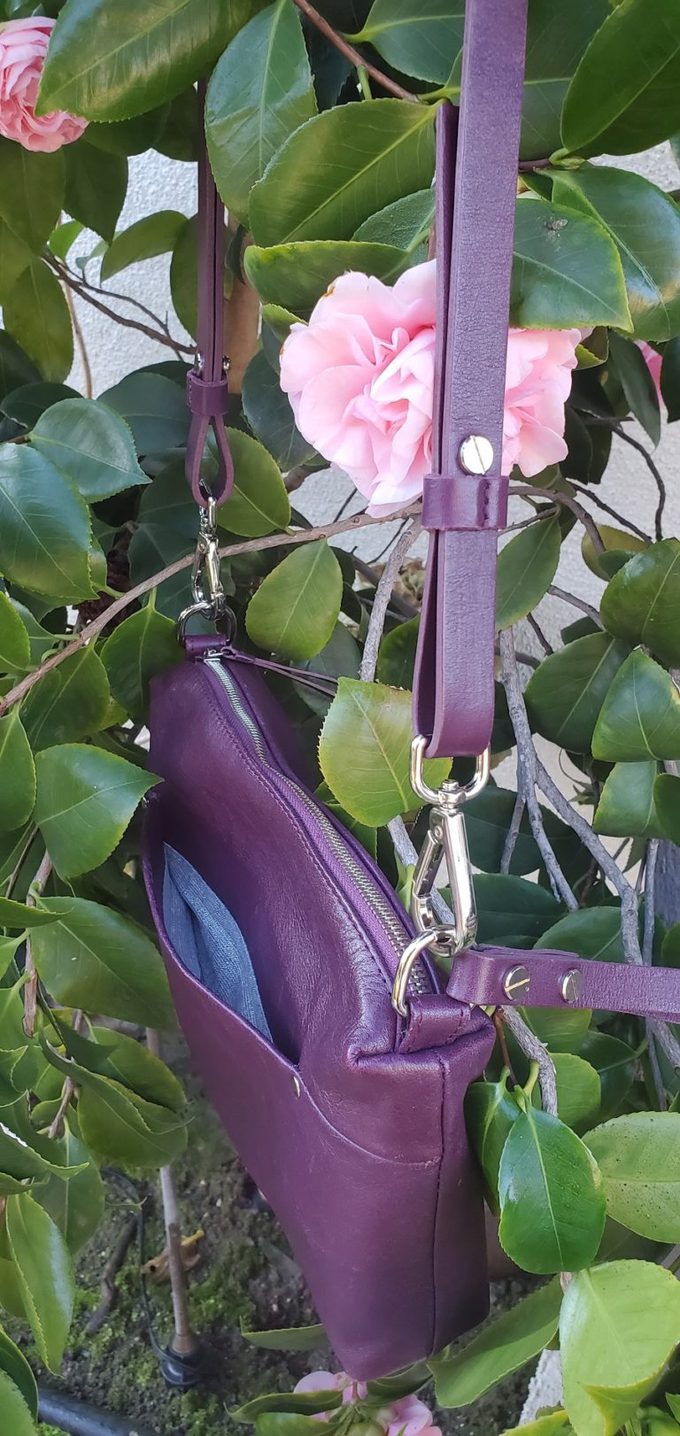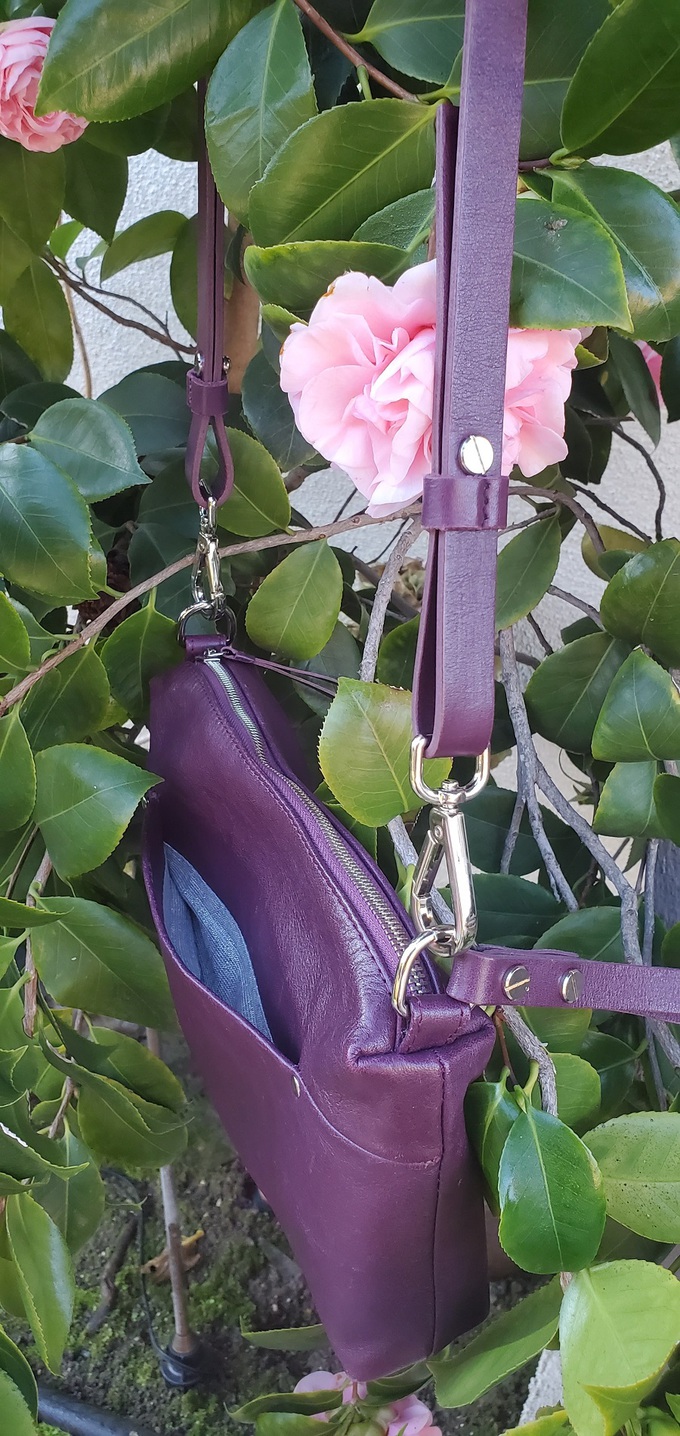 More Fashion and Beauty
Scoop NYC Fashion Shopping Destination
Backpacks Can be Fashionable with the Bleecker Backpack
Bose Sunglasses with Speakers – Rondo vs. Alto
Invisalign® Smile Journey: 14 Month Treatment Before and After