Vegetarian Crockpot Freezer Meals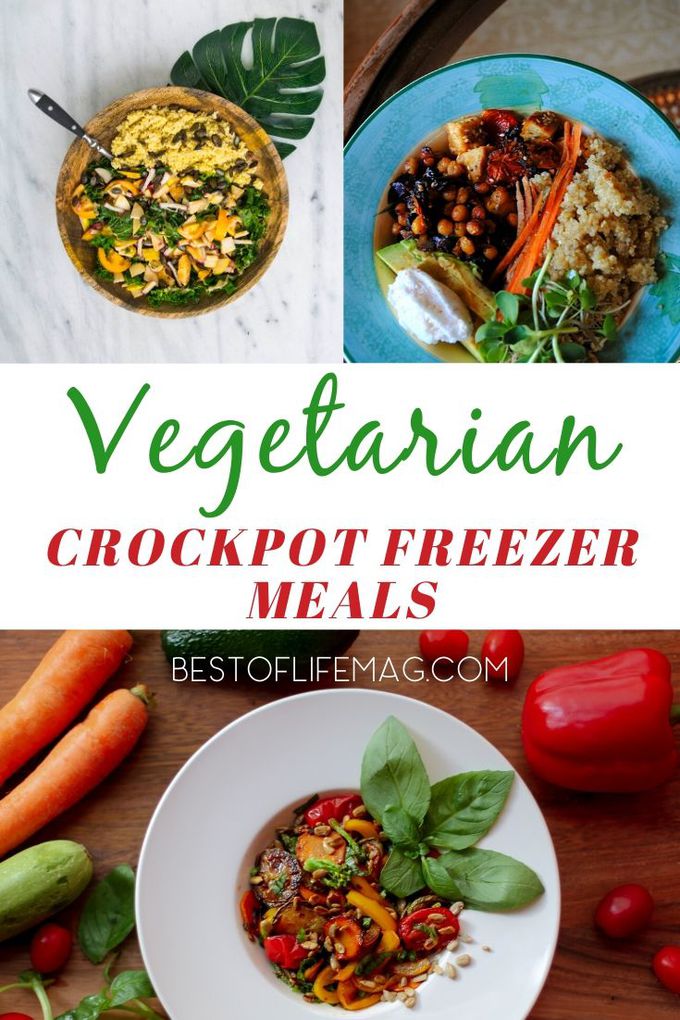 You may assume that a crockpot is meant for meat-eaters only. After all, meat is what we like to cook low and slow. But there are a lot of vegetarian crockpot recipes that are just waiting to be made. But it gets even better. Freezer meals are perfect for saving time and making dinner easy. You could simply fill a freezer bag with the ingredients for a recipe, store it in your freezer, and thaw it out in the fridge when you want. Dump the freezer bag into the crockpot in the morning then set it and forget it. Life doesn't get much easier than that. In fact, you can get vegetarian crockpot freezer meals that are waiting to be made.
Vegetarian crockpot freezer meals make meal planning easy on busy days and provide a healthy meal that can be served alone or with protein on the side.
There are a couple of different versions of a freezer meal but the idea is the same. Think of your freezer bag like a frozen dinner from the freezer aisle. All of the ingredients are there, it just needs to be cooked.
Unlike a frozen dinner, the ingredients will not be precooked, you will have full control over the quality of these ingredients, and it will be easy.
That means you can make just about any type of meal you want, even vegetarian. Vegetarian crockpot freezer meals are better than most freezer meals.
That is because they will be healthy, they will be fresh, and your life will become so much easier with the extra time you have on weekdays.
Enchilada Orzo | Damn Delicious
Butternut Squash and Quinoa Chili | Cook Nourish Bliss
Chard, Lentil, & Potato Soup | Oh My Veggies
Mushroom Barley Stew | Stock Piling Moms
Vegetarian Gumbo | Oh My Veggies
How to Freeze
Many of these recipes come with freezing instructions. However, vegetarian crockpot freezer meals are different than those that contain meat.
For example, might not be a good idea to freeze some animal products, which could even be dangerous. But vegetarian recipes don't have animal products in them.
That means all you need to do is gather the ingredients, fill the freezer bag, label it, and you're ready to go.
Teriyaki Veggies & Rice | What Vegan Kids Eat
Indian Lentils and Kidney Beans | Healthy Slow Cooking
Slow Cooker Barbecue Chickpeas | Real Food Whole Life
Vegetable Stew | Real Simple
Lentil Bolognese | Simply Whisked
Vegetarian Crockpot Freezer Meals
These meals are meant to make life easier for anyone who makes them. However, there is a bit of planning that goes into making freezer meals. You will want to make sure you have enough meals for at least the week.
You could also make as many meals as you can fit in your freezer. The planning comes in when you go to prep each recipe.
You will want to make sure you have all of the ingredients, just like any other recipe. But that also means you will need all of the ingredients for the dozens of recipes you plan to make at once.
Panettone Bread Pudding | All She Cooks
Red Lentil Curry | Pinch of Yum
Spicy Coconut Quinoa and Black Beans with Pineapple | The Joy of Eating
Roasted Sweet Potato Chili | Eating Bird Food
Red Sauce | Veggies Don't Bite
More Recipes
Low Carb Vegetarian Recipes for Dinner
Healthy Vegetarian Crockpot Recipes
Healthy Crockpot Granola Recipe | Gluten Free and Vegan Trail Mix