This site contains affiliate links. Please read our Policies for information.
On Tuesday I had the pleasure of joining 11 other amazing automotive journalists and talents in social media for the west coast 2012 #HerHighway 
#Kia
Drive for Breast CancerAwareness
.  It was a day I will not soon forget – filled with people, memories and an important cause.  Of course a breast cancer awareness drive would not be complete without some pink…these shoes reminded me of the cause throughout the entire day!  We met early – I mean really early – so we could beat traffic in LA and head out to Las Vegas!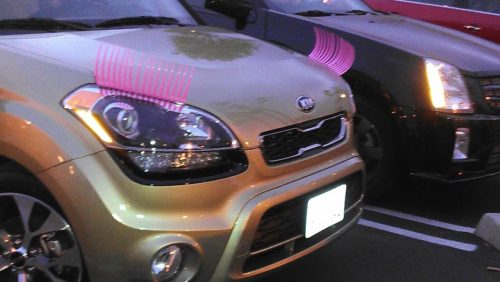 Before we left, we had to get our
Kias
prepped for their day, too, with some
Carlashes
.  
Honestly, does it get any cuter than that?
We turned heads left and right on the road with our Carlashes…people would honk to give us a thumbs up.  They were a hit!  I mentioned pink, right?  Even our cars were decorated inside with pink treats.  My hands down favorite part of the #HerHighway drive for breast cancer was the relationships that were built that day.  Each social media expert was paired with an automotive journalist in a
#Kia
car.
"Why?" You may ask? What better partnership for spreading awareness and hitting the social media outlets than to have an automotive journalist sharing their knowledge for hours as they drove?  We, as the social media team were able to tweet, Instagram, and #hashtag on the entire trip.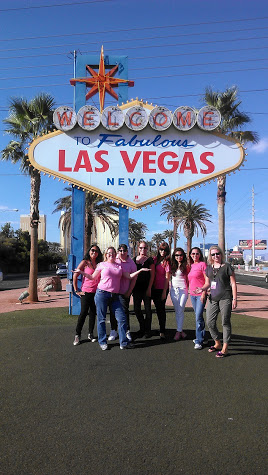 Learning from Christina Selter – the
HerHighway
Editor,  Anne Proffit – a HerHighway Contributor and car enthusiast, BJ Killeen from Drivers Talk, who is also a HerHighway contributor, Jo Coddington from MotorSports, James Hamel from Autobytel, and Scott Killeen, our photographer
(who is a bit of a car junkie himself)…
Well, let's just say the content was plentiful.
When we arrived in Vegas, our first stop was
Pole Position Raceway
for some indoor karting.  What a blast we had! The karts can hit speeds of 45 mph.  If you are going to be in Vegas or live in the area, Pole Position Racing would be great for business events, parties, and team building.
I can attest to the fact that it certainly helped unite our team and bonded us…even if a few of us almost took each other out. 🙂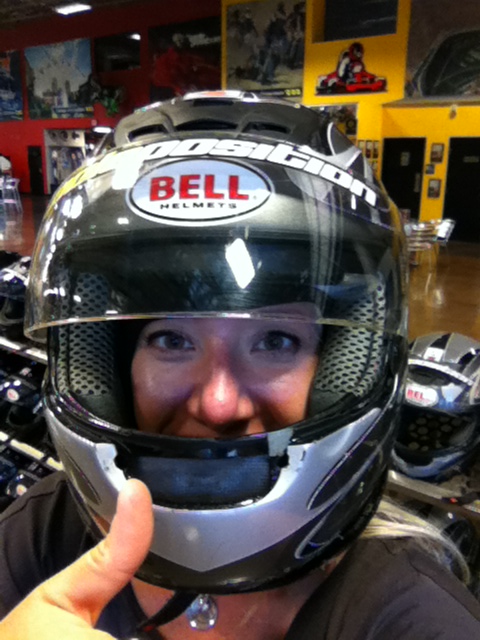 Pole Position Raceway 
has a 1/4 mile European style road course filled with racing memorabilia and arcade games and billiards.  I have been to a few indoor kart venues and found the layout much more spacious than others.  Check them out at polepositionraceway.com.
Next up?
ExoticsRacing in Las Vegas
.  Their exclusive 1.4 mile road course offers riders and drivers a true experience with the twists, turns, and an adrenaline rush like no other. They have fifteen supercars available including
Lamborghinis
, Ferraris, a McLaren, Porsches, Audi R8 V10, Mercedes, and an Aston Martin and Corvette.
They have earned their name and their claim to be
"The Ultimate Driving Experience"
– well, they have earned that too.  Take a look at the first few seconds of our rides in the Lamborghini Gallardo…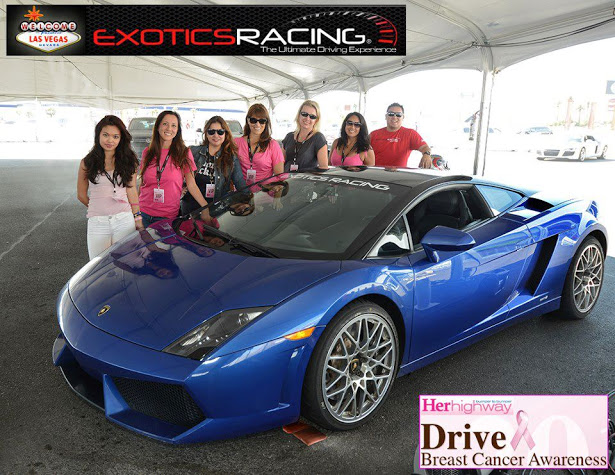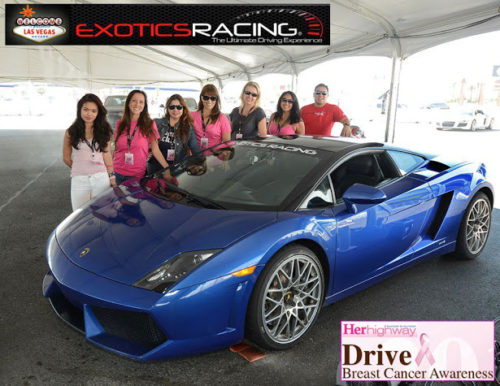 Do you remember earlier when I mentioned the social media talent? Here we are with the Lamborghini Gallardo. Rudy, our professional driver from Exotics Racing in Las Vegas handled the 550hp beautifully and topped out at 130 mph on my ride.
Our social media team also included Gina Mom aka @GinaMom on Twitter, Jeana Shandraw from @SurfNsunshine, Lala Castro over @SparklingLala, MaryAnne Wendt known as herself on Twitter, and Sugar Jones who you can find @sugarJones.
To be surrounded by talent is one thing, but support and friendship as well is another. Thank you for that ladies.
A huge thank you to
Kia
for the cars that made this entire event possible, to
Carlashes
for the eye catching auto detailing that made everyone turn and look at our Kias and our cause, to
Covercraft
for the awesome sunshades to help keep us cool,
BigTrain
for some protein to keep us hydrated and energized, and to
CoverGirl
for the most wear proof Lip stain I have ever used.
A big shout out to
Pole Position Raceway
in Las Vegas for some high speed kart racing with the girls and to
ExoticsRacing
for my first and utmost enjoyable ride in a Lamborghini with Rudy, our professional driver.
I WILL be back!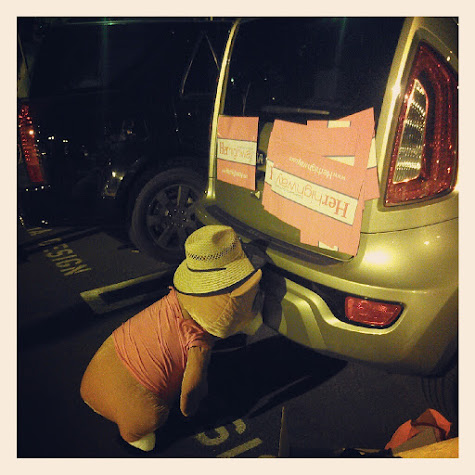 As I mentioned, this drive was to raise breast cancer awareness…are you a survivor or do you know someone who is?  You can donate to support a charitable organization of your choice through
http://www.crowdrise.com/HerHighway2012
.  It was a long day fulfilling day…LJ, our traveling hamster had had enough driving by the end of his day, too.