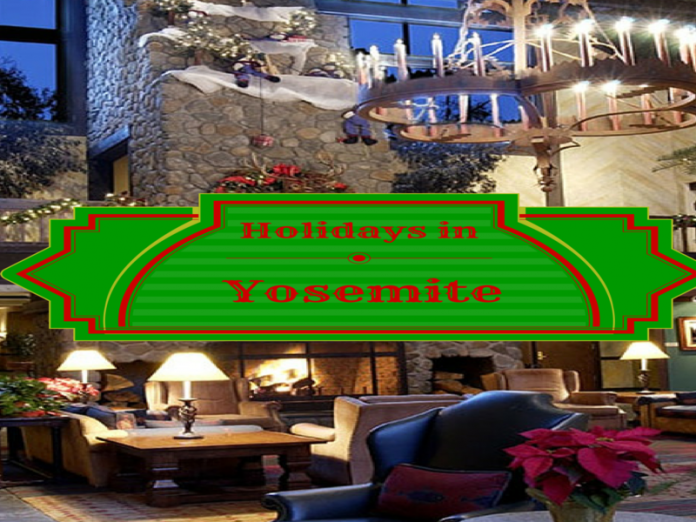 This site contains affiliate links. Please read our Policies for information.
The holidays are definitely here and there's so much to do. If you're thinking about doing some traveling over the holidays, you should definitely check out Yosemite National Park. Yosemite is not only one of the most beautiful places to be, but has some great holiday functions throughout the season.
Here is a list of things to do for the holidays in Yosemite. 
Yosemite Holiday Craft Bazaar December 5th from 11 a.m. to 6 p.m.
Being held at the Curry Village Pavillion, this craft Bazaar is a unique place to do some shopping. Support local artists, and get gifts that won't be found anywhere else from crafts, to foods. There will even be a silent auction.
 
Merry Mountain Christmas Parade Saturday Dec. 6th 5:30 p.m. and ends at 8:30 p.m
The season comes to life in downtown Mariposa. Take the whole family to the Christmas parade, and get photos with the star and his wife Mr. and Mrs. Claus.
Bracebridge Dinner Dec. 14th through Dec. 25th
Just like every family, Yosemite has their holiday traditions. Visit the Ahwahnee Hotel for this Yosemite tradition. There'll be dinner, live music performances, and dancing. Everything will be holiday themed and safe for children.
Christmas Activities Saturday Dec. 20th from 12-5 p.m.
visit Coulterville where Santa will be visiting with his elves. Every child will get a gift and then dinner will be served at the historic Coulterville School House.
 
Gingerbread Workshop Saturday Dec. 20th
Learn how to make an awesome Gingerbread  dream house. The Tenaya Lodge will have workshops that will show you how to make the other Gingerbread families jealous of your house.
 
Dinner With Santa Dec. 23, from 6-8 p.m
Your children can enjoy dinner with the big guy at Tenaya Lodge. Children 4-12 years of age can party with Santa and his elves during this great dinner party. While they're there, maybe they can hint at what they want for Christmas.

Christmas Eve at Tenaya Lodge at Yosemite-
Santa loves cookies, and this is when your children can make personalized treats for the big guy. When they've finished, Mrs. Claus will read 'Twas The Night Before Christmas.
 
New Years Eve Dec. 31, starting at 7 p.m.
Tenaya Lodge will be a great place to bring in the New Year. Tenaya Lodge will be decking the halls with big city decorations to add glam to the forest. This is more of an adult scene with fine dining, cocktails, and a performance by Greg London, of the award-winning Vegas show "Impressions That Rock".
Whatever it is you're looking for, Yosemite is a great place for family and friends and the holidays. If you've never been here, why not now? If you've been here before for the holidays, why not again?