This site contains affiliate links. Please read our Policies for information.


Time is one of my more precious commodities. Between work, swim meets, school, friends, and my favorite, carpooling, time is limited. And what time I do have left over I want to spend with my family or relaxing. I am always on the look out for a good way to save time and the Samsung Powerbot is doing just that for my family. It's always amazing to see what technology can do for our lives, but when I am making dinner and our Samsung Powerbot is taking care of the vacuuming I am even more amazed (and appreciative).
The Samsung Powerbot Essential WiFi Robot Vacuum is a time and sanity saver that everyone can appreciate.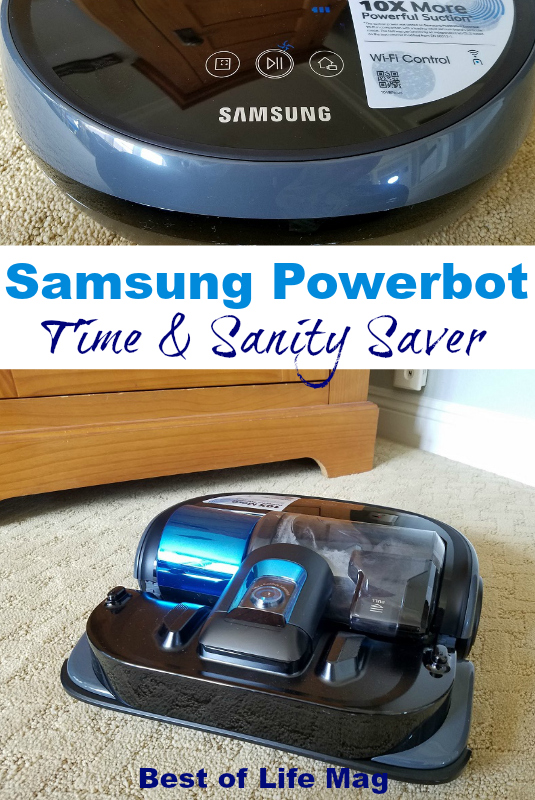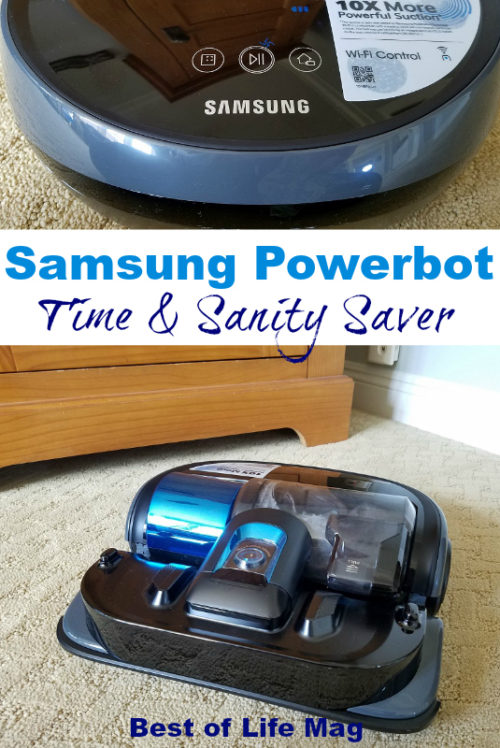 About The Samsung Powerbot
The Samsung Powerbot is a robotic vacuum cleaner with advanced tech features and suction power that separate it from the competition. The Powerbot can connect to your home WiFi which allows you to control the vacuum from anywhere on your smartphone. Talk about convenient, especially if you have pets or work from home.
The Visionary Mapping Plus and Fullview Sensor maps out your spaces and figures out the most efficient path to take through your home. With the combo brush, Cyclone Force, .7-liter dustbin, and 12.2″ cleaning path, our Powerbot has been able to tackle everything in our home. He goes under and around everything, including light cords, our piano, air hockey table, and floor plants with ease and cleans every bit of surface area. The cliff sensor makes cleaning upstairs easy; I usually turn him on when I am getting ready in the morning and let him go to work. He can clean for 60 minutes – or 100 in silent mode – and auto dock when done and features three cleaning modes – auto, manual, or spot. The Samsung Powerbot really is loaded with features and is so easy to use.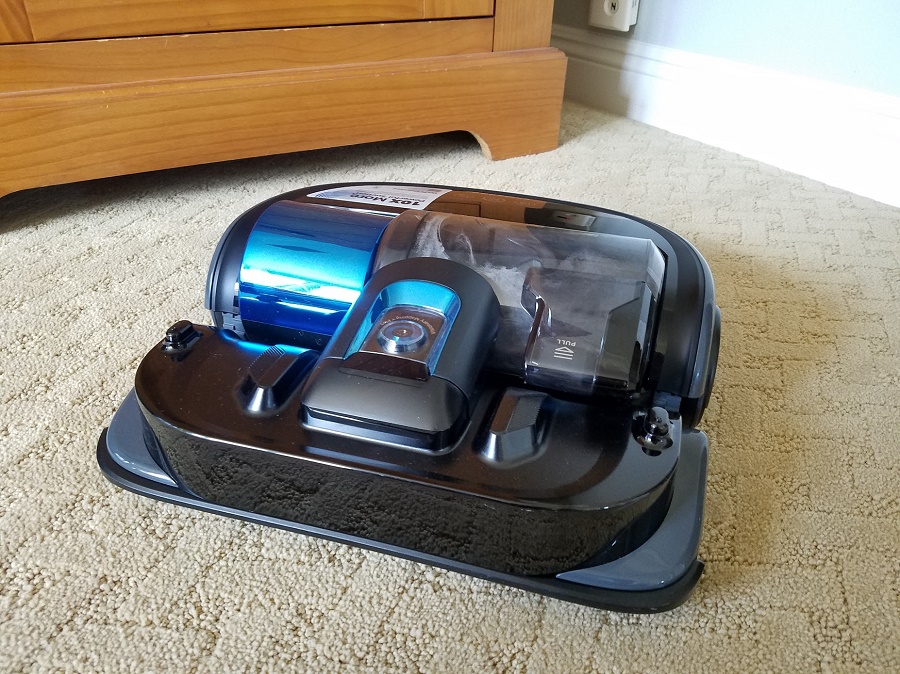 How We Use Our Samsung Powerbot
Anything that can clean my house while I go about my normal day is absolutely welcomed. The Samsung Powerbot can take care of any vacuum specific areas while I'm running around or working. It's nice to know I'll be coming home to a clean home or cleaning up random messed like spilled cereal that inevitably occur during the rushed hours of the morning while trying to get everyone out the door with a smile.
Even if I forget to turn it on before I leave the house, the Smart Features help me turn it on from anywhere. Plus, I can trust that with 20x the suction of the leading robot vacuum, my home is in very good hands.
Our kids love Benny (cause yes, you should always name your robot vacuum) too because they can use him to clean their rooms. I guess the love of fresh vacuum lines runs in the family because Cal loves to have his room vacuumed after he has straightened up.
Yes, We Love Our Samsung Powerbot
I love anything that can lend a helping hand throughout the day, and the Samsung Powerbot does just that and then some. We also know that we aren't the only ones living a busy lifestyle. While this product is perfect for the busybody, the person who struggles to find time to relax, it's also for those who just don't want to vacuum. Let's face it, vacuuming isn't a relaxing, fun thing to do in the first place. Which means if we can have a robot taking care of that task, and taking care of it well, then by all means, right?
The Samsung Powerbot is just another great addition to our growing smart home. It retails for around $799.99 at Best Buy and other online retailers.