Frontgate EZ Bed: Inflatable Bed Review and Video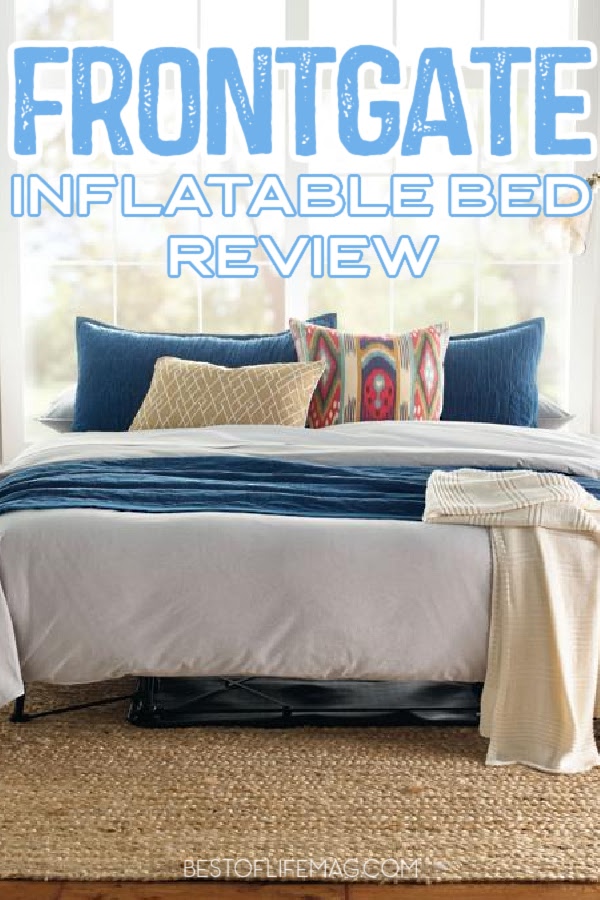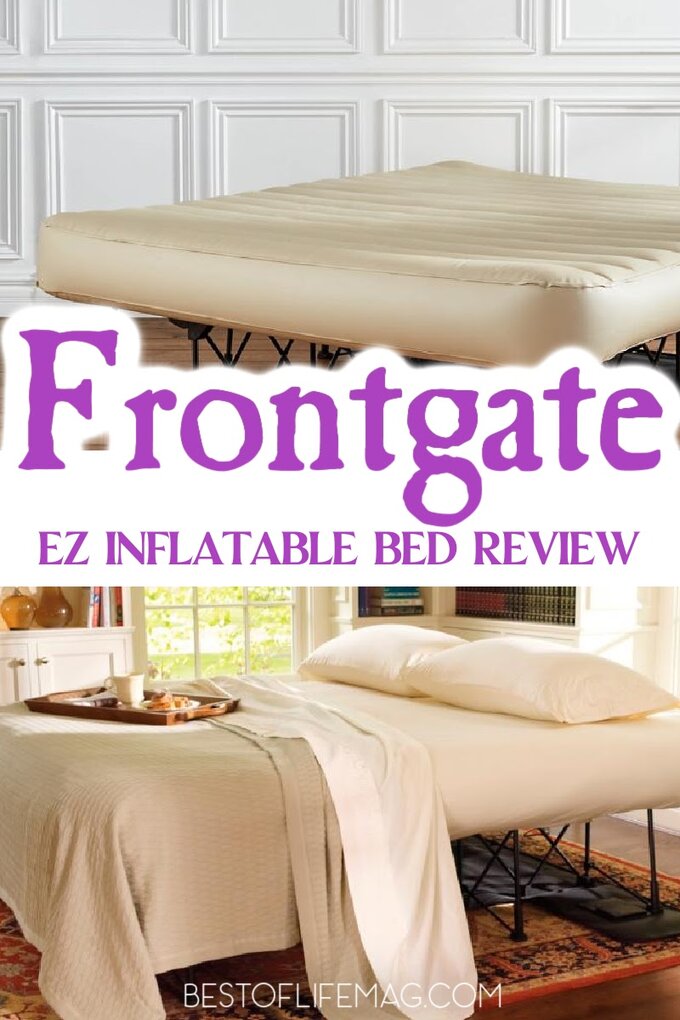 However, that is all about to change when our little niece (Okay, maybe not so little…) comes to visit – her FIRST airplane trip! We are so excited to have her spend some time with us, show her the southwest, and spoil her. Thus, our need for an air mattress resurfaced, so we started researching and decided on the Frontgate EZ Bed!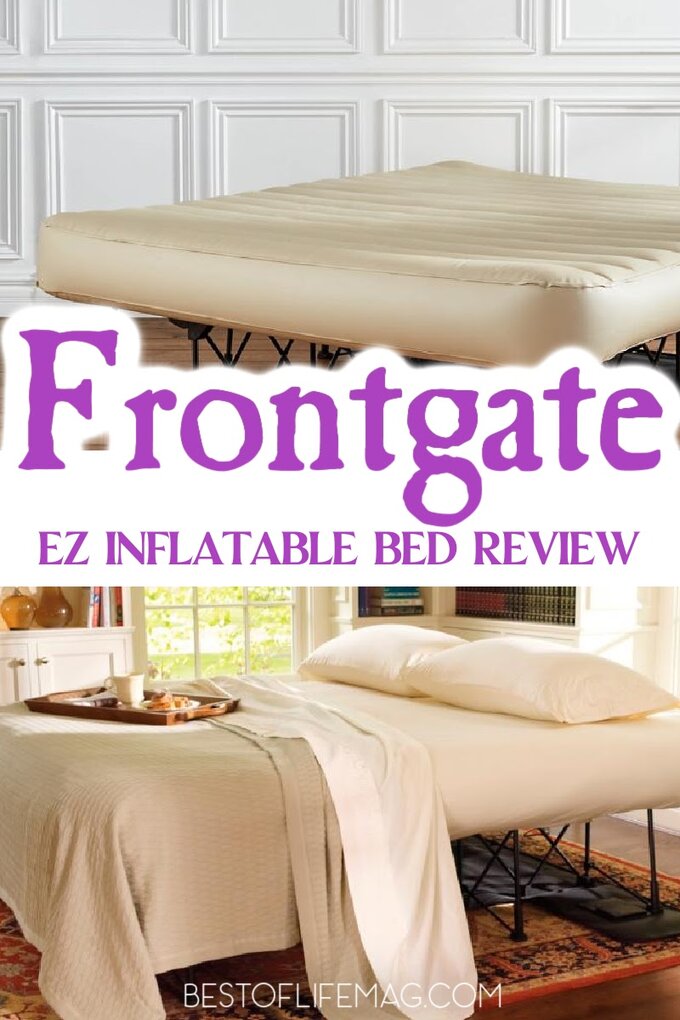 After seeing my brother-in-law wake up as a hot dog rolled inside our air mattress that had sprung a mysterious leak, we knew we needed a new one. It has not been high on the priority list since we have not had guests that exceed the guest room since then.
Of course, the bed itself is essential for keeping family and friends comfy when they visit. You might also consider keeping on hand some extra pillows, sheets, a mattress pad for extra comfort, and some snuggly blankets.
The Frontgate EZ Bed is the air mattress for anyone who appreciates a good night's sleep while staying at a friend or family member's home. This time we were hoping to find a guest bed that was raised more and a bit more stable. Let's face it – no one is getting any younger.
My body aches just thinking of sleeping on an air mattress. Especially if it just lays on the floor. My hubby found one in a Sky Mall magazine that he researched, and we quickly determined it was the one we wanted. Frontgate's Essential EZ Bed is actually made by Frontgate but sold through Frontgate or Sky Mall.
We ended up buying our EZ Bed through Sky Mall because I found a coupon code, and they had a better return policy.
What We Needed
The BIG question for us that we could not find the answers to in our research was, "Does this REALLY work?" Seriously, with the push of a button, will it really inflate while rolling itself out in less than three minutes? And will it really deflate and fit back inside that nice little storage case?
These were all things we needed to have, well, maybe not needed but wanted. After years of struggling with those air mattresses that don't inflate as they should, lose air overnight, and are a struggle to get back into the case, we were skeptical, to say the least.
About Frontgate Essential EZ
Here is what Frontgate claims right off the bat, "plug it in, and it automatically inflates in less than 3 minutes." Right away, we were interested, but that skepticism stuck around. How it works is simple, the entire bed comes in a suitcase-like storage case.
First, you unzip and spread out the mat, and then you plug it into the wall. Once plugged in, just turn a dial on the side of the mattress and watch it inflate. While the bed inflates, it unfolds in a way that allows the attached steel legs to unfold and prop up the mattress.
When you're finished, you simply turn the dial to deflate, and the bed should fold itself back up.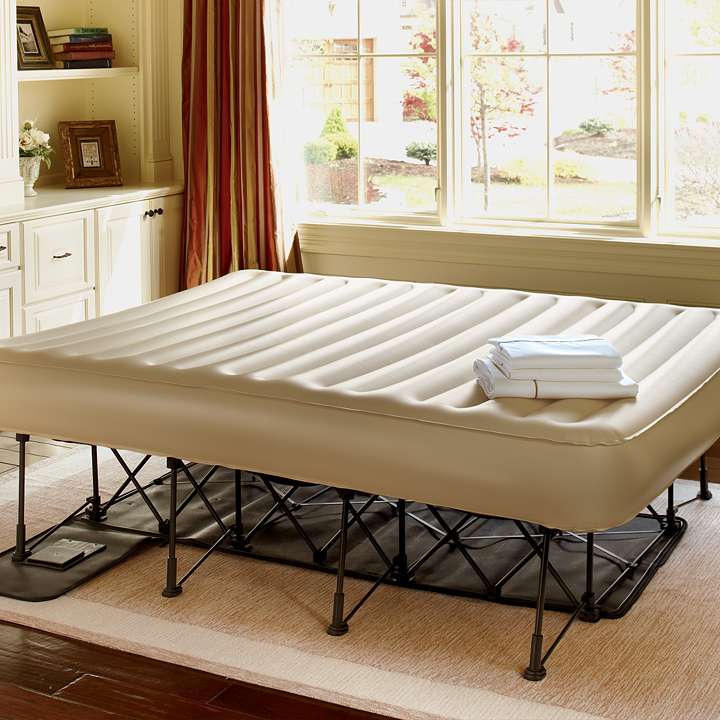 Our Experience
We were pleasantly surprised when the Frontgate EZ Bed truly did as they claim. It inflates completely on its own very quickly and deflates to zip right back into the storage case it is built into. Purely ingenious! Not only did it do as they say, but our guests loved the comfort they got.
No more sleeping on the floor for our friends and family. One other thing we really enjoyed was the case that holds everything. It was really easy to hide out of the way when not in use. All in all, we were very happy we found the Frontgate EZ Bed; it's not an air mattress, it's a bed.
When you read reviews of the EZ Bed, some people mention getting the pillow top version for an extra $50. If you are going to use this bed a lot, I would recommend that as well so people will not feel the bumps in the mattress itself.
Also, if you feel like your back is arching, just deflate the bed a little bit and problem solved! Hopefully, our niece loves it as much as we do!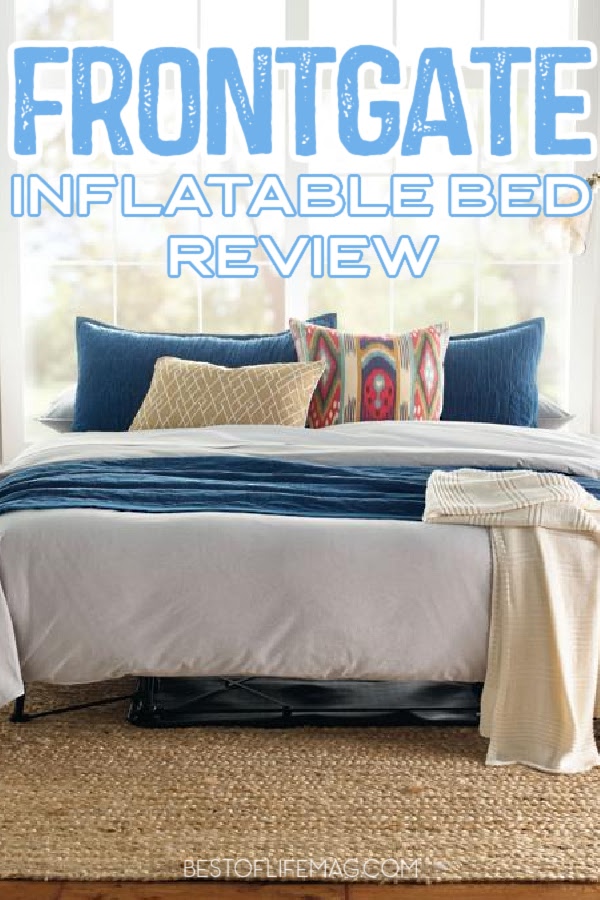 More Home Ideas
Amazon Fire TV Tips and Tricks | The Amazon Fire TV is a great way to watch any movie or show you have ever wanted to watch.
DIY Wine Rack Ideas for Wine Lovers | Wine racks are a great addition to any home, even if you aren't a wine drinker.
Stylish DIY Fall Décor | Changing the decor with the seasons is never a bad idea. In fact, fall is the perfect time to add some of the outdoors inside our homes.
Wine Glasses for the Beach or Pool | Drinking wine by the pool in the backyard is dangerous. We can use glasses that are designed for the outdoors, and that makes everything better.
How to Paint without Tape and Paint Edges without Tools | Painting a room requires more prep work than anything else. But there are ways you can shorten that time and effort.Save