This site contains affiliate links. Please read our Policies for information.
Staying healthy means staying active. There are many things that can be seen as difficult when it comes to staying active but the biggest complaint is always results. Results aren't always immediately shown in a physical way. The PowerPod Power Meter can help you see those results almost immediately. The PowerPod Power Meter is cycling gear that users can attach to their bicycle and get riding stats to help you stay motivated.

The PowerPod like most cycling gear is great to have when heading out for a ride. You just have to get used to using it. Like any new bike, protective gear, or technology, there is a learning curve. Stick with it and use these tips to navigate and you'll be cycling at your best in no time!
If you're in need of some great cycling gear to help you track your work, the PowerPod Power Meter is what you need.
Like most great tech innovations, the PowerPod Power meter got its start on Kickstarter. The PowerPod Power Meter isn't the first device to claim they can provide you with the stats you need while cycling.
However, the Power Meter measures power in a very different way, through wind power. In the world of cycling gear and a wide range of power meters, there is a strong concern about whether measuring the wind will provide the best results.
That debate is why we took the Power Meter and put it to the test.
First Impressions
The PowerPod arrived in a well-constructed box, with fitted foam padding inside to protect the contents.
Inside the box was the PowerPod unit, Allen wrench, mounting bracket, the screw to secure the PowerPod to the bracket, USB charging/data transfer cable, and a set of instructions on connecting the PowerPod and how to use it.
Setup
Installation of the PowerPod from Power Meter City to my bike was easy, about 20 minutes to attach it to my handlebars and get the unit secured.
Reading up on the PowerPod before it arrived I learned the mounting bracket is a standard Go-Pro style. Which means you could potentially swap out your Go-Pro for the PowerPod and vice versa.
Connecting
The instructions are primarily image/drawing based. Many of the steps were easy to get through but there were a few snags here and there. Like with most tech, the initial setup can be a bit bumpy but once you get it going you find the results are worth the work.
For me, that snag came in the form of connecting Isaac for Windows to my Bluetooth enabled computer. After reviewing the Velocomp website, I contacted their support team and within the same day heard back with information on installation.
How did I hear from them? A phone call. Not a chat session, not an email, a phone call. The same day. That is top-notch service.
What I learned was the Isaac For Windows was, in fact, not optional. I had misread and misinferred the instructions. The PowerPod support team was very helpful, prompt, as well as transparent.
They shared they are continually updating their website and instructions to keep up with changing technologies. Candidly, my communication with the support team ultimately resulted in the CEO of Velocomp contacting me directly.
That was an unexpected exchange, one I very much appreciated. To me, that illustrates the type of company Velocomp is.
I got Isaac for Windows installed, loaded my profile information and I was good to ride!  Again, the delays in syncing were mostly my own fault.

The First Ride
I'm a 47-year-old IT manager. I spend my days in meetings and over two hours a day in the car commuting. I hadn't seriously ridden any significant mileage in over two years.
Prior to the PowerPod, I didn't know a lot about power, wattage, or other similar data points. Why do I share that? Because when you read below and see my data you'll likely laugh at my numbers. And that's OK, I laughed at myself as well. After I was done crying.
Seriously, though, you do not have to be a professional rider to appreciate what the PowerPod data shows you.
My first ride out was a glorious ride in one of the windiest spring days I've seen in a while. The max wind speed was recorded as 23 mph. Choosing to ride into the wind on the way out was a mistake I quickly learned.
However, the return trip of my out and back was amazing.  I felt superhuman with that wind at my back!
What I enjoy most with this interface is the ability to right click/highlight on the graphs to change the left navigation key indicators (I'm calling them KPIs). See below for an illustration of how highlighting a section of your ride will change the KPI information.
I spent over an hour dissecting my ride, amazed at the information I was seeing. This is my first power meter of any kind. I picked apart my cadence, reviewed where I was coasting vs. pedaling, and beat my head against the wall for biking in that kind of wind.
Velocomp/PowerPod gives the ability to customize your graphs as well. It's a very straightforward change, available from the menu.  

Subsequent Rides
In one of the rainiest, coldest Mid-Western springs in several years, I snuck in 6 rides with the PowerPod. After each one, I pulled the unit off my bike, loaded my ride data, and looked over my ride.
I made changes to my riding style, some based on this data, others based on getting back into a groove.
My most recent ride prior to writing this review was May 6, 2017. That data is below. Of note here is a 2 mile per hour increase in my average speed.
I felt more powerful riding into the wind, riding perpendicular to the wind. My legs are back and my lungs are nearly back. After two years of not riding, I'm more than happy with where I am one month back in the saddle.
With Isaac for Windows installed, synching rides is nothing more than removing the PowerPod from your bike and connecting to your PC. Ride data automatically downloads (after giving you a 10-second warning that it is going to automatically start downloading.)
With data loaded you can navigate a few ways. I found the basic menu option – Open Previous File or Open Next File – to be the quickest for me.
You can also access the files directly, the destination folder is your choice determined at installation:

Additional Data Views
There are multiple layers of data to review and sort through. I've sampled two, Advanced Stats and Analyze, here.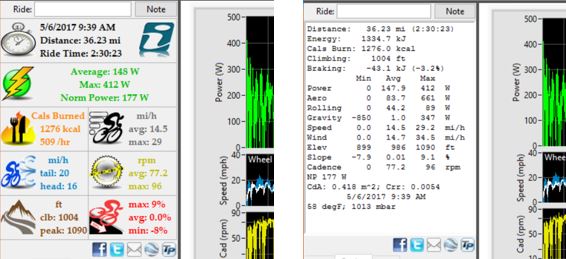 Selecting the Analyze drop down from the main menu opens options to dig deeper into Wind and Route.  I like to use these to compare my actual speed (white line) against the wind (blue line.)  A snapshot of my May 6 Wind and Route analysis graphs are below
      
Comparing Data Accuracy
In addition to the Velocomp PowerPod, I also use Strava when I ride. I've found Strava to be very accurate over the years. The PowerPod distances, speeds, and averages are within +/- .1% of Strava.
A negligible variance considering I usually roll the bike or move my phone around after I start Strava recording but before I start my ride.
Overall Summary and Recommendation
I was sent a Velocomp PowerPod Power meter to test and report on.  The information and opinion here are my own.
Not having owned a power meter of any type I really didn't know what to expect from one. Was I disappointed by the PowerPod? Not at all. Am I using the PowerPod to its fullest potential? Not by a long shot.
The amount of data the PowerPod provides is nearly limitless.  With all features enabled and assuming I can learn what it all means, the PowerPod would be an even more beneficial tool for bikers of all skill sets.
For me, I am very pleased with the PowerPod. It offers me insights into my rides I didn't have before. I'm learning more with each ride, and I find myself competing against the little black device secured to my handlebars.
Will it know I coasted here? Did it see me take a break? Could I work harder? Yes. Yes. Yes. I recommend the Velocomp PowerPod Power meter.  From beginner to pro, the PowerPod offers something for everyone.
The PowerPod's price point, when compared to other power meters, is well below the average and expected pricing (I did some research on my own to compare pricing, features, and reviews done by others. Remember, I haven't owned a power meter before.)
Enjoy your ride!