Low Carb Fat Burning Soup Recipes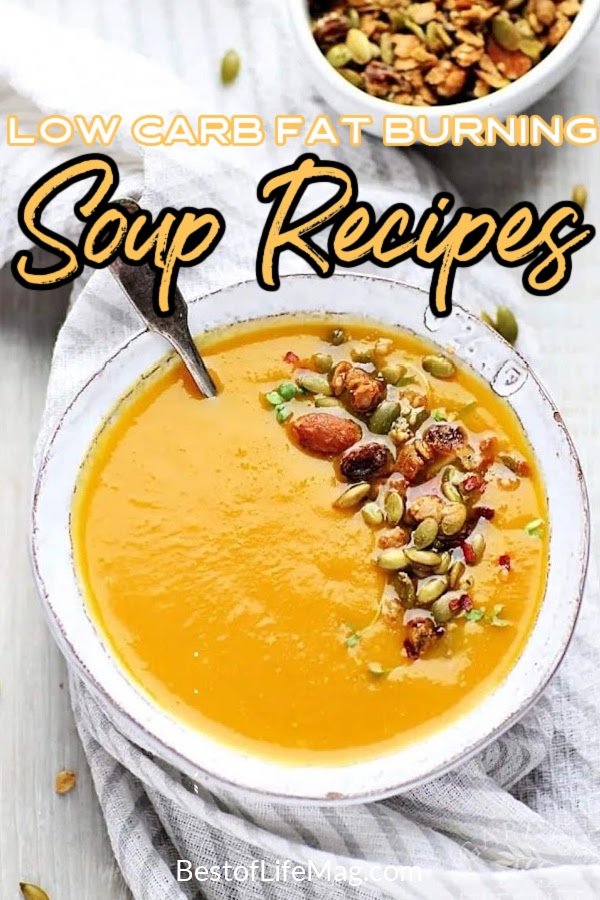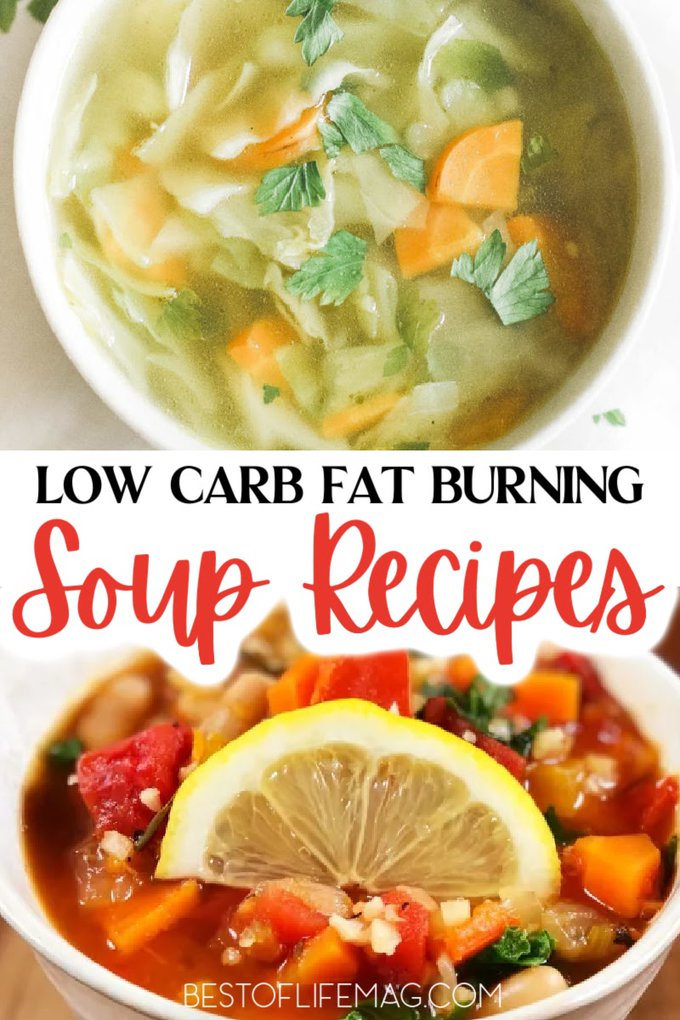 Soups are far from boring, though. Did you know that the right bowl of soup can actually help you bust bloat, get rid of inflammation, and even help you burn fat? It's true. You can take advantage of all of those benefits with the right set of low carb fat burning soup recipes.
You'll be hard-pressed to find someone who doesn't enjoy a nice warm bowl of homemade soup once in a while. But soup really gets a bad rap as a boring food as well. The best low carb fat burning soup recipes are guaranteed to rev up your metabolism and help you feel full longer, and put you in control.
Don't go reaching for a can of soup, though. Store-bought canned soup might be full of chemical ingredients and tons of salt. You'll want to skip the restaurant soups too. Although tasty, they too are laden with salt and all kinds of saturated fats and flavorings that won't help your diet.
What you need to really burn fat is a pot of homemade low carb fat burning soup recipes. Homemade soups put you in charge of the ingredients. They generally tend to have more fiber and way fewer sugars and additives. Those are things you really don't need if you are trying to burn fat.
We have all heard of the magical fat-burning properties of cabbage soup, and there are some great cabbage soup recipes here. But fat burning soups can be so much more than that. Keeping things relatively low car, there are even some keto soup ideas here that will help you burn fat for fuel and provide so much flavor.
Low Carb Fat Burning Soup Recipes
Cabbage Fat Burning Soup | Kitty Tabby
Keto Cabbage Soup | Savory Tooth
Cabbage Fat Burning Soup | Kitch Me Up
Keto Turkey Mushroom Soup | My Bold Body
Fat Burning Cabbage Soup | North South Blonde
Easy to Make
Soups are the original easy recipe. We have crockpots now that let us toss in ingredients and pull out a full meal. But that is what soup has always been. A mixture of delicious, natural ingredients, tossed together in a pot and cooked into a soup. Sounds too easy, but it is true.
Grain Free 10 Vegetable Soup | Fresh Out
Pumpkin Cauliflower Soup | Eat This Not That
Anti-Inflammatory Coconut Carrot Soup | Healthy Holistic Living
Butternut Squash and Turmeric Soup | Garden In The Kitchen
Detox Green Machine Soup | Savour the Senses
Save For Later
The best part about low carb fat burning soup recipes is what is leftover. These recipes do not provide you with a single bowl of soup. In most cases, that would be a bad thing. However, these soups are healthy for you in so many ways and should be consumed as often as possible.
You can freeze the leftovers and use them later for another meal or share them with the entire family. There is plenty of health to go around.
Quick and Easy Coconut Curry Soup | She Well
Beef Cabbage Soup | Cafe Delites
Keto Chicken Soup | Wander Spice
Quick Simple Skinny Detox Soup | Clean Food Crush
Fat Burning Spicy Thai Noodle Soup | Yummly
More Low Carb Recipes
Low Carb Zoodles and Meat Sauce Recipe | Zoodles are fantastic for having spaghetti without all of the carbs and heaviness to the dish.
Easy Low Carb Crockpot Recipes | Eating low carb doesn't need to be difficult. It can be easy and fun to lose weight.
Low Carb Buddha Bowl Recipe | Buddah bowls are like entire low carb meals in one single bowl.
Low Carb Crockpot Meatballs | Meatballs are perfect for keto diets because meats have little to no carbs at all!
Keto Frito Pie Recipes for your Low Carb or Keto Diet | There are some prime examples of why a diet works; this recipe is why keto diets work. You can eat stuff like this and still be losing weight.