This site contains affiliate links. Please read our Policies for information.

We have always loved Halloween but we have a deeper love for it after moving to California.  We are so excited to celebrate the fun Halloween activities in Orange County this year, including Knott's Camp Spooky.  The reality is that 34 years in Wisconsin meant Halloween's were spent hopping in and out of your minivan as your parents drove you up and down the street.  The following four years celebrating Halloween in Arizona meant your children had to wear costumes that would not dehydrate them in the 95 degree temps.  🙂 The amazing weather in Southern California is perfect for this fun holiday!
Knott's Berry Farm has everything families need to celebrate Halloween at Camp Spooky on weekends in October.  We prefer Halloween activities for our family that celebrate the fun and cheer while our children are young and Knott's Camp Spooky is perfect.  Held during the daytime, Camp Spooky fills your day with fun including shows, activities, and most importantly, trick-or-treating for children from 3-11 years of age.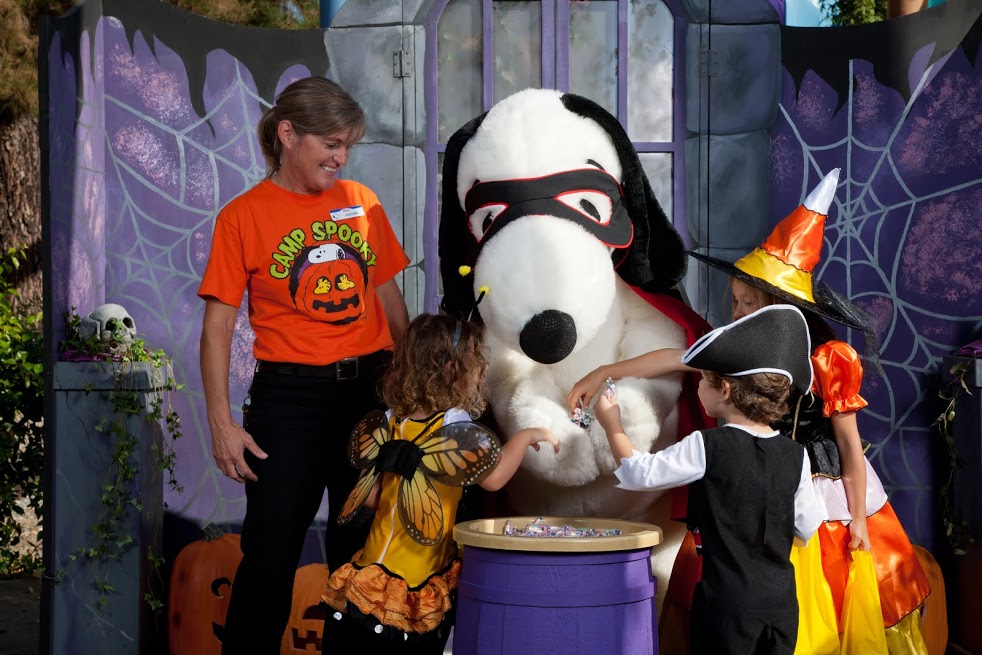 Some of the Camp Spooky Halloween activities for families in Orange County include:
Your children are invited to participate in "Snoopy's Costume Contest".  This is a great chance for them to show off their costume while they parade around Camp Spooky with the PEANUTS characters.
Watch "Charlie Brown's Spooktacular Show" in the Camp Spooky Theatre as your kids dance and sing to the holiday music they love.
Kids of all ages can explore the Monster Factory, which is a super fun maze where your little ones have fun creating the things that go bump in the night.
Complimentary goodies bags are given out and children can fill them at thefive Trick-or-Treating locations in Camp Spooky.
Sit down with your entire family for "Scary Stories at the Lodge" as master story tellers spin some crazy story webs and tales.
For a small fee, children can decorate their own cookie to enjoy with their story as well.
The Camp Spooky fun happens weekends from October 5th through the 27th and the great news is that this special event is in included with your regular park admission.
No extra fees equals happy families.
Park admission fees can be reduced even more through the Knott's Berry Farm Season Pass, which is available for nine monthly payments of $8, $10 or $20.   A regular Knott's Berry Farm Season Pass provides unlimited visits in 2014, exclusive ride times on select rides during the summer, discounts to Knott's Scary Farm, discounts on select food, merchandise and more.
Knott's Berry Farm

Theme Park

 is open from 10am to 5:30pm so mark your calendar for some Halloween fun! 
Don't forget to grab these Halloween essentials before the big night!
Save