How to Make a DIY Lighted Wine Bottle Craft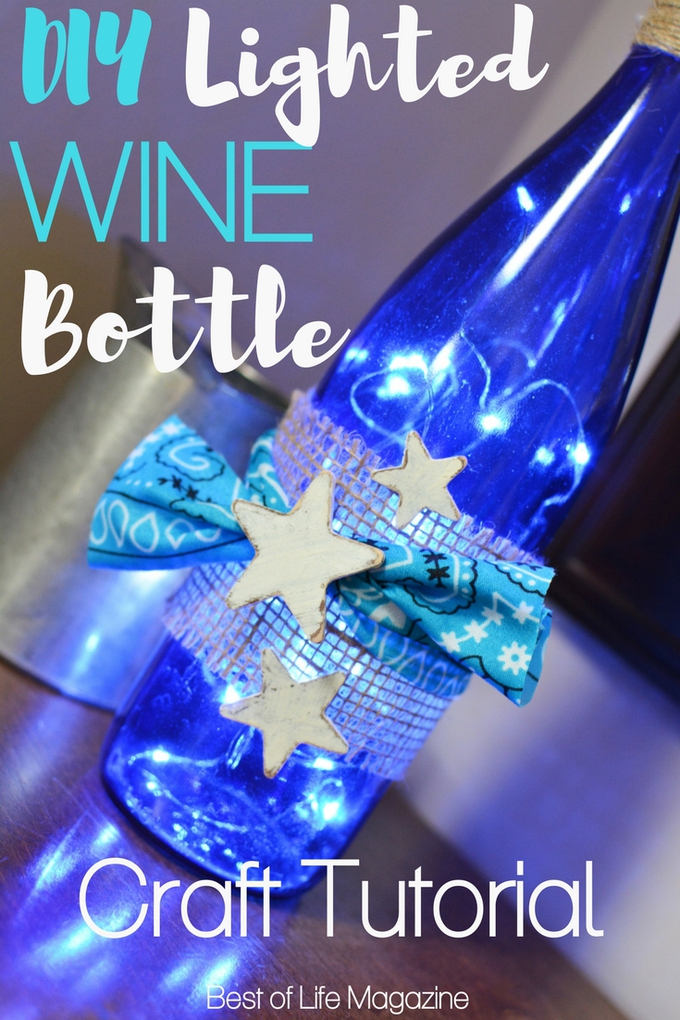 There's little I love more than a great bottle of wine. I enjoy drinking wine with family and friends and pairing different flavors with different meals. After finishing the contents of the wine bottle I usually just recycle the glass and move on. However, there is a better way to use that finished bottle that's just as classy as drinking it. Use that empty bottle to make a beautiful DIY lighted wine bottle. These lighted wine bottles make great decor during the holidays or to theme a room or yard with wine. This project is a perfect wine bottle craft.

When you learn how to make a DIY Lighted Wine Bottle craft you can turn your love of wine into a display to enjoy all day long.
You already know how much we love wine and wine accessories. Everything from the Coravin system to our favorite glasses. We also love giving fun wine themed gifts to our friends and family.
This DIY Lighted Wine Bottle craft is perfect for gifting! With just a few easy items you can turn your empty wine bottles into beautiful works of art.

Materials Needed for a DIY Lighted Wine Bottle Craft:
Empty Wine Bottle, Washed and Labels Removed
Cordless Drill
1/2′ Glass & Tile Drill Bit
Masking or Painter's Tape
3″ Burlap Ribbon
Twine
Wood Stars (Woodsie Brand)
Brown Acrylic Paint
Craft Essentials in Spice Brown
White Acrylic Paint
Waverly Premium High Gloss Multi-Surface Indoor/Outdoor acrylic paint in Plaster
Blue Bandanna cut to 4″ x 22″
Paint Brush
Hot Glue
Small or Mini LED lights, battery or electric operated
400 grit sand paper
How to Make a DIY Lighted Wine Bottle
Place your wooden stars onto a protected surface. Paint one side with brown paint and let dry. Cover with white paint and let dry completely.
Place tape onto the back bottom of a wine bottle.
Fill the wine bottle 3/4 of the way with cold water and a container half full with cold water. Place the bottle into the container with the masking tape facing you.
Place the drill with glass and tile drill bit onto the tape and with firm pressure begin to drill a hole into the glass on a low speed.
Initially, the drill bit may want to move all around and tear the tape. Use a bit more pressure to start the hole and continue to drill until there is a hole in the glass.
While drilling, the glass will smoke, this is normal. When the hole is complete, remove the bottle from the water and empty. The hole may be a bit jagged. This is okay, just be careful not to cut your fingers.
Wrap twine around the top of your bottle and secure with hot glue.
Cut a piece of burlap ribbon to fit around your bottle and secure with hot glue.
Fold the bandanna piece into thirds and tie firmly around the burlap ribbon.
Lightly sand your wood stars to distress them. Using hot glue, secure them to the ribbon and bottle on the front.
Fill the bottle with lights, threading them into the hole in the back.
Turn on your lights and display your DIY Lighted Wine Bottle craft for everyone to see!