This site contains affiliate links. Please read our Policies for information.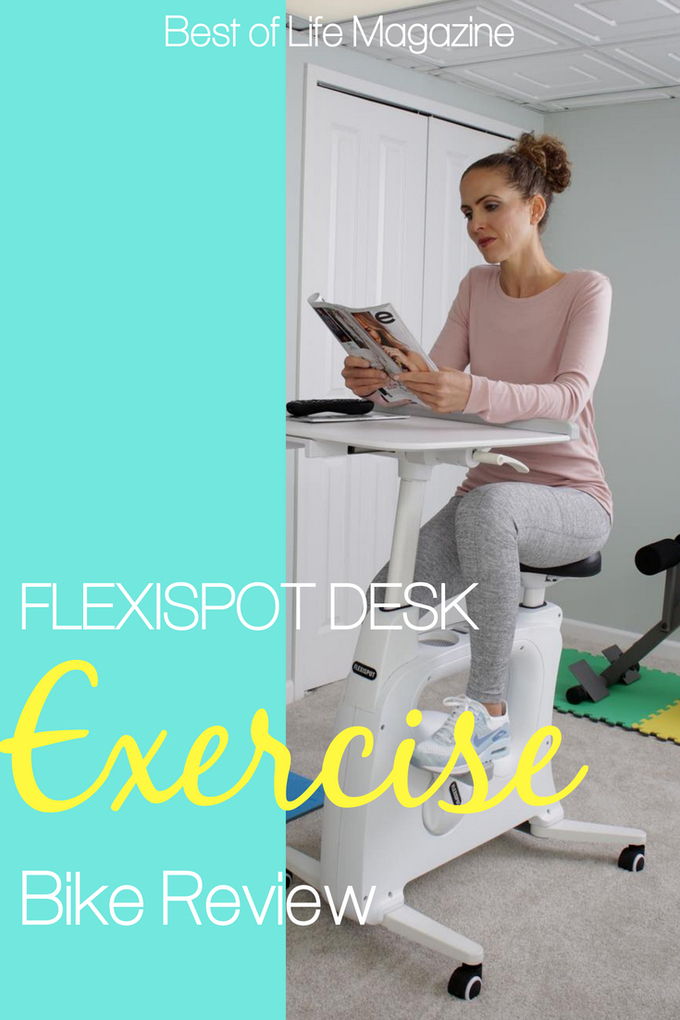 We've all heard by now that "sitting is the new smoking", and this is never truer than when you work from home. When you work from home, you can easily spend up to 10 hours sitting in front of your computer getting work done. While this might show dedication, focus, and self-control when it comes to your work, it can also show the opposite when it comes to your lifestyle and health. While standing desks can help solve that problem,there is an even better solution: The Flexispot V9 Desk Exercise Bike.
Use the Flexispot V9 Desk Exercise Bike to not only stay healthy but to fuel your workday from home in just about any room you'd like.
The only things I love more than working from home include my family, my husband, and a great glass of wine. While I love working from home, there are a few things I have always wanted to change about the entire process.
The biggest thing I have wanted to change is the amount of physical activity I get each day. For a while, in the beginning, I thought I could make up for the lack of physical activity on the weekends.
When that didn't work, I started waking up earlier to work out before work, but it all felt a bit lacking. After my workout, I would still go and sit for hours at the computer building my business.
I had heard of working from an exercise bike, but they've always taken up too much space, been too loud, and made it hard to concentrate on work. Not to mention, I couldn't stand the site of an ugly bike in the middle of a room.
The Flexispot V9 Desk Exercise Bike has changed my mind and I may even love working from home slightly more because of it.
Flexispot V9 Desk Exercise Bike | Specs
Let's take care of the important (albeit a little boring) stuff first, before jumping into the fun stuff.
The Flexispot V9 is 24x35x47x34" and weighs 75 pounds. The bike is a combination of an exercise bike and a standing desk. The bike is adjustable so people of many different heights can use it without any issue.
When you order a Flexispot V9, you will get the bike base, a desktop, M8 bolts, hex key, coaster and 2 pedal covers. Sounds like a lot but we'll get to that later. There is also a 1-year frame warranty and an installation guide.
Flexispot V9 Desk Exercise Bike | Design
The Flexispot has a very modern design with the frame being almost rectangular with rounded edges. There is a rounded spot right in the middle where it is safe to assume the wheel is and it gives more of a bike appearance.
One of the things I always hated about exercise bikes in the home is the size, but the Flexispot is designed to easily blend in with the rest of a room. In fact, the size is compact enough to where you can just roll it into a corner when not in use.
That's right, the Flexispot is on small wheels which allow you to roll it into any room in your home for use. On top of the center frame of the bike, there is a dial and an LCD display. The dial is meant to adjust the resistance between -1 and +8 and the LCD display shows you data like timers, speed, distance, calories, odometer, and RPMs.
Believe it or not, the bike only requires two AA batteries which go into a small compartment right above the LCD display. There is also a nice water bottle holder on top as well, which is perfect for keeping you hydrated as you work and exercise while keeping the water away from your computer.
Flexispot V9 Desk Exercise Bike | Use
The box arrives with everything you need to put it together and get it started, except the batteries. The entire process, from the moment you open the box to when you try it out for the first time, only takes around five minutes.
That's how easy the Flexispot is to put together and probably one of my favorite parts. It's rare for me to get a new product that only takes five minutes or less to set up. I easily spend more time setting up a new smartphone!
All you need to do is unfold the four legs, place the desktop on the bike post, insert a bolt, and tighten it with the hex key. Then, you put in the batteries and give it a go.
When you're ready to use the Flexispot, simply sit on it and adjust the seat to your height, then adjust the desk to the desired height. Once you've set these things up, you're good to go!
Flexispot V9 Desk Exercise Bike | Actual Use
While I love the compact size and easy storage abilities of the Flexispot, I discovered even more things to love when I actually started using it! The desk space isn't huge, but it works well for what it is.
I found that I can fit my Surface Book 2, phone, and a few other random things on the desk at once. The desk and chair are also easy to adjust, which is nice.
Here is where things get really amazing. There is almost no noise when using the bike! I have my Flexispot upstairs and no one downstairs or in other rooms knows that I'm using it until they come into the room.
There are pedal covers included that let me ride barefoot while I work (or while I read), and the bottle holder works really well. The only thing I would improve about the Flexispot is the seat. I would like the seat to be more comfortable which could easily be fixed with an add-on or an upgraded seat option.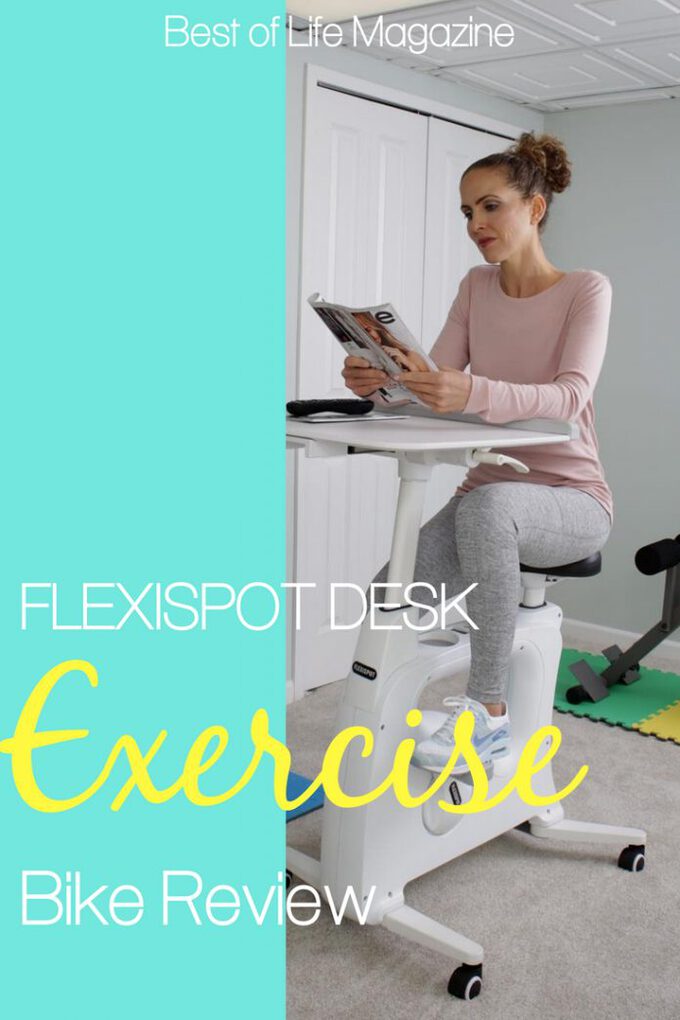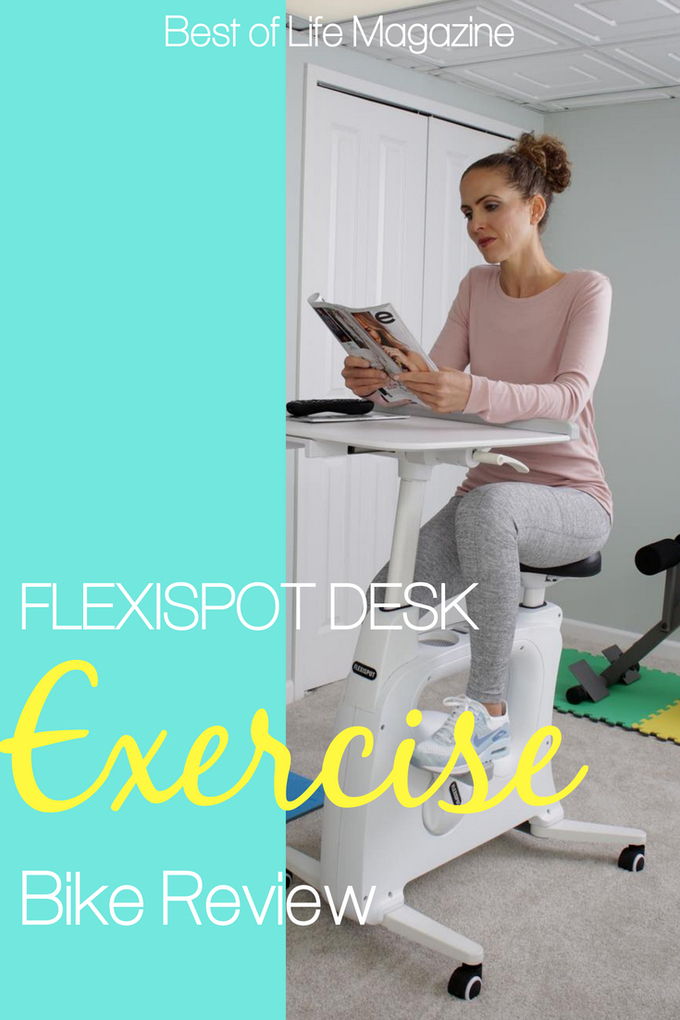 If you work from home, even if just a couple of days a week, the Flexispot V9 Desk Exercise Bike is a good investment. You can stay active, get work done, and keep the space in your home for whatever you want. Best of all, the Flexispot V9 Desk Exercise Bike is available on Amazon.