Easy Crockpot Taco Soup Recipe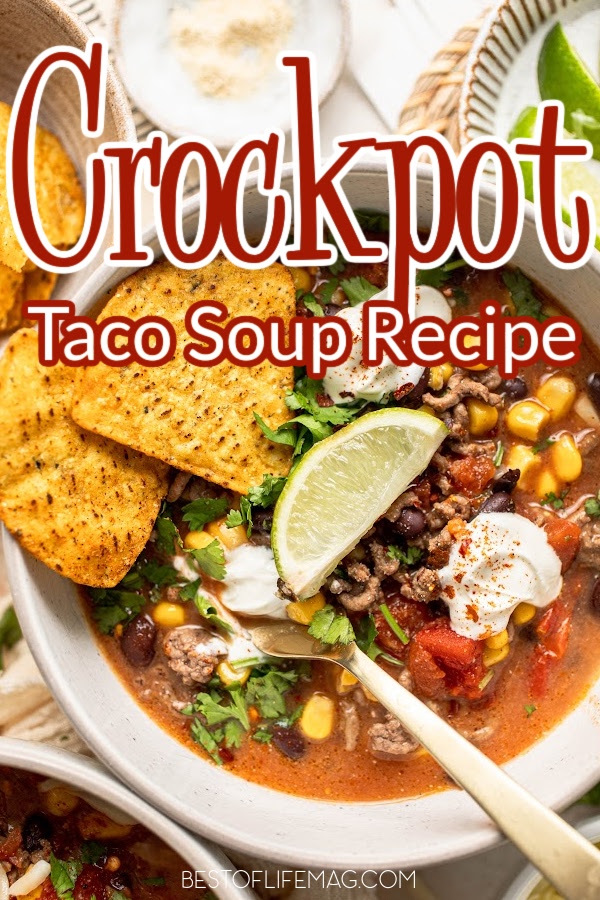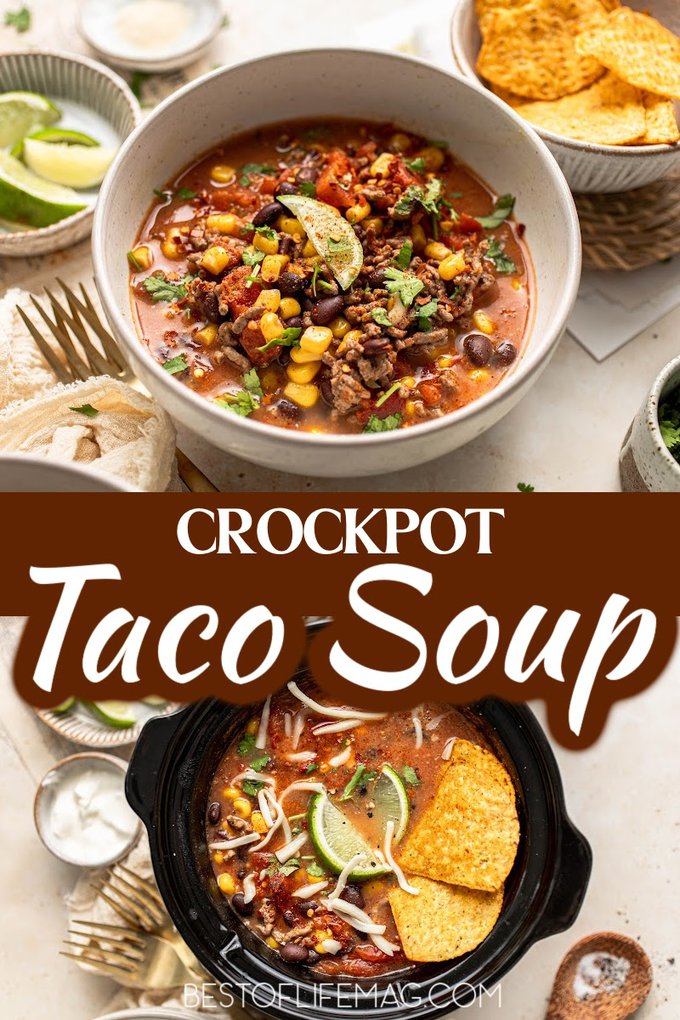 Crockpot taco soup takes the ingredients found in the best taco recipes and turns it into a soup. But what makes this recipe even better is the crockpot itself. Crockpot soup recipes meld the flavors together well producing an amazing slurp every time.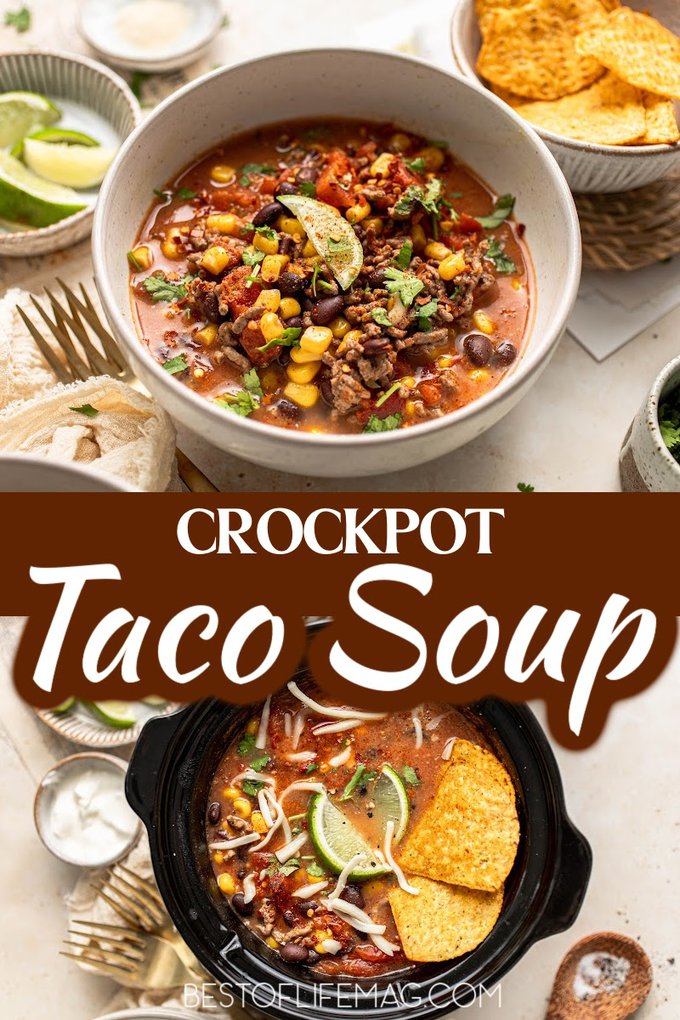 The best crockpot taco soup recipe will give you another family-favorite meal to utilize any day of the week. What is a taco? A traditional taco is made with corn tortillas. The shell is not what you get from a bell, it should be soft. Then you have the seasoned meat, cilantro, onions and that is it.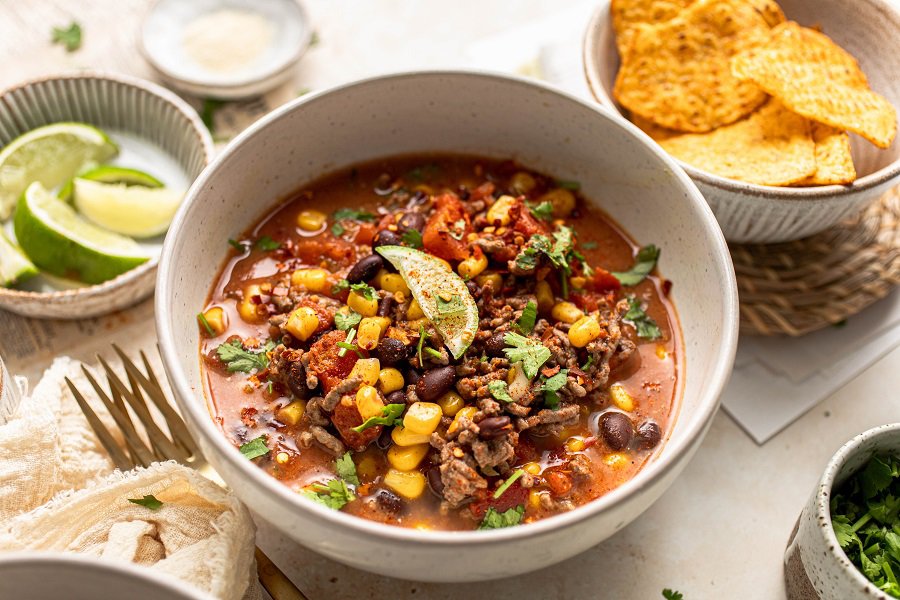 But you can top it with so many things. People put sour cream, cheese, lettuce, and sometimes beans. Taco soups have just as much versatility as an actual taco. You can even top your crockpot taco soup recipe with sour cream, guacamole, cheese, corn tortilla strips, salsa, whatever your heart desires.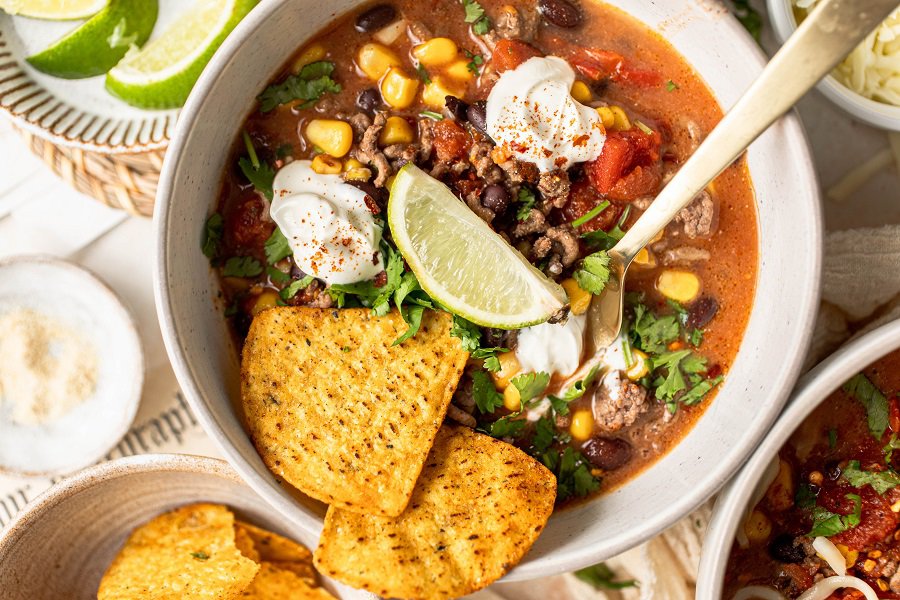 The flavor will be very similar to a taco but in soup form. The ingredients are the same, but the method is different. That is why the flavor profile stays so similar. In fact, taco soups are a great weeknight meal that can be set and forget in the crockpot. Which leads us to the question, why soup?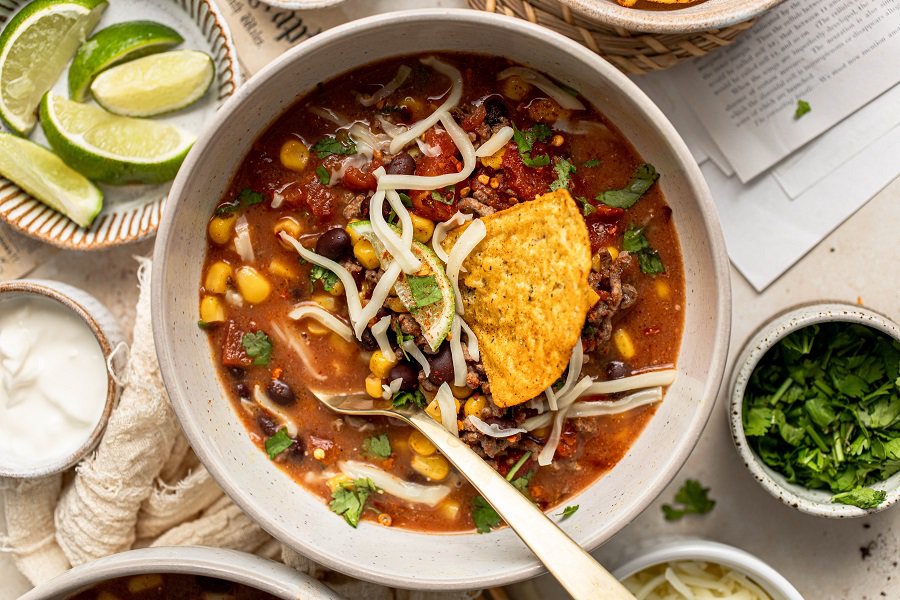 Crockpot Taco Soup Recipe Ingredients
You will be familiar with a lot of these ingredients if you've ever made tacos or even eaten one. You will need ground beef, but you will need to brown and drain it before using it. You will also need canned tomatoes with green chilis, chili seasoning, onion powder, a can of corn, can of black beans, beef broth and a packet of ranch.
These ingredients will come together in one of the best ways possible in your crockpot. The end result will be an amazing bowl of taco soup.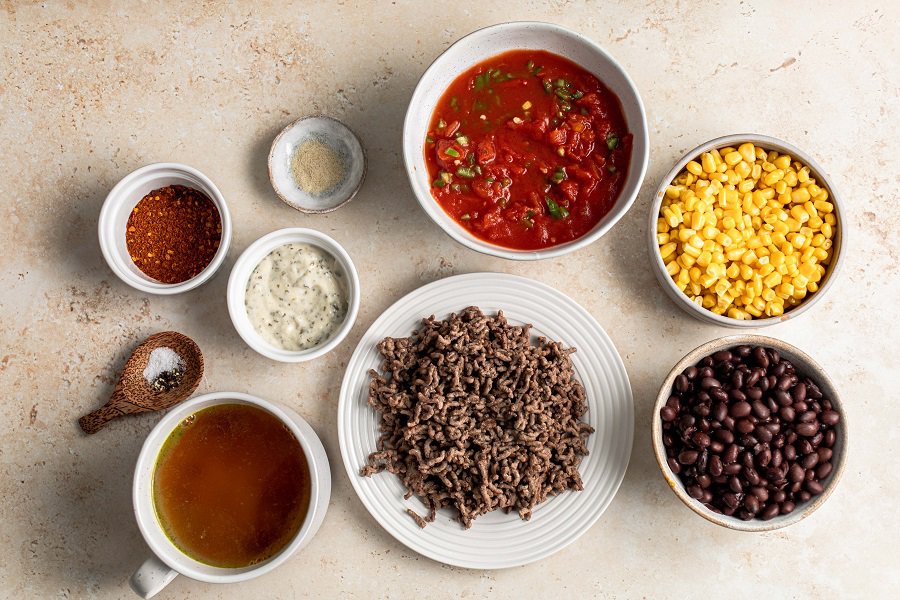 Why Soup?
The answer to this question is the same as any recipe that utilizes a crockpot, ease of use. Crockpots allow us to turn ingredients into full meals without much effort. Crockpot soups do that on a whole other level.
You can make this crockpot taco soup recipe while you're at work, cleaning the house, shopping, watching a movie, doing a project, spending time with family, whatever you want to do. Tacos aren't exceedingly difficult to make either.
But there are steps involved that need your attention, like chopping the toppings, cooking the tortillas, or even building the tacos. Crockpot soup is simply brown and drain the meat, dump it in the crockpot with the rest of the ingredients, and come back to a full meal.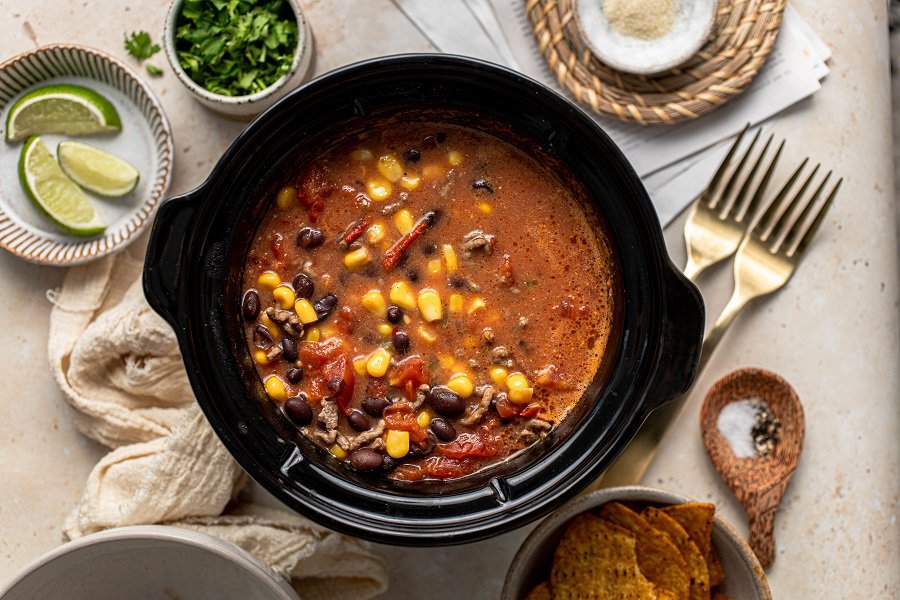 Toppings and Garnishes
This crockpot taco soup recipe leaves a little room for customization. Soup, in general, is easy to add or subtract ingredients to here and there. Of course, you won't want to remove the broth from the recipe but maybe you want to add pinto beans or maybe you don't want any beans at all.
The same can be said for the toppings and garnishes. A few of our favorite toppings for this recipe include sour cream, cilantro, guacamole, Fritos, and cheese. But you can top this soup with whatever you'd like. Just be sure to use toppings and garnishes after you have already portioned out the servings into bowls.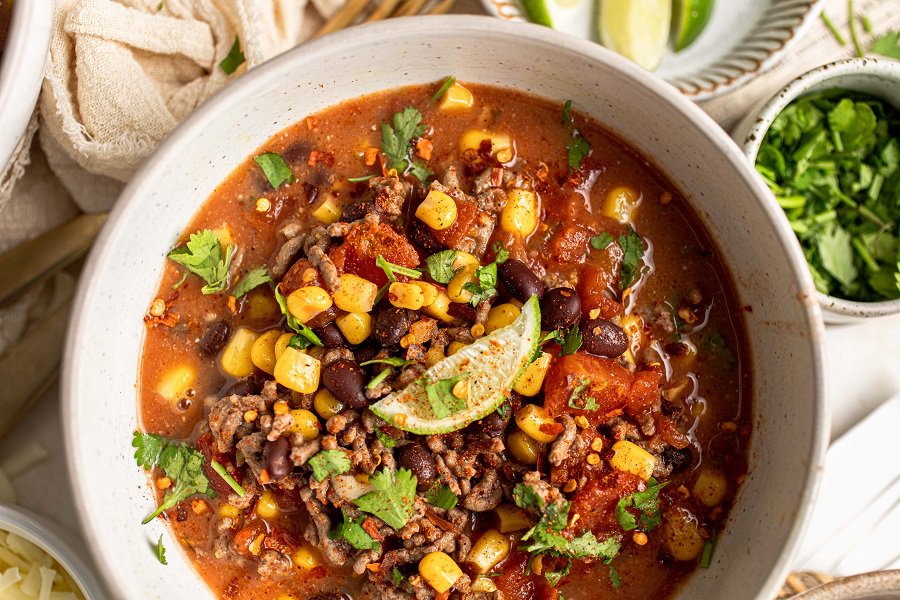 Crockpot Taco Soup Directions
Add all ingredients (except garnishes) to the crockpot and stir well.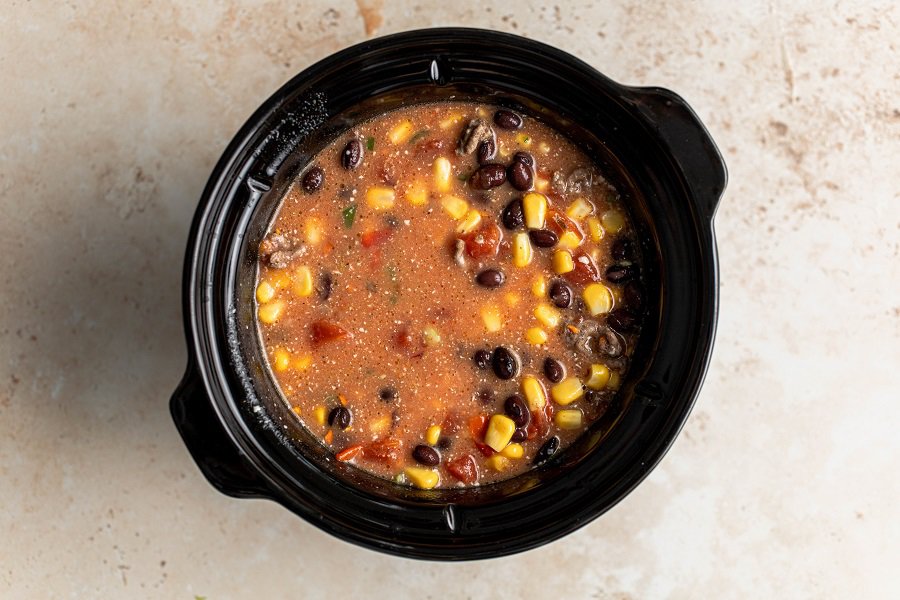 Cook on high for 2 hours or on low for 4 hours.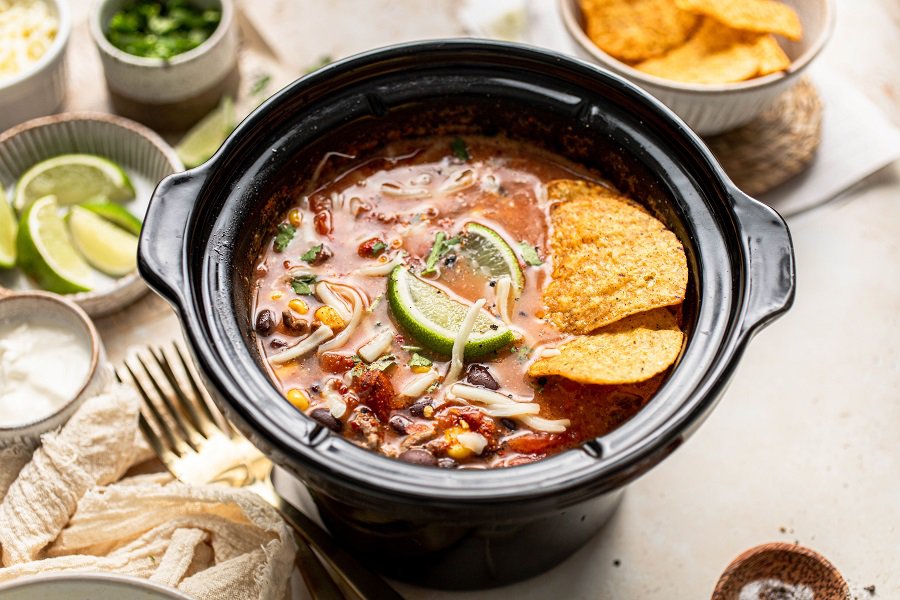 Serve and top with favorite garnishes.
Crockpot Taco Soup
Ingredients
1

Lbs

Ground Beef

Browned and drained

1

Can

Corn

1

Can

Black Beans

Rinsed and drained

1

Can

Tomatoes with Green Chilis

2

Cups

Beef Broth

2

Cups

Water

1

Packet

Chili Seasoning

1/2

Packet

Ranch

Salt & Pepper

To taste

1

tsp

Onion Powder
Instructions
Add all ingredients (except garnishes) to the crockpot and stir well.

Cook on high for 2 hours or on low for 4 hours.

Serve and top with favorite garnishes.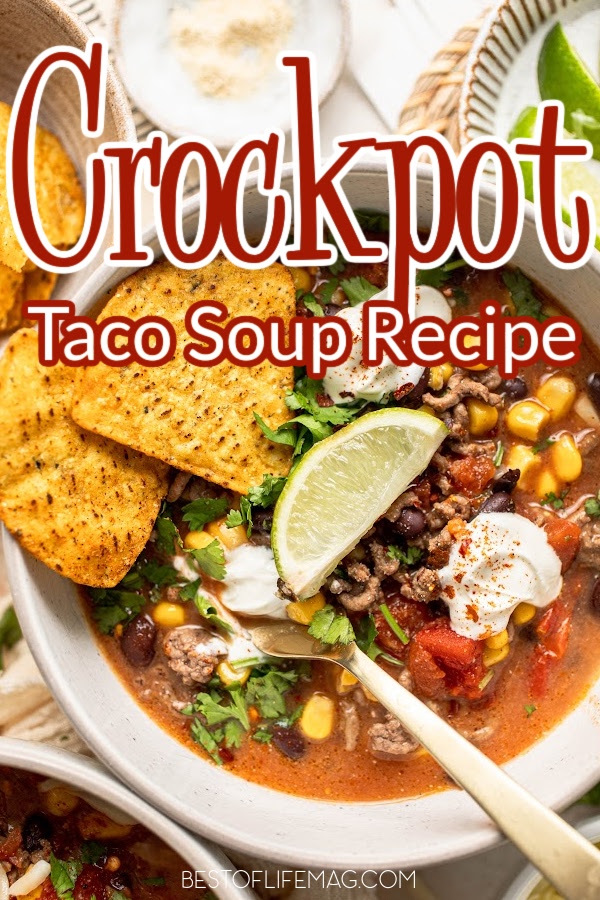 More Crockpot Recipes
Crockpot Pork Chops and Gravy Recipe | Pork chops are just so much tastier when they are smothered in delicious sauces and made in a crockpot.
Slow Cooker Cheesy Bean Dip | You can even use your crockpot to make some amazing dips for parties or just to snack on whenever you want.
Crockpot Low Carb Beef Stew | Stew is like soup's cousin, and it is just as delicious though a smidge harder to make than a crockpot taco soup recipe.
Shredded Beef Sandwich Recipe | Shredded beef is more tender, juicier when you use a crockpot to make it, no matter how you choose to use it.
Easy Slow Cooker Apple Crisp Recipe | Crockpots aren't just for main dishes or side dishes. You can make crockpot desserts as well.