This site contains affiliate links. Please read our Policies for information.
Many months later I still adore my Microsoft Band and am constantly receiving questions on what it all does.  My husband and I bought our bands but I am now working with Microsoft and have been learning even more about their band.
If you are new to the Microsoft Band these quick tips and tricks will help!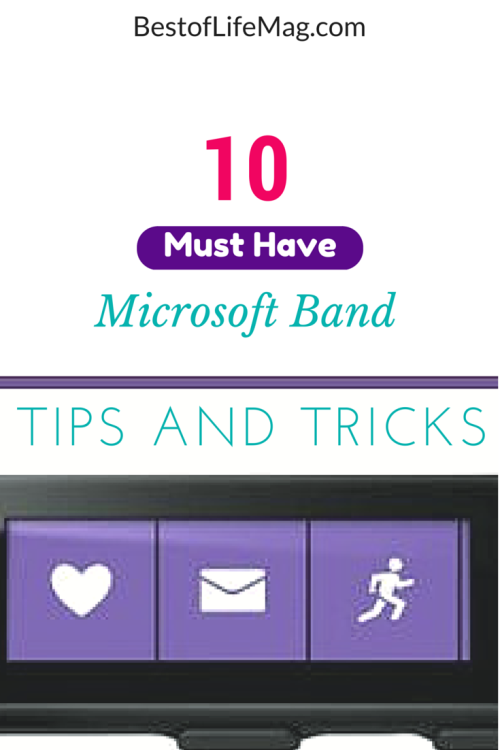 Make the most of your Microsoft Band with these tips and tricks that will turn you into a pro user of the device in no time!
Wear
It can be worn with the screen facing out, like a wristwatch, or with the screen on the inside of your wrist, for more privacy.  Wearing your Microsoft Band with the screen facing inside your wrist is a natural feel and may be more comfortable when typing.
The Me Tile
This tile is what you see whenever you turn on the device; it shows the current time and one of five indicators: Day of the Week, Distance, Calories, Heart Rate & Steps.
Personalize
Use the Microsoft Health app to personalize your band with 12 different wallpapers and 13 colors.
Calls
When you receive incoming calls, you will see the number come across on your smartphone screen with an option to dismiss or respond with a preset text message.
Tap through into the phone tile to see missed calls, voicemail notifications, and caller ID.
Email and Text Alerts
Email previews appear right on your wrist and give you a snapshot of your emails.  This is super handy when driving and is perfect when you are out to lunch, or in the middle of a meeting.
The text alerts are perfect when you cannot step away but need to know if it was truly anything urgent.

Calendar
See where you need to go next by tapping on the calendar tile; this allows you to view upcoming meetings and appointments in the Calendar tile.
Social Media
Use the Microsoft Health app and your band to connect to your favorite social media networks and applications like Facebook, Messenger, and Twitter.  You can toggle these on and off via the app.  I personally don't like them turned on – I have enough things buzzing at me that I don't to be distracted from my band's benefits.
Pre-set Quick Responses
Quickly respond to calls and text messages right from your Microsoft Band with pre-set quick responses.  When you receive a phone call or a text message notification, swipe to the right and go past "Dismiss" to choose from the pre-set quick response of your choosing.
Quick Responses can be customized in the Microsoft Health app.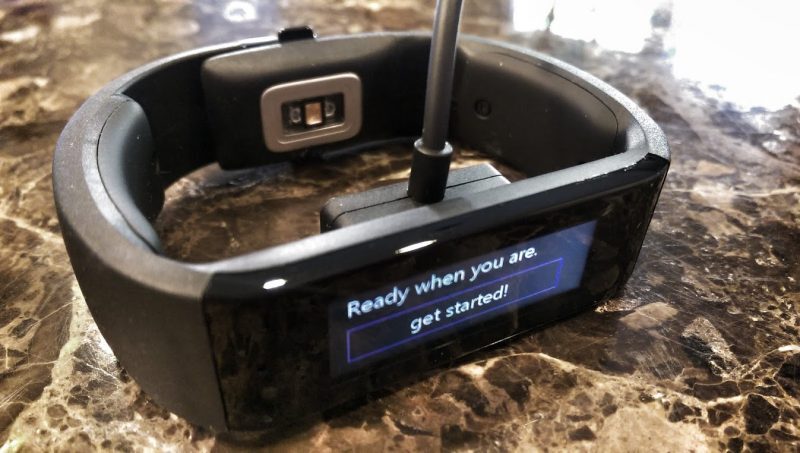 Sleep Tracking
Tell your Microsoft Band that you're going to sleep by tapping on the sleep tile. When you wake the next morning you can see how efficient…or inefficient your sleep quality was.  You can see everything from restful sleep vs. light sleep, how many times you woke up through the night, how long it took to fall asleep, and calories burned while you slept (The BEST ever way to burn calories).
Run Tracking
You can now leave your phone at home when you go out for your run thanks to Microsoft Band's onboard GPS.  Sensors are located on both the top and underside of the band and track everything from your route, to pace, distance, duration, splits and calories burned.  It even breaks down your calories burned by carbs versus fats.
Tap on splits to see your pace per mile and average BPM.  Take it a step further by tapping the heart icon which will overlay your heart rate on the run and show when you were running in an anaerobic state versus aerobic state.
Cortana Awesomeness
Okay ONE more.
I couldn't end without mentioning that Windows Phone users running Windows Phone 8.1 get a major perk when using the Microsoft Band.  You can set reminders through the built-in microphone, make and add to your to-do lists with verbal commands, and enjoy location-based reminders when you are near the location you need to complete your task at.
Cortana will also use its GPS tracker to remind you when you need to leave in order to make it to your next appointment.
The Microsoft Band truly is the next generation of wearable bands and blends convenience with fitness needs.
I am working with Microsoft and received a Microsoft Band as part of the engagement.  All opinions are my own as they always are.