This site contains affiliate links. Please read our Policies for information.
Becoming a parent changes just about everything in your life, including your car.  What once fit you perfectly no longer works when you have a baby.  Your world shifts and your priorities go through a very rapid resorting process after which many families declare they need a minivan. We did it – twice!  Now with our oldest being eleven we have transitioned away from driving one on a regular basis, but that doesn't mean we don't appreciate all of the perks a well designed minivan provides.
We drove the 2015 Kia Sedona for a week and I was quickly reminded of all there is to love about its many features.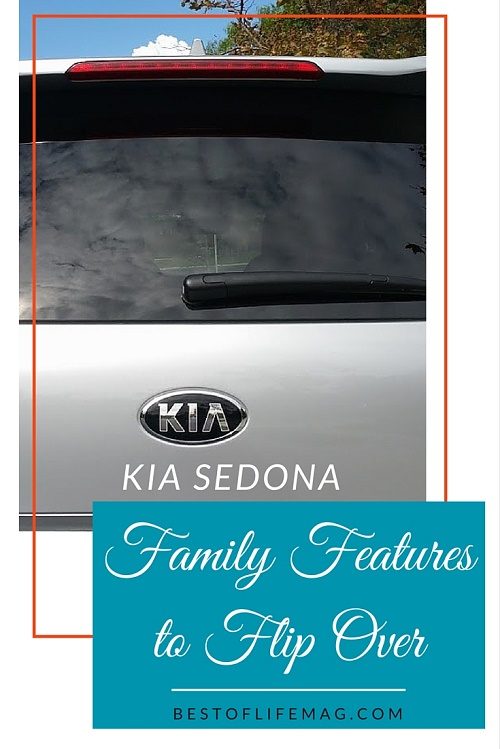 Crystal Clear Vision
I live in my car and spend the majority of my driving life focused on making sure little people are safe.  Have you ever paid attention to how many cars have very dangerous blind spots that make seeing kids and shorter people very challenging?  When I sat behind the wheel of the Kia Sedona, the first thing I noticed was that I could see everything.  Literally.  The front seat is like the cock pit of a plane and allows the driver to see a wide viewing angle without much effort at all.
This is perfect for families who spend time in carpool lines, dropping kids off at sports, pulling into tight parking spots with kids talking or babies crying.  When driving the Kia Sedona, you can drive with confidence knowing that you have a clear eye on everything you should and that everyone inside the car and out are safe.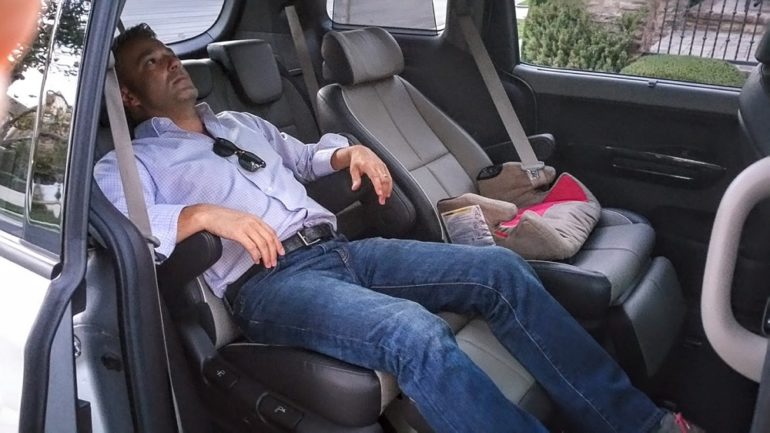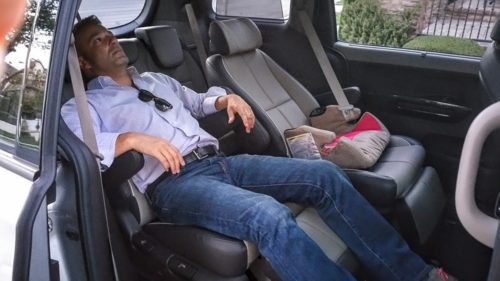 Recline and Kick Back
The #1 voted feature of the Kia Sedona regardless of voting age was the footrests on the second row seats.  Yes – footrests.
I have never seen this on a car before much less one priced in the lower 40,000 range.  The two buckets seats both have their own footrest; simply have a seat and pull a lever on the side of the seat.  There are multiple points at which you can adjust the footrest and truly, nothing beats looking in the rearview mirror to see your kids and their friends kicked back and relaxing while you drive them around.
My husband tested this feature to see how it would meet the needs of an adult and was pretty impressed.  He folded the third row seats down, slid the second row all the way back on the track system, and was able to almost fully recline the back of the seat.  Combine that with a footrest and you have quite the perfect napping place right in your Kia Sedona.  My husband is 5'10" and his feet just about touched the back of the front passenger seat in this position.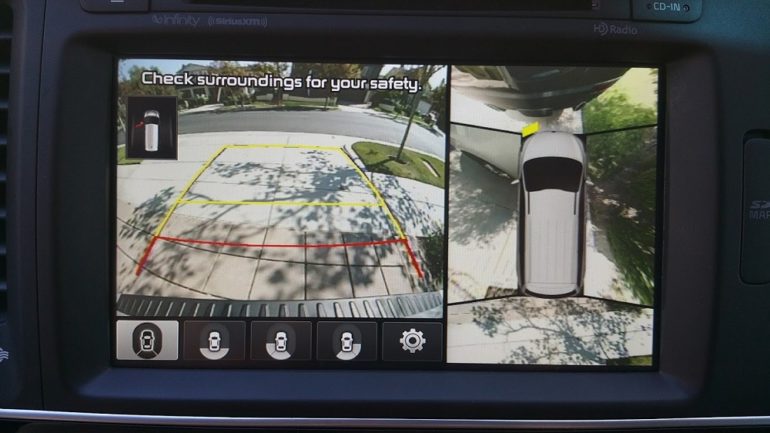 Intuitive Tech
Kia has really made great strides and defined a place in the automotive industry and one area they continually excel in is their navigation system.  Regardless of which Kia car we have driven, the navigation system is intuitive and easy to figure out.  It just works and works well.
The multiple cameras on the Kia Sedona are a definite plus as well. Being able to easily switch between camera views with a quick touch of a button is very nice and I loved being able to see just how close I was to that car in front of me.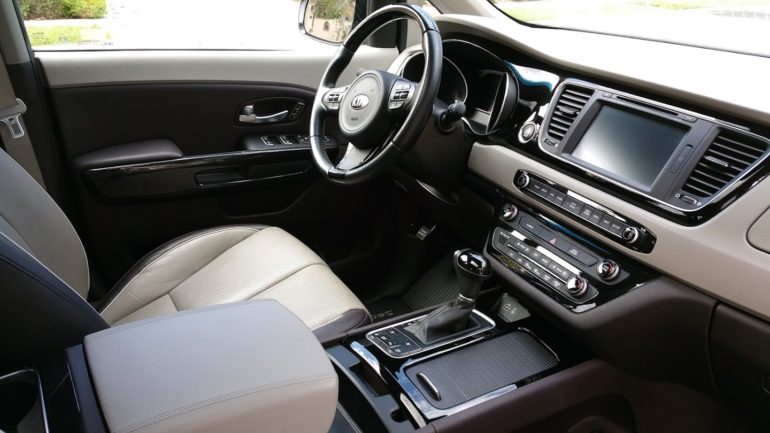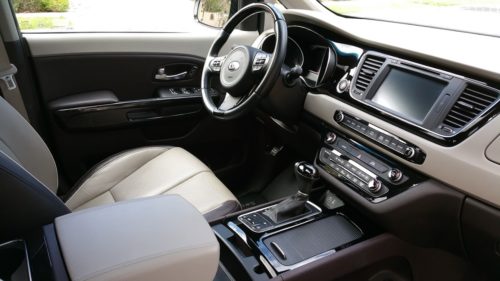 Forward Thinking
As parents, my husband and I love it when the little things make life that much easier.  Thus, I squealed in delight when I approached the rear of the vehicle and heard a beeping sound which was followed by the hatch opening on its own.  It senses the key and opens on its own; now if you walk by or get even a foot further away, the beeping will stop and the trunk will not open.   I also loved the feature where I could stand close to the kids (most of the time with an arm full of groceries) by their side sliding door and the could pull it open without me unlocking the door.
The Kia Sedona thinks a step ahead of you and takes care of everything for you.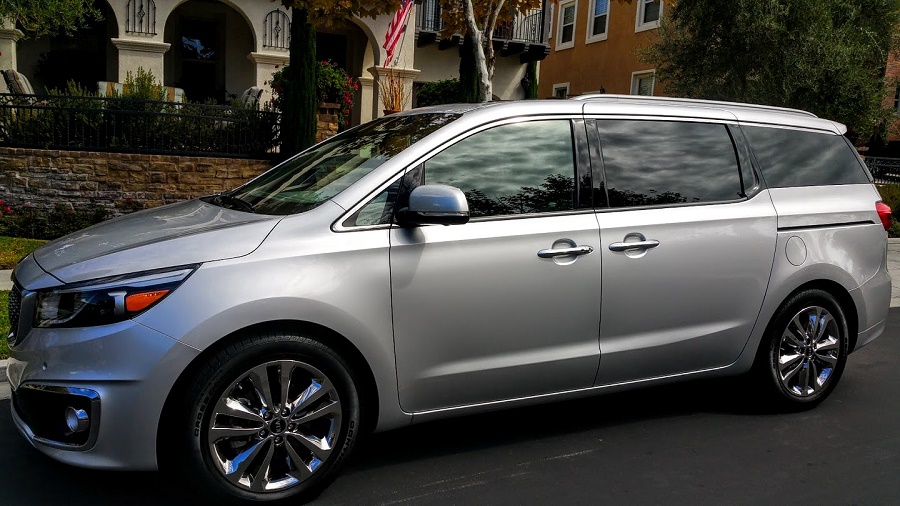 Loaded and Priced Perfectly
In the end, families need vehicles that offer them the comfort they need at an affordable price point.  It can be challenging to find a minivan that provides a safe ride for our most prized possessions which is also not going to break the bank.  The Kia Sedona starts at $26,100 and extends up to just under $44,300 for the 2015 Limited fully loaded with a rear seat entertainment system.  That's an impressive price point that makes the minivan dream not only more attainable but more enjoyable for more people.
Save