This site contains affiliate links. Please read our Policies for information.

We all want ripped abs and to look fabulous at the beach right? However, toning the abdominal muscles can be easier said than done, especially as the years pass and you have kids. I work out four to five days a week but know there is still work I can do to tone my abs. Slendertone may be the answer I'm looking for daily so I was happy to partner with them to share my thoughts on the Slendertone Abs7 Belt.

There are so many options out there for toning and tightening abs. There are rollers, workout programs, supplements, belts, and more. The options are endless. The main thing is that you can find something that works for you! Another great option is the Slendertone Abs7 Abdominal Muscle Toner. It's easy to use and it gives great results!
The Slendertone Abs7 Abdominal Muscle Toner is a unisex belt and perfect for both men and women within a variety of fitness levels.
Over the years I have glanced at a lot of ab belts that claim to tone your abs while you go about your normal daily activities, but none have ever seemed worth a try – until Slendertone Abs7. When Slendertone reached out to me to try their new Abs7 Abdominal Muscle Toner, the product immediately stood out to me so I knew it was worth a try.
How the Slendertone Abs7 Works
The Slendertone uses electrical muscle stimulation technology to firm the abs and make them strong. This EMS technology exercises all of the muscles in the abdomen instead of just the ones under the belt. This is one of the areas I wondered about and after 8 days of use can attest that it does truly work muscles beyond the belt zone.
The belt sends a signal through your nerves causes your ab muscles to contract and relax. You may have read that you should try and do this while driving for an extra workout to build lean rock hard core muscles. The Abs7 belt does that for you with the EMS technology.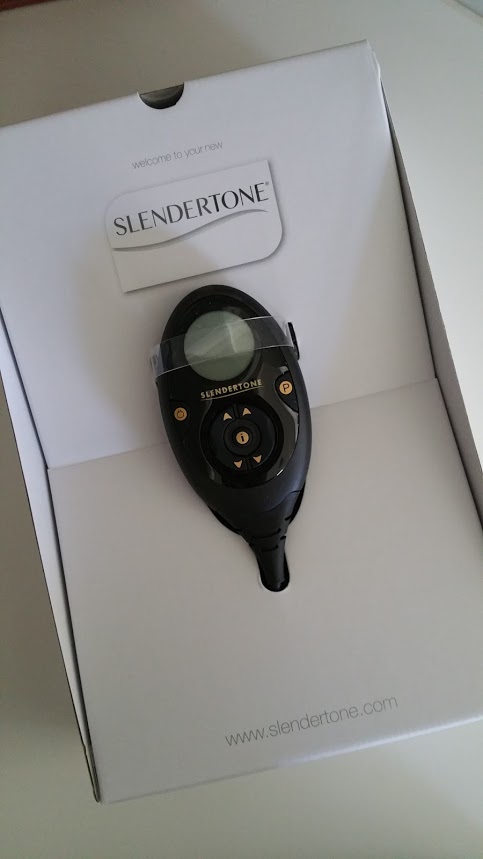 When you start using the Slendertone Abs7 belt you charge the controller and then place the gel packs (included in the packaging) on the belt. The gel packs have a plastic cover that you remove before using and placing on your body. Then you turn the belt on, do your workout, and place the plastic covers back on the gel pads for belt storage.
Comfort and Fit
The Slendertone Abs7 muscle toner belt is truly comfortable to wear; there are no rough seems and it is easy to place on your body -no assistance required. The gels will certainly feel chilly on your skin but warm up within seconds and while you may think they will stick to your skin when you remove the belt, there is no residue left behind. This is a major selling point for me because this allows you to wear the Slendertone Abs7 anywhere.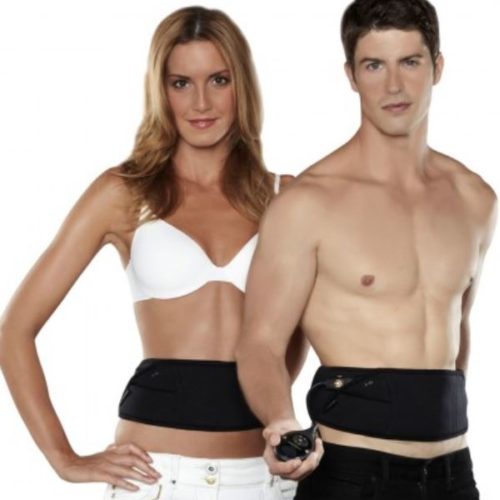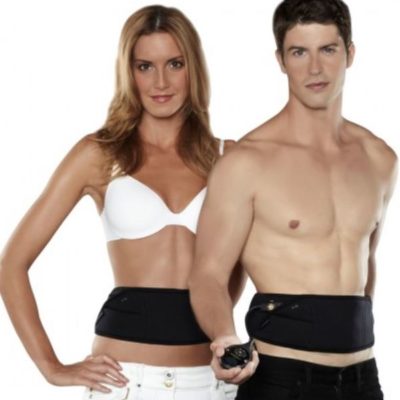 I wear it while working, cooking, and during a chilly day even wore it under a sweater when I picked the kids up from school in the carpool line and while walking up a different day. The exterior of the belt has nice slip pockets allowing you to tuck the controller right into the belt while you wear it. With a simple click you can disconnect the controller to recharge and then reconnect. One charge has lasted the full week I have been using it thus far and hasn't even taken the battery level indicator down a notch.
The Ab Workout Programs
The Slendertone Abs7 has ten toning programs that you work through by wearing the belt five days a week. When you start, you start at level 1 and find your comfort level where your abs start contracting. The programs run from 20-30 minutes for the seven out of ten levels that you do when not doing any physical activity. There are two to ten sessions at each level until you get to be a pro at level 6. Levels 8-10 are for when you are doing physical activity if you want to really take things up a notch. You can even use the belt when doing crunch exercises for the highest two levels. The belt will progress you through the levels in order while you simply adjust the intensity level.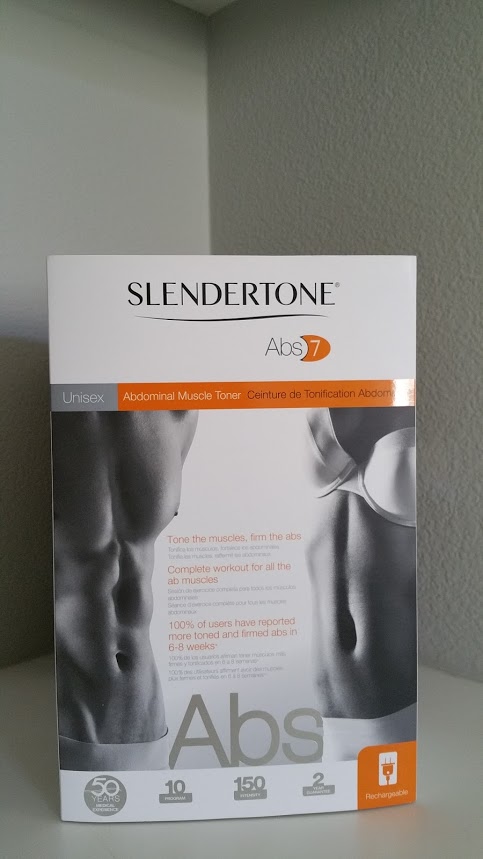 My Slendertone Ab Belt Workout and Settings
Day 1 – Program 1 / 20 minutes: I started at level 1 to get a feel for things and then quickly found a good starting point at level 39. This was where I could feel my ab muscles respond. I will admit that I was skeptical.
Day 2 – Program 2 / 25 minutes / Level 47: I woke up this morning and rolled out of bed and had that inner twinge that felt like I had done a ton of ab work. Since my workout was cardio based yesterday, it must have been the Slendertone Abs7 at work. The workout was comfortable to progress through and I made dinner while I wore it.
Day 3 – Program 2 / 25 minutes /Level 50: I could definitely feel the results of the belt this morning so only upped my intensity to 50. I am 1/3 of the way through the intensity levels.
Day 4 – Program 2 / 25 minutes / Level 53: Wowza! I can totally feel the belt working more for each level above this now. Today I only upped it to 53 and could feel my abs contracting nicely. I have been on target with my T25 workouts this week and eating; the beauty is that today was when I could see how those two things WITH my Slendertone Abs7 is making nice improvements on my abs!
Day 5 – Program 3 / 30 minutes / Level 56: Moving right along. The belt did not go to level 3 on its own today so I moved it up based on what the schedule says it should do in the manual. Today I feel toned and when I sit and hold my core strong, I feel like I have been doing sit-ups all week! But I haven't and I love that I feel the tightening along my entire core and sides.
Day 6 – Program 3 / 30 minutes / Level 59: I am still feeling the results of the belt and know it is working. Progressing 3-5 levels each time seems to work well as I can definitely feel it.
Day 7 – Program 3 / 30 minutes / Level 64: There are 150 levels and at this point, it is hard to imagine how much contracting would happen at that level. Adding five minutes onto my workout with Program 3 has not been uncomfortable and felt totally natural. I am excited to move onto the next program and see more results.
Verdict
The Slendertone Abs7 Toning Belt works. Period.
It does what it claims to do and it is so easy to use; given those factors, it would be hard for someone to not get results. Keep in mind that I do not have a lot (some 🙂 ) fat on my stomach; it seems reasonable to me that the belt can do its job better with less fat to work through but I cannot speak for that personally.
I have been using my Slendertone Abs7 Toning Belt for over a week and could feel growing results each day. Slendertone states that 100% of users reported more toned and firmer abs in 6-8 weeks so when I look at those stats combined with my experience thus far I know I have only positive gains to look forward to. Plus with a two-year guarantee backing it up, I feel good knowing the company will stand behind it if something happens to it.
The Slendertone Abs7 Abdominal Muscle Toner is a unisex belt and perfect for both men and women within a variety of fitness levels and retails for $199.99.
Save
Save