This site contains affiliate links. Please read our Policies for information.
Technology has given us many different ways to listen to music but the two most popular ways are through Bluetooth speakers or WiFi speakers. Using either of the two, we can connect our smart devices to a speaker and listen to any type of music we want. While both work great, WiFi connection is more stable, produces better sound quality, and doesn't require you to stay within a set distance to the speaker. The RIVA WAND ARENA is a WiFi connected speaker that addresses some of the main issues of portable WiFi speakers on the market.
The RIVA WAND ARENA takes multi-room music to a new level with WiFi and makes listening to music simple with Google Chromecast built right in.
Portable WiFi speakers offer a lot of benefits over Bluetooth connected speakers but there is a major problem. WiFi portable speakers often come with a shorter lifespan. Operating over WiFi takes more power and that means batteries are drained faster. Having a battery that doesn't last long isn't ideal when it comes to a portable speaker but the RIVA WAND ARENA may just be the solution to that problem.
RIVA WAND ARENA | Features
The RIVA WAND ARENA has one main feature and that's WiFi connectivity but there's more to this device that makes it worth a look. Features like Chromecast built-in make the speaker more than just a portable speaker, it's a smart speaker. Using the Google Home app from your phone, Android or iPhones, tablets, or laptop, you can control the speaker and stream your favorite music. AirPlay is also enabled in the RIVA speaker that allows for many different Apple devices to control the speaker as well. The speaker is also ready for real life with splash protection, device charging, and grouping capabilities. Grouping allows you to have multiple RIVA speakers playing the same music at the same time, in perfect sync.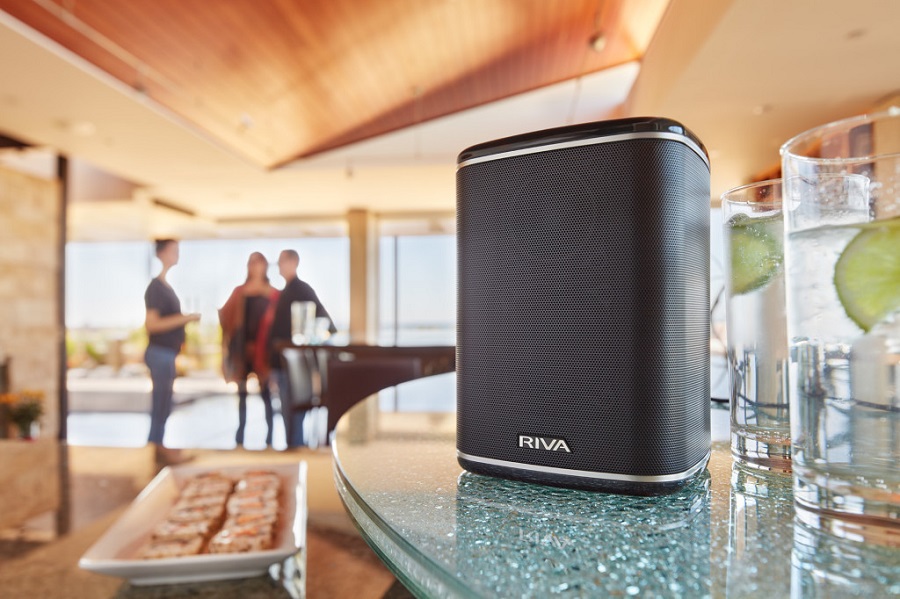 RIVA WAND ARENA | How it Works
Connecting to the RIVA ARENA speaker is very simple and made even easier thanks to the Chromecast built-in and AirPlay capabilities. Through Chromecast, simply connect the WiFi speaker to the same WiFi as your device. Once connected, when you open a music app, there is an option to connect to the speaker for playback. Two taps and you'll be connected and the same goes for Apple AirPlay. You may not always be near an open WiFi connection but there are still ways to connect. For instances when you're away from WiFi there is an auxiliary port that allows you to plug your device directly into the speaker. There is even Bluetooth options if you don't have an auxiliary cord and don't have WiFi nearby.
RIVA WAND ARENA | Battery
The biggest problem with portable speakers, WiFi especially, is battery life. No one wants to stop jamming because the battery couldn't keep up. Some of the worst remixes are ones when the music is lowered and you hear the warning, "Battery Low." While at home, the RIVA speaker can be plugged into an outlet and last as long as you'd want. While away, there is an optional battery pack for an extra $99. While the battery pack seems expensive, if you're on the move a lot it's perfect. The battery lasts for hours and can easily be attached to the bottom of the speaker or detached. To charge the battery, simply attach it to the speaker and plug in the power cord. The extra big battery can also help charge other devices while you're away from home.