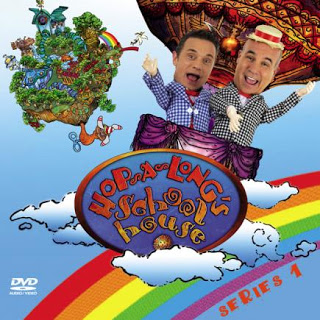 This site contains affiliate links. Please read our Policies for information.
Written and performed by a team of professional educators,
Hop-A-Long's Schoolhouse
is an entertaining show that promotes environmental awareness, global responsibility, and character traits…all in a content rich format.  
"Hop-A-Long's Schoolhouse"
 is suitable for all children, but recommended for children ages 3-10.  It was created by a group of educators and weaves content areas of literacy, science, music, dancing and language arts in each episode as well.I will be honest…I looked at the cover (seen at the left) and thought I was in for a corny show.  Guess what?  It is corny, but in a good way.  So good that both of our children love it, ask to listen to the music, and watch the show repeatedly.  It reminds me of good old fashioned shows that I watched as a child.  There is something to be said for that in today's high tech, sometimes over the top, world. The music was entertaining and downright peppy for the kids.  When I asked them what they liked about
Hop-A-Long's Schoolhouse
, they both said the music was great and our comedian of a three-year-old daughter thought it was "super funny".  Mr. C, our six-year-old, loved learning about animals, and often recalls phrases from the show about how important it is to keep our earth clean, take care of the animals, and so on.  All things that he already knows, they having those principles reinforced through something they both truly enjoy is great!
The series 1 DVD pack of
Hop-A-Long's Schoolhouse
includes three 24-minute episodes, a bonus music CD containing all the original songs from the series and a free poster. You can purchase Hop-A-Long's Schoolhouse DVD in Mommy Mentor's Open Sky Shop through any link in this post for $18.00.