Jillian Michaels BODYSHRED Rise Workout Tips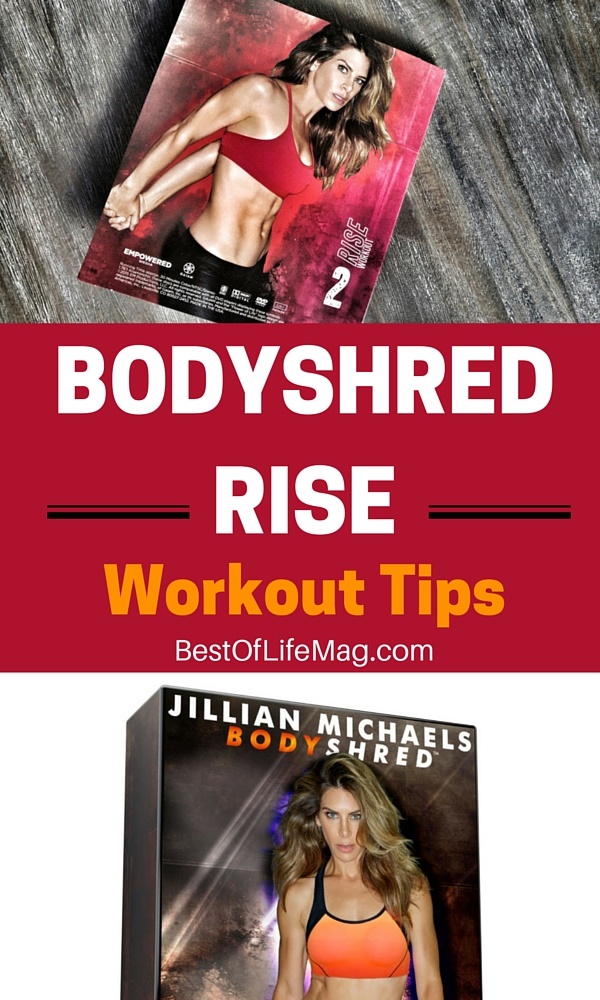 I just finished the first two weeks of Jillian Michaels BODYSHRED and am loving the workout! I own just about every workout Jillian has made and am so impressed with the entire BODYSHRED workout. Somehow Jillian has done it again and made a workout that will challenge the pros and encourage those that are just starting out in their healthy lifestyle and workout program.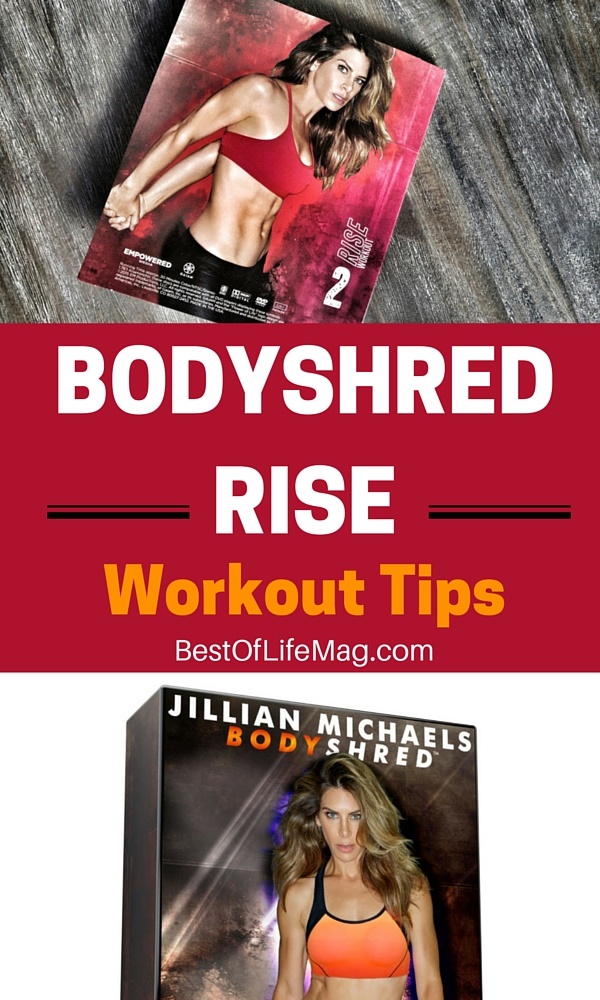 Jillian Michaels BODYSHRED Rise is the perfect workout to help build your strength and prepare you for the rest of the workout program.
About the BODYSHRED Rise Workout
Rise builds upon what you did in Jillian Michael's Bodyshred Launch workout to make you strong for the entire program. The Rise workout focuses on muscles that fulfill the pull function in our life; think back, biceps, hamstrings, calves and glutes. As with all Jillian workouts you build stamina as well through this high intensity interval training. Your core also receives attention with one minute of dedicated core work in each 3-2-1 rotation.
Jillian Michaels BODYSHRED Rise Moves
When I tell people I am a devoted Jillian fan for at home workouts, they usually think I am crazy because Jillian in tough. However, sometimes I think people may get the impression that Jillian is tougher than she is. Anyone can do her workouts, I promise!
The Moves in Bodyshred Launch Workout are outlined below.
Warmup:
Running Man, Arm Circles, Jumping Jacks, Cat Cow, Jump Rope, Toe Taps
Circuit 1:
All rotations are completed two times.
Resistance (3) – Medium Row in Half Squat, Single Leg Deadlifts to Wide Row, Weighted Good Mornings
Cardio (2) – Butt Kicks, Mountain Climbers
Core (1) – Flutter Kicks, Crunches
Circuit 2:
All rotations are completed two times.
Resistance (3) – 3 Way Supermans, Single Leg Bridge with Lat Pullover, Reverse Plank Knee Thrusts
Cardio (2) – Circle Runs, Running Man
Core (1) – Sit Up into Knee Thrust, Bicycle Crunches
Circuit 3:
All rotations are completed two times.
Resistance (3) – Alternating Lunges with Bicep Curls, Side Lunges with Serving, Curtsy Lunges with Bicep Curls
Cardio (2) – Lateral Forward Knee Thrusts, Punching Plank
Core (1) – Twisting Plank, Split Crunches
Circuit 4:
All rotations are completed two times.
Resistance (3) – Deadlift to Row into V-Fly, Crescent Lunge Fly, Plank Renegade Rows
Cardio (2) – Donkey Kicks, Speed Bag
Core (1) –Oblique Standing Crunches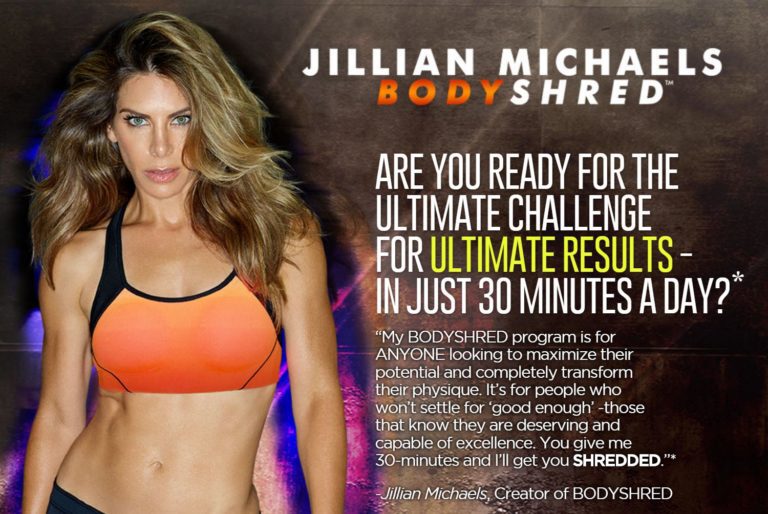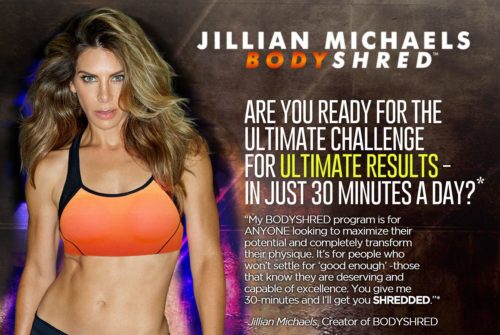 Jillian Michaels BODYSHRED Rise Tips
Bodyshred Rise is another amazing workout from the BODYSHRED workout program. It will sculpt your body without bulking you up. You will feel it but if you push through the second time through is so much easier.
Modify if you need to and push harder if you feel the need. No matter what video you do in the Bodyshred program, all levels are there to show you what to do. Do not let the fact that these moves are challenging deter you; I have been doing her workouts for over a decade and there are some that kick my butt. Do the move to the best of your ability; that is what counts. Show up and do the work. You will get the results.
I struggle the most with all of the plyo and I hurt my foot. I still do the workout six days a week and just take it easy if I need to. What I love most about Jillian is that…there. are. no. excuses.
Be sure to read all of our Jillian Michael's Bodyshred tips, resources, and printables.Save