This site contains affiliate links. Please read our Policies for information.
The HTC One Max comes with many features that allow you to truly maximize your lifestyle from your smartphone.  These HTC One Max tips and tricks will help you utilize the full power and enjoyment of this HTC device.
Sense TV
With all of the buzz around the HTC One Max, Sense TV has not received the kudos and chatter it warrants.  Sense TV is also available on the HTC One and offers you the simple ability to use your One or One Max to control your television and view your TV guide.
It pairs so easily that it allows versatility and fun when you are traveling or visiting friends and family.  You can choose your favorite shows and your show listings will also show themselves in your BlinkFeed so you always stay current.  You can also set up calendar alerts for the shows you want to watch.   This video is helpful if you want help setting up Sense TV.
Sense 5.5 
Sense 5.5 brings some fantastic changes that you will quickly become rather dependent on.
1. The video highlights are pretty amazing.  I first played around with this feature after Ava's holiday concert at school and was blown away by how easy it was to create and share.
To create a video highlight, swipe from the left within your gallery to find "Highlights".   Select your photos, theme, and music and watch your photos come to life in less than five minutes.
2. With Sense 5.5, users find improved access through Quick Settings.  To access your Quick Settings, swipe down and tap on the tiled icon in the upper right corner. You can customize what is included in your Quick Settings by clicking on the edit icon (see the little pencil…that's it!).   With my life in social media and gazillions of alerts on my phone, I am addicted to "Do Not Disturb".
3. Max your HTC One Max use with the Scribble app which is exclusive to the HTC One Max.  This app allows you to take notes, draw, add photos, and keep a multi-dimensional file for just about anything.  I love that the app offers me the option to correlate my scribble notes to an item on my calendar as well.  This app got a workout last week in my meetings with exhibitors at CES 2014.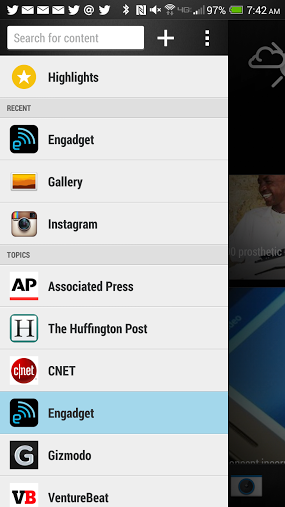 BlinkFeed
The design of the HTC One Max allows me to make the absolute most of BlinkFeed.  I immediately noticed the viewing difference between my HTC One and the HTC One Max with the increased real estate.  With the UI of BlinkFeed, reading is easy and seamless.
1.  Use BlinkFeed to keep up on your social networking by connecting your Twitter, Facebook, and other social networks.  Then choose the topics and content you like to read and let BlinkFeed do the work for you.
2.  To view one content source within BlinkFeed or toggle between sources, simply swipe from the left of the BlinkFeed screen to access the menu.  From here you can choose to view any topic or source to make sure you never miss a thing!
3.  Add your own RSS Feeds to BlinkFeed to bring the content you love from your RSS reader right to your HTC One or HTC One Max.   To add an RSS feed, simply pull down on the BlinkFeed screen, click on the 3 button icon in the upper right corner, click on Topics and Services, and swipe over to Custom Topics. Then click on the search bar and search for your topic or content source.
4. Want to read something that you don't have time for at the moment?  Mark it to read later in BlinkFeed with the easy access button on the lower left while you are in the article.
5. Traveling internationally and want to keep up with relevant news?  Add "Editions" to your Topics and Services to stay current wherever you are!
Have any questions about the HTC One Max?  Leave your question and I will answer it and add it to this guide!