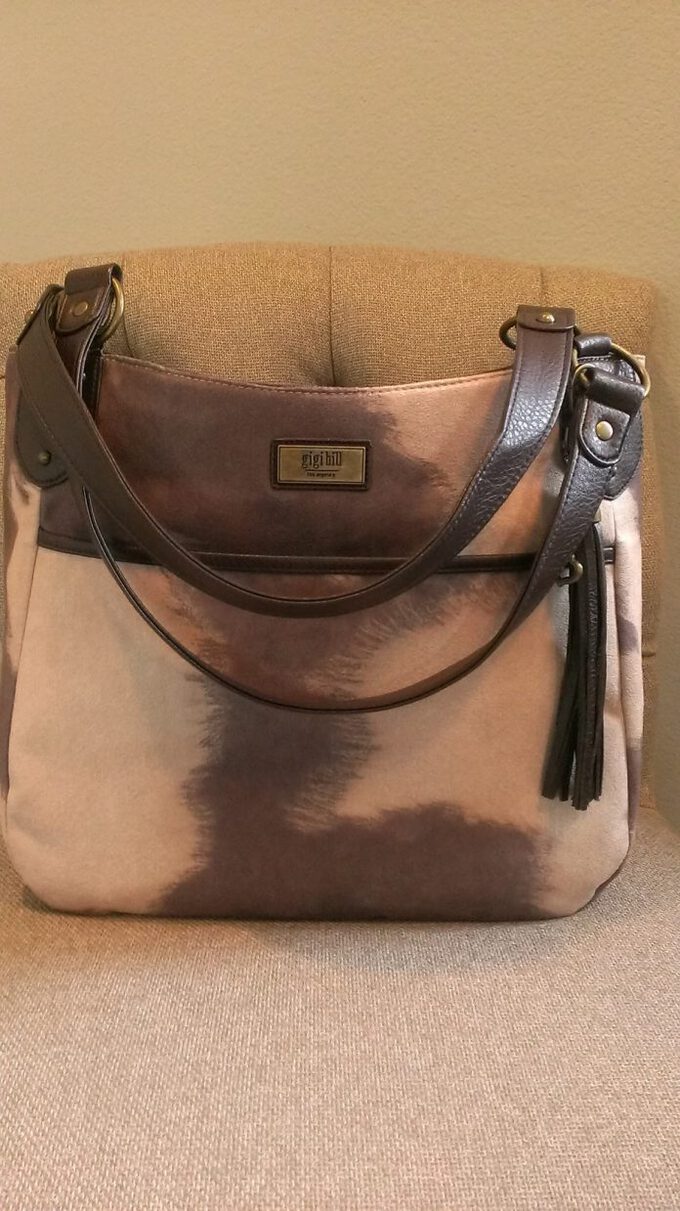 This site contains affiliate links. Please read our Policies for information.
Gigi Hill was launched in 2009 by Gabrielle DeSantis-Cummings and Monica Hillman with a clear intent to make better bags for women.  After all, we can be fashionable and still have the function and style we need, right? With their hometown as Orange County, I am so happy to partner with Gigi Hill to help spread awareness about what I consider a really good company.   Today I would like to share the Gigi Hill Carolyn handbag with you…
As a busy mom and business owner, one thing stood out right away to me…the Gigi Hill Carolyn has perfectly sized pockets to help me stay organized.  The visibility into the interior pockets is truly a nice plus as well – I can stop digging trying to figure out what is in each pocket.  There is a nice central zippered compartment as well which helps make everything easy to find.
The Carolyn Handbag measures 13-3/4″W x 12″H x 4-7/8″D and has a strap drop of 11-7/8″.  The dimensions are perfect – not too big and not too small.  The strap drop allows for me to get one strap on and off without removing the entire bag from my shoulder, which is a lifesaver as a mom.  If you remember, strap drop is one of the most important features to consider when looking for the perfect handbag.
When I saw the dimensions of the Gigi Hill Carolyn, it looked like the width may be perfect for fitting a 13″ laptop.  I was so excited when I realized it fit my Samsung 9 Series laptop perfectly, making my life on the go that much easier.
Another positive feature of the Gigi Hill Carolyn is the zipper closure; it is designed well in that the zipper tucks easily off to the side and is not in your way for daily use. However, when you want to know your items are secure, the zipper closure is fantastic.
The microsuede Western Hide fabric exterior is neutral, yet the design stands out a bit which I enjoy a lot. The Carolyn is available in so many fun colors that  it was hard to decide which print to go with. The Lulu coated linen is light and airy, but yet the Noir is classic and well, it's black. Need I say more? 🙂  As with all Gigi Hill handbags, there are a variety of prints and colors to choose from when ordering.
Gigi Hill handbags are stylish and fun and made with truly durable fabrics!  They now sell about 70 different fashion-forward bag styles and various accessories, including products for women, men and teens.
"Stay in control of the day with the new Carolyn! It's what every city girl needs – large front pocket, comfortable shoulder straps, center divider, a zippered pocket and lots of compartments in the roomy interior. Show it off in your favorite Gigi Hill prints!"  The Gigi Hill Carolyn retails for $139 and are sold through in home parties to give women the opportunity to be in business for themselves…but never alone in that process.  Look here to find your local Gigi Hill Stylist.
Which handbag is your favorite from Gigi Hill?
Before you sign off…make sure you subscribe by email so you never miss news from Mommy Mentor!