This site contains affiliate links. Please read our Policies for information.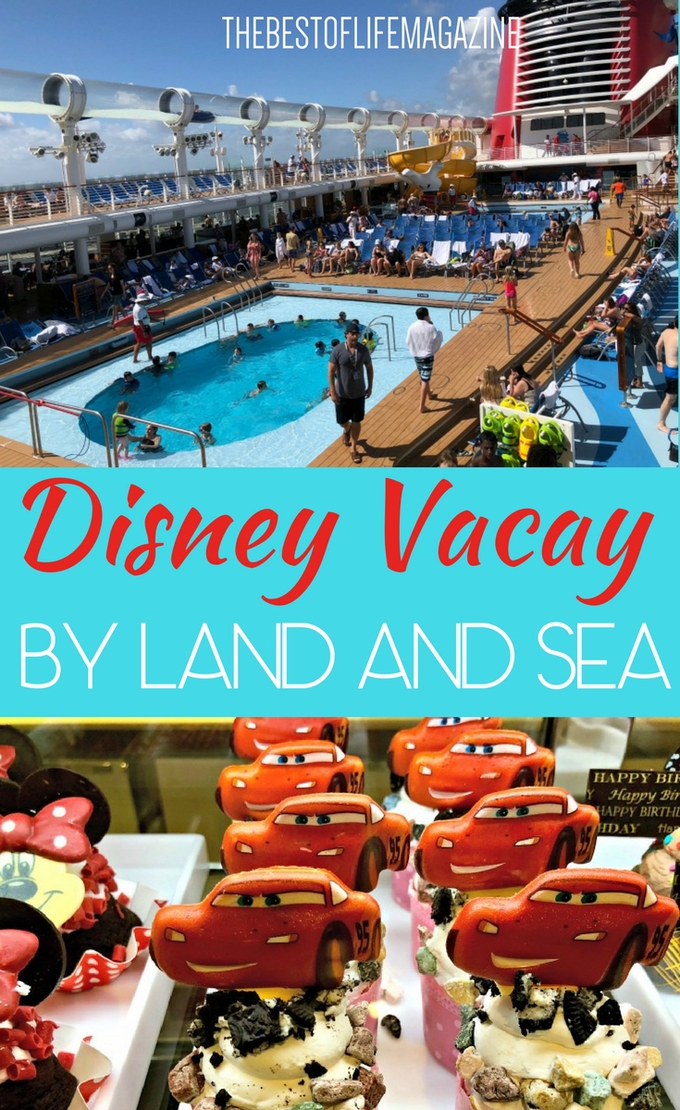 Disney has many different ways to spend vacation from theme parks to cruises and everything in between. While that sounds amazing at first thought, the actual planning process can be quite difficult. First, you'd need to decide if you want to experience Disney by land or by sea. Then, you'll need to decide for how long and where to stay. Once most of the planning is finished, it's time to head off on your vacation, and you will have earned it. But a Disney vacation doesn't need to be complicated. In fact, you don't even need to choose between land and sea.
Take your Disney vacation to the next level by experiencing both land and sea adventures with a trip to Disney World and a Disney cruise in one excursion.
Walt Disney World is the most visited attraction and vacation destination in the entire world. However, tending to the details and planning a Disney visit can be entirely overwhelming. A perfect way to change up your Walt Disney World Resort vacation is to enjoy all that Disney has to offer. Give the family a few days at the theme parks, then relax and unwind on a three-day Disney cruise. That way, when you go home from vacation, you have an assortment of memories and experiences, plus you will have spent some time relaxing instead of just pounding the pavement.
Staying on Disney Property
A great Disney vacation trip starts with staying on property. Not only does this save on driving to the parks since there are a variety of free options available, but also allows your family to enter the parks early or stay late as an onsite property perk (Extra Magic Hours). Those looking for a more budget-friendly accommodation would like Coronado Springs while the luxury travelers may prefer Disney's Boardwalk or Grand Floridian Hotels. All of the hotels offer the same amenities, just on a different level depending on the price range of the hotel. Save your money for souvenirs and fun stuff if you are having a hard time choosing between the different resort levels. You probably won't be in the room much anyway.
Exploring the Magic Kingdom
Your family will most-definitely need a full day at the Magic Kingdom. It also has an epic fireworks display of the evening; plan your day so that your family can last the entire day until the fireworks, perhaps enjoying the hotel swimming pool earlier that day and arriving at the parks later in the afternoon. If you need a lunch or dinner recommendation, I vote for Pecos Bill Tall Tale Inn and Cafe or The Friar's Nook (counter service) for lunch and Liberty Tree Tavern for dinner (table service).
Make sure your Disney vacation day includes the Haunted Mansion, "it's a small world", Space Mountain, and the beloved Jungle Cruise. Big Thunder Mountain Railroad is also a hot attraction. You can book three FastPasses in advance per day and then add them one at a time once you have exhausted your initial three. This ensures that your group will get to ride (without waiting long) at least three rides or attend three attractions.
The Magic Kingdom also has stellar parades and stage shows. There are also dozens of character greeting opportunities so be aware of the places and times. FastPasses can also be used for some of the character greetings, such as meeting Rapunzel and Tiana or Cinderella and Elena at Princess Fairytale Hall.
Animal Kingdom and Hollywood Studios: Double Down Day
Day two of your Disney vacation can be spent at Disney's Animal Kingdom of the morning and Hollywood Studios later that afternoon. The Na'vi River Journey and Flight of Passage at Pandora, the World of Avatar, is all the rage right now, so if you do not have FastPasses, chances are the wait times will be three to four hours each. Popular things to do at the Animal Kingdom are to ride Expedition Everest (Disney's best thrill ride), go on the Kilimanjaro Safari to see a wide range of exotic animals, visit Rafiki's Planet Watch and the petting zoo.
Children will love the cutesy carnival-style games and rides in DinoLand USA, plus there are photo-ops with safari characters there. Kali River Rapids is an awesome water ride, but you will get drenched from head to toe. Grab lunch at Yak & Yeti or transfer over to Hollywood Studios and eat the buffet style character lunch at Hollywood & Vine, complete with a cast of five Disney characters including Minnie and Mickey.
Disney's Hollywood Studios is currently undergoing major renovations but there are still plenty of things to do. Star Wars lovers will go gaga over this park with offerings including Encounter Kylo Ren and/or Chewbacca at Star Wars Launch Bay, Jedi Training, Star Tours -The Adventure Continue, Path of the Jedi, and March of the First Order. A Frozen Sing-Along Celebration, Rock 'n' Roller Coaster starring Aerosmith, Toy Story Mania, and The Twilight Zone Tower of Terror should definitely be on your list of things to do while at this park. If you stay until closing time, you can enjoy the Star Wars: A Galactic Spectacular Fireworks.
A Cultural Day at Epcot
The third dayof your Disney vacation at Walt Disney World will be spent at Epcot. Epcot has many festivals throughout the year and luckily there is no additional charge to get into them, but you purchase the food and drinks separately. The International Flower and Garden Show in the springtime and Food and Wine Festival in the fall are the two most popular. Each festival has free concerts and plenty of bonus things to see, do, eat, and drink.
My advice is to start out riding Test Track, a ride that most families know and love. If you wish to save time, don't bother designing your car. You will get through the line much faster. Soarin' Around the World is the most popular park attraction so be sure to partake in this virtual reality thrill ride. It is a treat for your senses! Other fun things to do in the front of the park (Future World) are to ride Spaceship Earth, drink Coca-Cola's from around the world at Cold Spot, and ride through Living with the Land.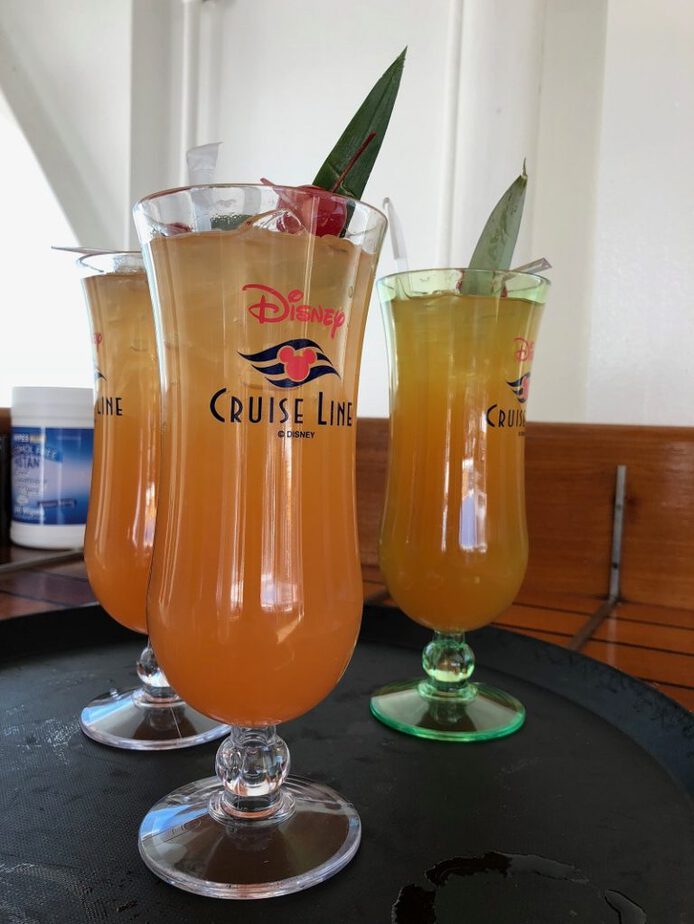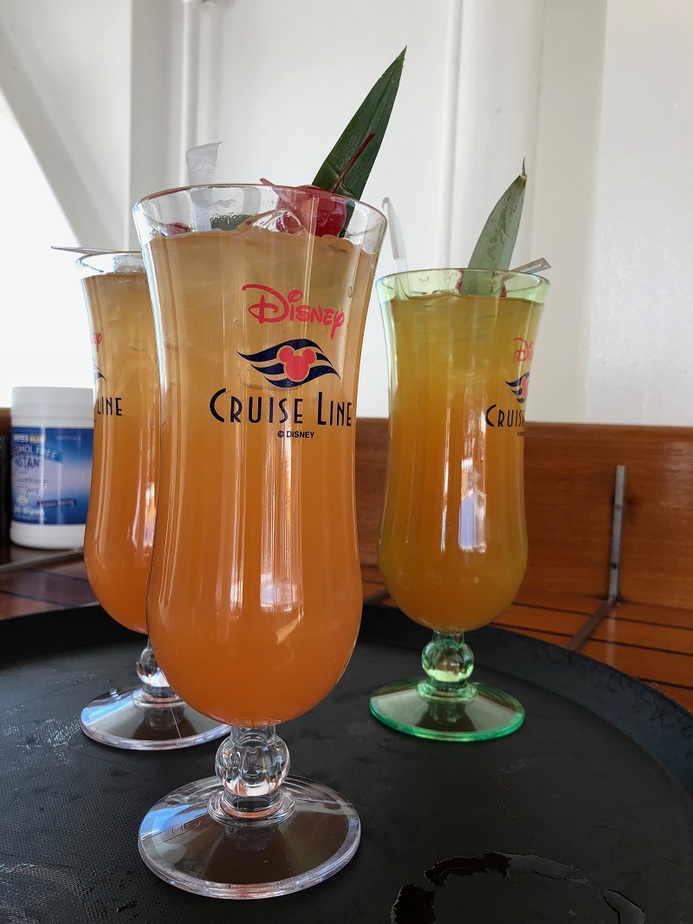 Next up, walk through the 13 countries that make up Epcot's International Showcase. In each country, guests can experience authentic shopping, food and drinks, shows, and performances. Norway has the Anna and Elsa Frozen Ever After water ride, while Canada has a 360-degree film that showcases all the wonders of the beautiful country. Mexico features a Mexican folk art gallery and China has really fun shopping as well as a Circle-Vision film, Go Behind the Great Wall. Meanwhile, your kids are learning about other cultures from around the world and having fun doing so!
Food recommendations at Epcot are Tokyo Dining (Asian eats), Via Napoli (Italian deliciousness), La Cantina de San Angel (Mexican quick service), or Biergarten (German cuisine). Epcot typically has the best food between the parks so indulge here and enjoy it all!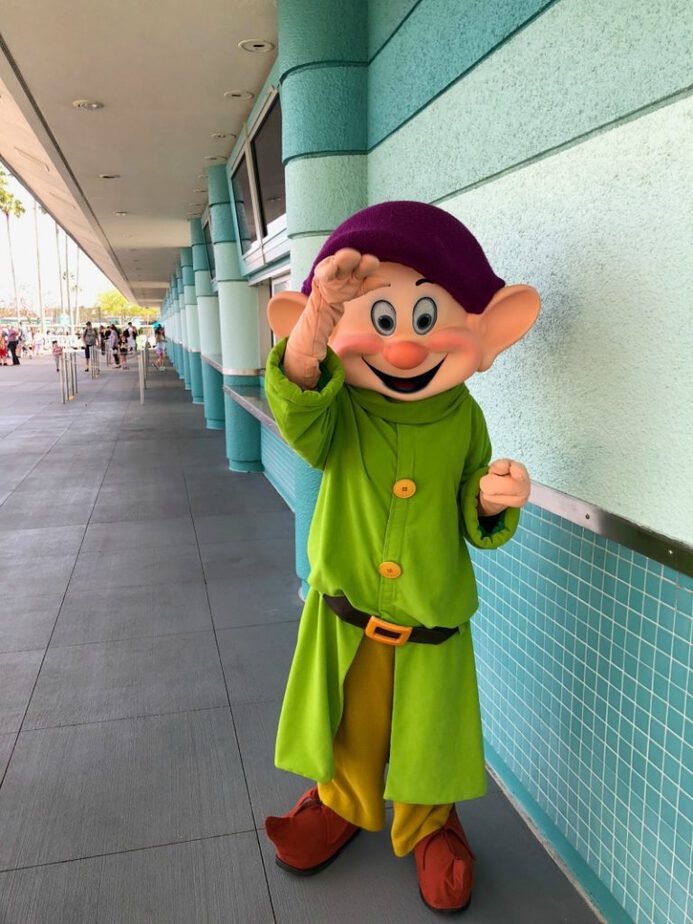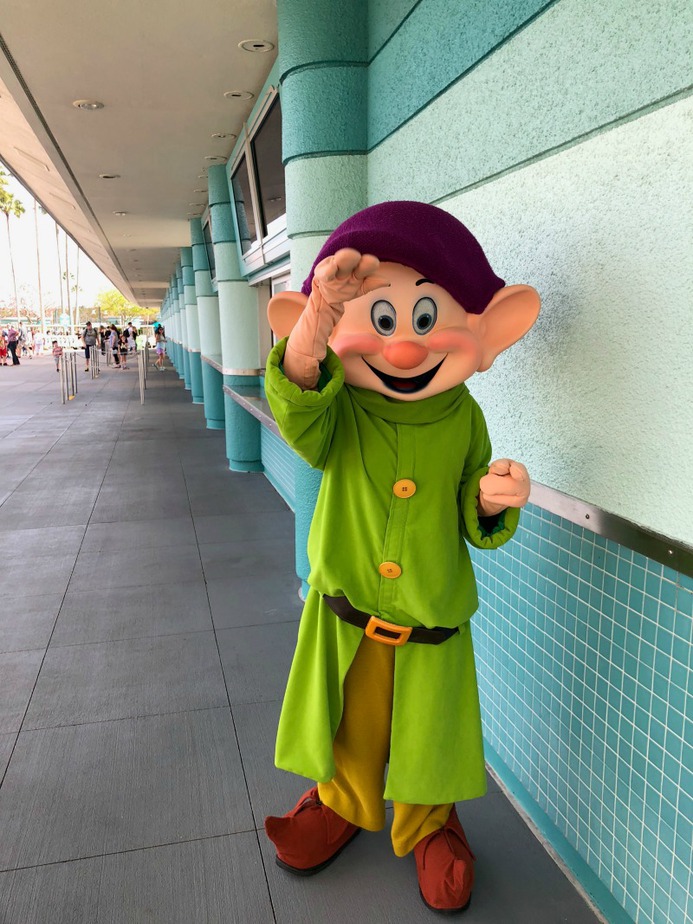 Onward to a Disney Cruise
Closing out the Orlando part of the Disney vacation, we now head over to Cape Canaveral to board the Disney Dream cruise ship. Disney can take care of all the transfers as well as take your luggage from your hotel in Orlando all the way to the door of your cruise ship. If you have your own car, the price is a little under $70 to park at the port for a 4 day/3 night cruise. The port is close to an hour away from Walt Disney World.
Once onboard the Disney Dream (or other ship), you will be immersed in luxury, incredible service, and all the fun you care to have. Embarkation cruise day means exploring the ship to learn your way around, unpacking once your luggage is delivered to your stateroom, maybe a few activities, and of course, eating.
Disney Cruise Ship Accommodations
Staterooms on the Disney ships are spacious as compared to other cruise lines. The decor is classic ocean liner chic done in navy and reds. Beds are high enough to store your luggage underneath and the three small closets, chest of drawers, and other nooks and crannies provide plenty of space to hold your belongings. There is also a small sitting area, a flatscreen TV, and dressing area with vanity. Bathrooms are separated into two with a shower/bathtub and commode in one and sink with commode in the other. This makes it convenient for families to get ready and share a confined space.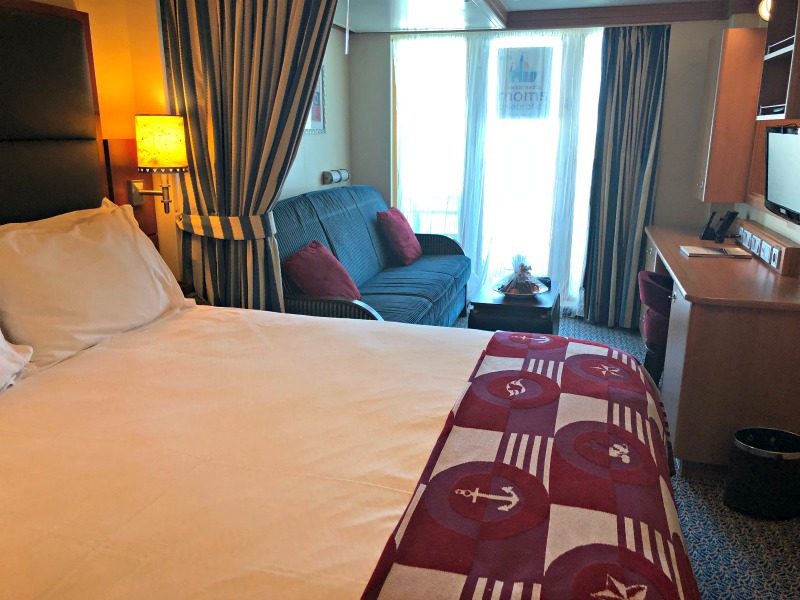 Disney's Dining Magic
With a Disney vacation, your dining experience in the ship's themed restaurants is one of the best parts of the trip. From a magical art to animation meal in Animator's Palate to a fairytale-like setting in Enchanted Garden, each meal is designed to wow you with entertainment, service, and beautiful dinner plates. If you don't feel like going to the dining room, there is always the pool deck buffet, pay restaurants (where a small fee is applied), or room service. I always recommend visiting the pay restaurants. The price is small and the food is out-of-this-world. Definitely, stop at Vanellope's Sweets and Treats for the most decadent goodies you've ever laid eyes on. This is the most Instagram-worthy spot on the boat.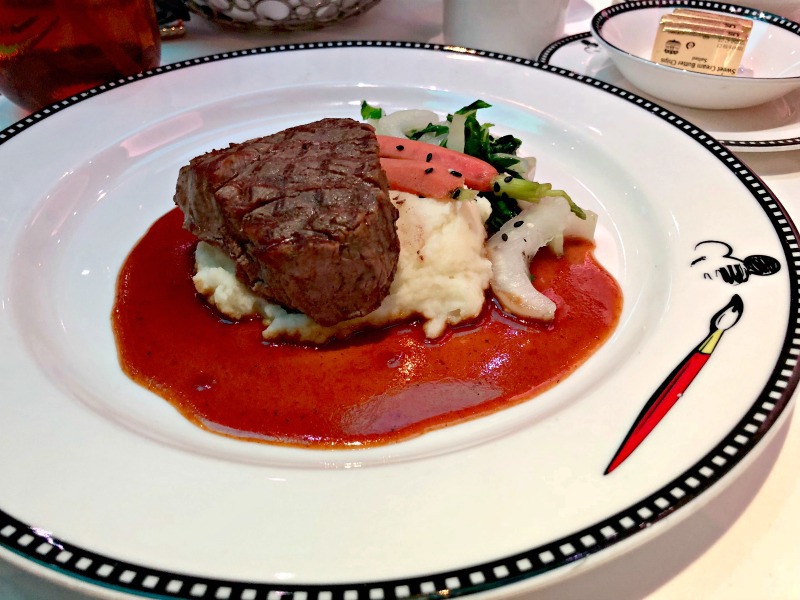 A Plethora of Activities
Activities are abundant on a Disney cruise. Here is a small sampling of the things you can get involved in:
Swimming pools and/or whirlpool

Shuffleboard

Basketball

Waterslides

Bingo

Music, Movie, Disney, or General Trivia

Current run movies in the theater

Wine, Beer, Champagne, and Alcohol samplings

Broadway-style production shows

Live Music

Greenhouse Spa
On the Disney Dream, a Champagne tasting was $30 and well worth the splurge. It consists of six samples of mid to high-end champagnes that were valued at well over $100.
Two Cruise Specialities To Not Miss
One of the biggest reasons for choosing a Disney vacation cruise is to be up, close, and personal with your favorite characters. Disney does a great job of spreading out the cram-packed daily schedule of character opportunities and having a ticket system for the ones that have the longest lines. The wait times are not very long, so don't be intimidated by the looks of the lines. This is your family's chance to meet the characters you know and love such as Minnie and Mickey, Donald and Daisy, Goofy and Pluto, Anna and Elsa, and Chip and Dale.
Pirate Night is one of the most highly anticipated events on the Disney cruise ships. An interactive deck party with pirate-inspired Disney characters transforms into a huge dance party with fireworks, the only cruise line allowed to have fireworks at sea.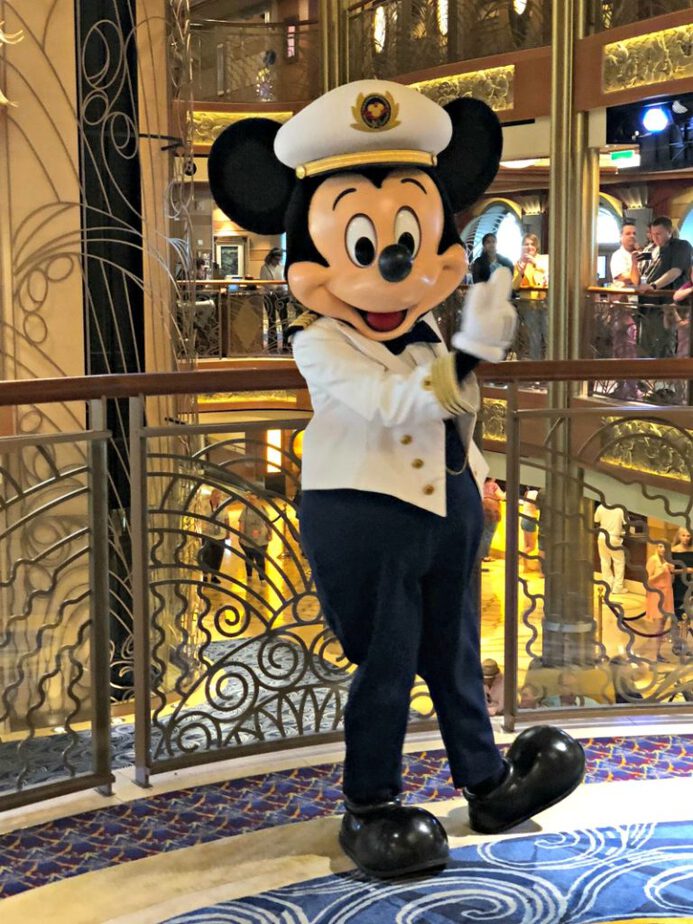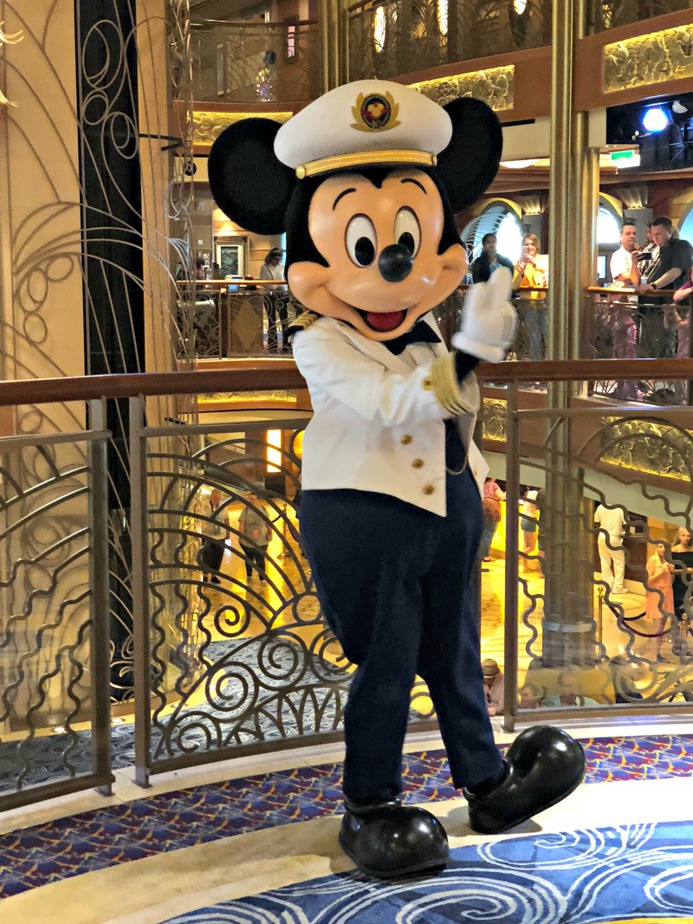 If you are a Disney Pin Trader, meet up at the Officer Pin Trading event where you can swap pins with many of the ship's officers.
Disney's Private Island
Regardless of where you cruise out of Florida, a stop at Castaway Cay, Disney's private island, is on the itinerary. Lucky you! This is a favorite destination amongst cruise throughout the entire Caribbean. There are so many awesome things to do and there is even a separate area only for adults. Sign up for the 5K and walk or run your way to a highly-coveted Disney medal. Later, work on your tan, rent some floats, snorkel, or sip cocktails from one of the bars. Lunch is provided by the cruise line at their own special island restaurants. Served buffet style, the menu is traditionally local fish, burgers, hot dogs, side dishes, salad, and chips. Fresh fruit, cookies, ice cream, and drinks are available as well. Excursions that can be purchased include backcountry fishing, fly fishing, bicycle rentals, and snorkeling.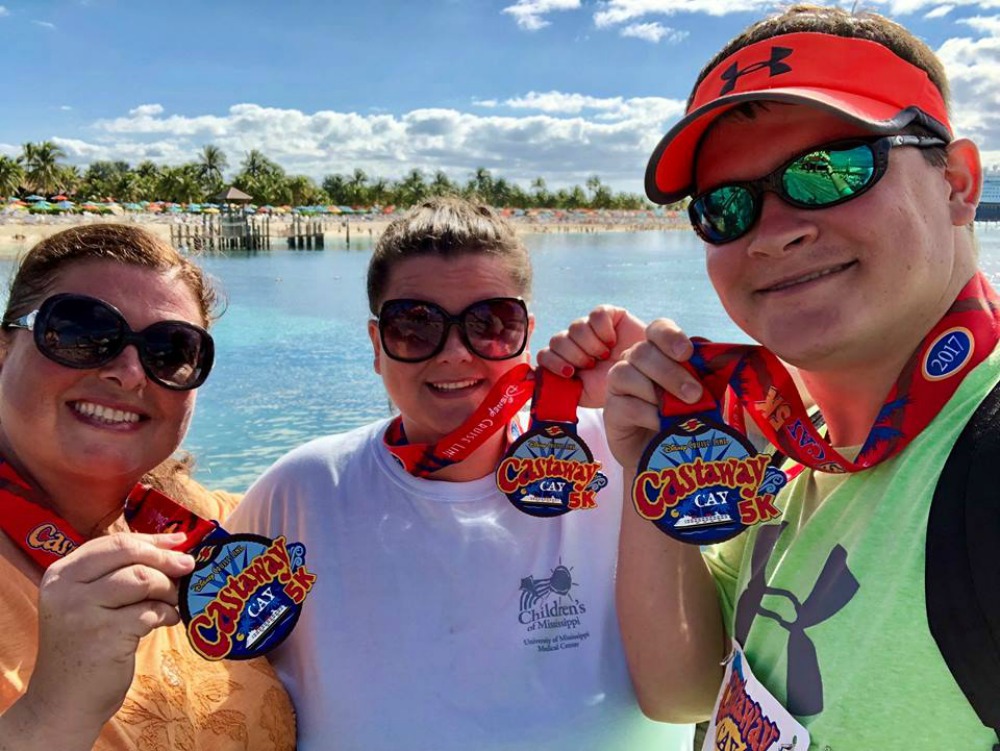 Kid's Camps and Adult's Sanctuary
Kids are the stars of the Disney Cruise Line, so it should come as no surprise at how many cool things the kid's camps offer. Disney thinks of everything and the kids know and recognize this, hence the reason they will want to spend their days in the spaces designed especially for their needs. Adults, this is your time to "vacation". Grab a drink and a seat at the pool and do what your heart desires; read a book, chat with a friend, rekindle the romance, put in some gym time, indulge in a relaxing hot stone massage, or simply do nothing. Disney makes it possible for everyone to do what makes them happy.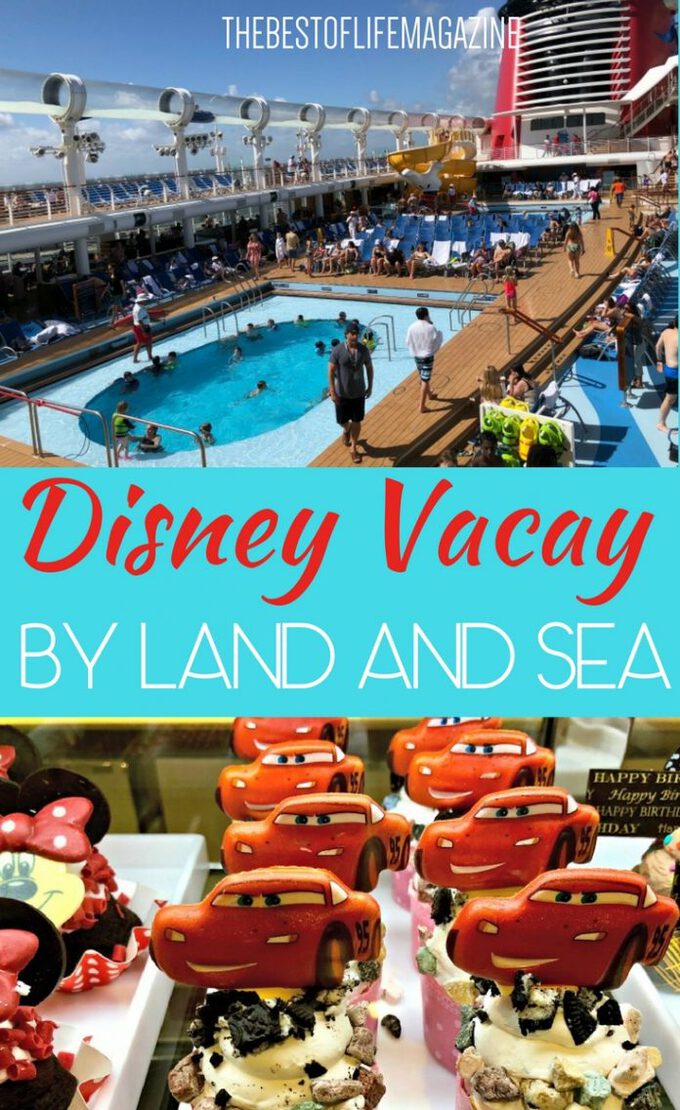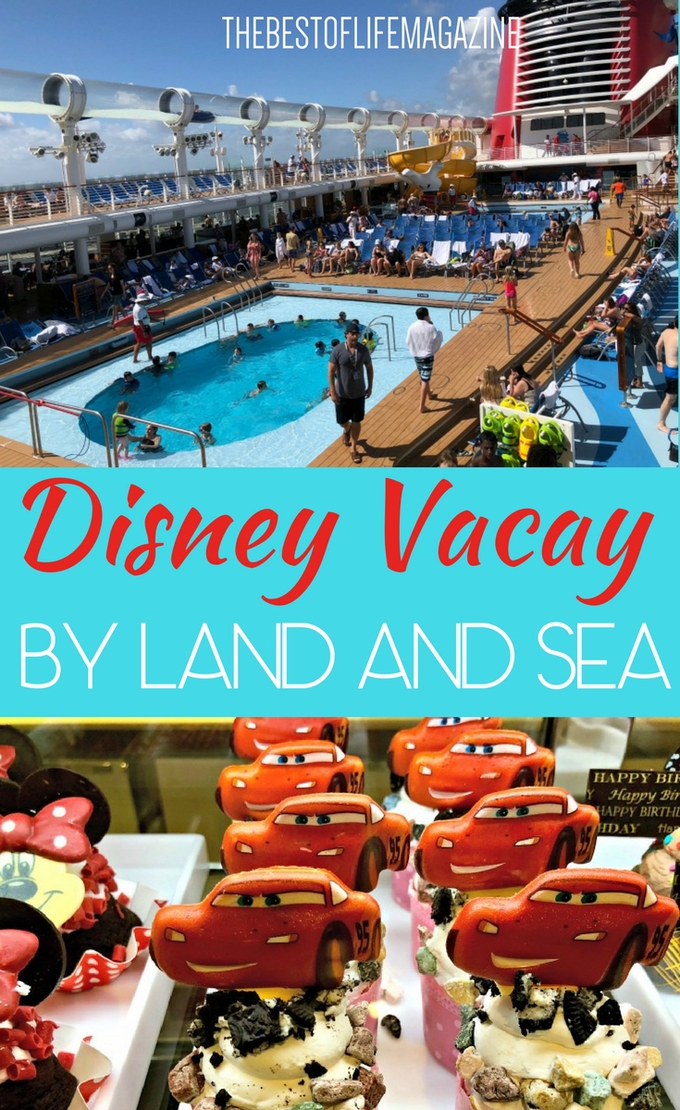 A Dual Disney Vacation: The Best of Both Worlds
You can see how a relaxing Disney cruise following your pavement pounding days at the theme parks really makes sense. This is the smartest way to spend a family vacation where adults and children alike can reach their maximum fun level, packed full of memories. Live your best life now.