This site contains affiliate links. Please read our Policies for information.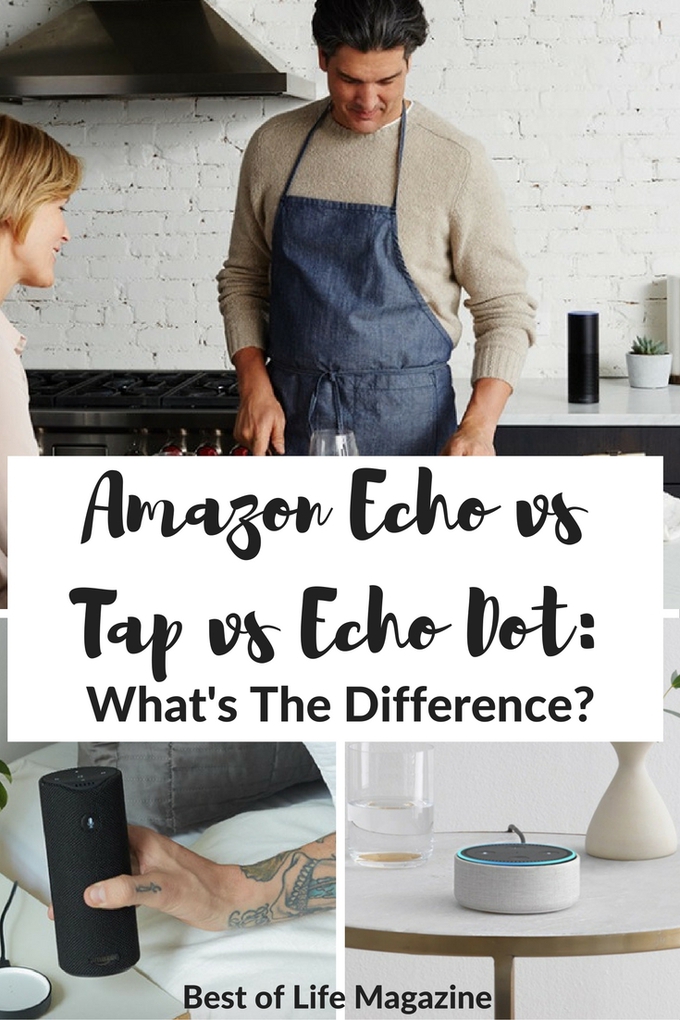 There are three categories of people when it comes to technology, one of which is those who are more cautious and uncertain. New technology is nice and all but can be overwhelming at times for anyone. Consider the Amazon Echo vs Tap vs Echo Dot. Three devices that look similar in some ways, yet each have key features that make them different. This is why it's important to be informed on what your options are when it comes to Alexa enabled devices so you can determine which one is best for you. Let's take a closer look at the difference between the Amazon Echo vs Tap vs Echo Dot.

Knowing the difference between the Amazon Echo vs Tap vs Echo Dot will determine which one will improve your life.
Technology is moving fast, and every year we see new devices that make life easier. However, some people can't keep up with technology. There are three categories of people: heavy user, moderate user, and "I don't trust it.
Eventually, robots will kill us all." Today, we have the perfect example of a technology that divides those categories even further, Amazon's Alexa enabled devices.
There are three different versions of Alexa enabled devices people can use. But the most important thing we can do is compare and explain the Amazon Echo vs Tap vs Echo Dot to truly understand the difference between them.
The key differences help their features stand out.
What's Inside?
First, let's clarify what can be found inside each device because there's some confusion. In doing research for this post we've found people are searching "What's the difference between Alexa and Echo?"
The best way I can answer that is with a simile. That question is like searching for "What's the difference between Coke and a Coke Can?"
Alexa is what's inside the Amazon Echo, Echo Dot, and Amazon Tap. Alexa is the product of the software that essentially allows you to talk to the internet and get answers, tasks done, and more fun automated tasks.
What's Alexa?
Alexa is essentially your personal concierge to the internet – a virtual assistant if you will. Amazon gave the virtual assistant the name "Alexa" after the ancient library of Alexandria.
All you need to do is ask Alexa a question, and it will do it's best to answer. You can ask Alexa things like, "Can you add BLANK to my shopping list?", "Can you order BLANK?", "Can you remind me about BLANK?" and so many more.
If you own other smart home products like Amazon Fire TV Stick, Philips Hue light bulbs or smart locks, you can ask Alexa to turn them on, off, lock, or unlock. There are literally hundreds of things Alexa can do!
What's Amazon Echo?
Amazon Echo is a cylindrical speaker that is 9.25-inches tall and connects to the internet via WiFi. The speaker has seven different mics that are waiting for you to say "Alexa."
Once you say the magic word, the microphones wait for a command. The speaker will respond to your orders with an appropriate response.
The Echo connects to other devices over WiFi or Bluetooth and plugs into a wall outlet. The Amazon Echo can be found for $179.
What's Amazon Tap?
Amazon Tap is a smaller, portable version of Amazon Echo. The Tap measures in at 6.2-inches high and comes with a charging cradle.
You can disconnect the Tap from the charging cradle, but it will need to be charged again after an average of 9-hours of playback. The biggest difference between the Echo and Tap s the access point. Unlike the Echo, Tap's microphones aren't always listening, hence the name, "Tap."
To wake the mics, you need first to tap the mic button first and then you can give a command.
What's The Echo Dot?
Imagine you've taken the Echo, placed your hand on top of it and smashed down to only 1.6-inches tall. Like the Echo, the Dot needs to be plugged into the wall at all times.
A constant power source is required because, like Echo, the Dot is always listening for the keyword. While the Dot can do everything the Echo can at far less than half the size and cost, there's one big thing missing.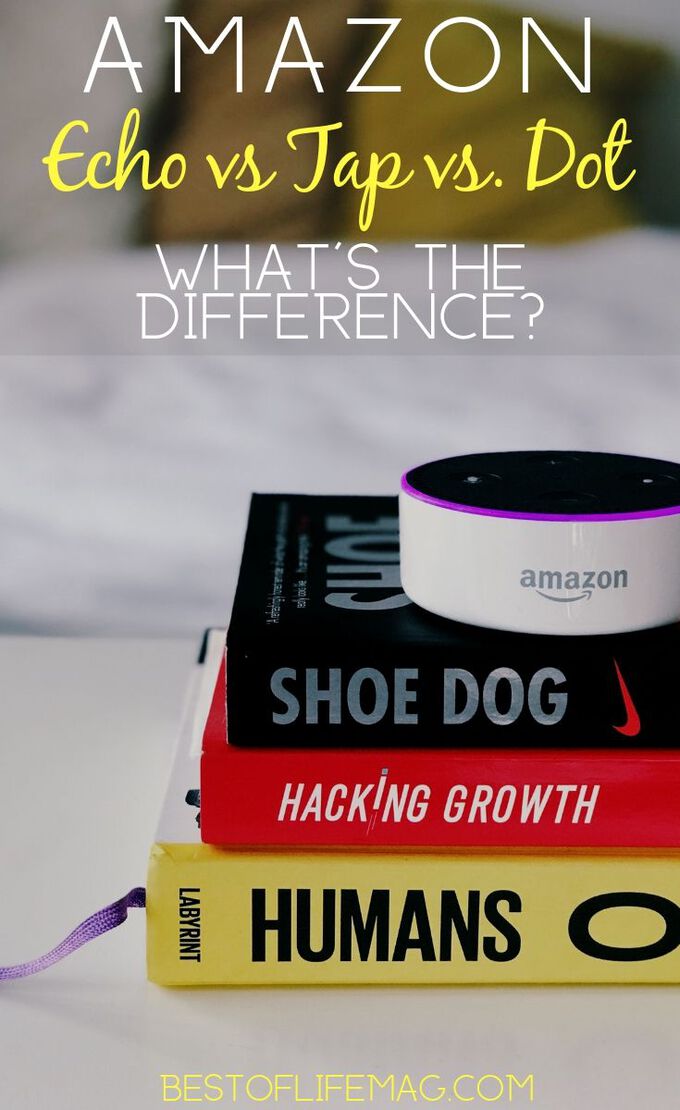 The Dot doesn't have a speaker. Instead, you need to connect Dot to your own speaker through an auxiliary cord or Bluetooth.
When looking at the Amazon Echo vs Tap vs Echo Dot, one thing is important to keep in mind. They each make life easier in their own way. You just need to find the way that works for you.
Save