This site contains affiliate links. Please read our Policies for information.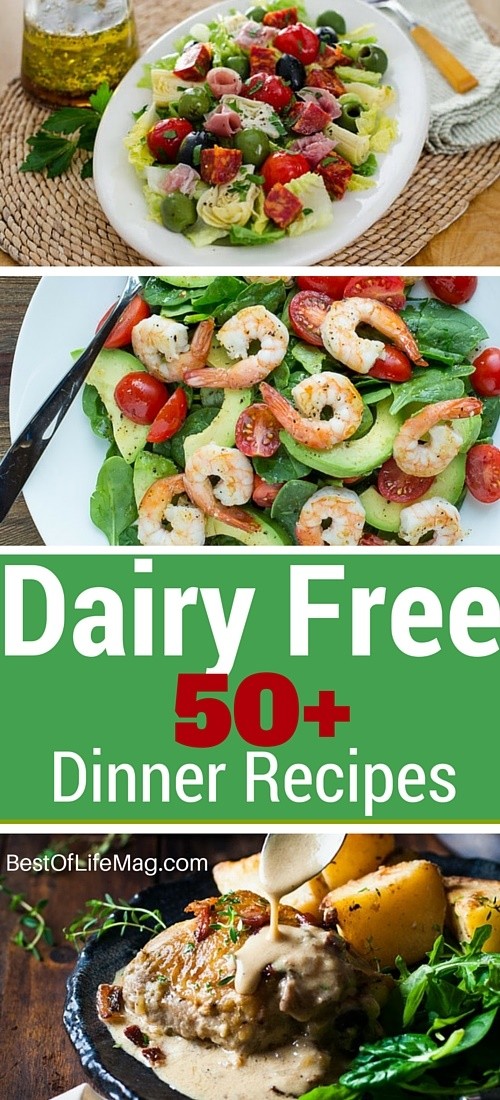 When you're on a dairy free diet there are some meals that are just harder to eat, but we all know that taking time to prepare dairy free meals, or any allergy sensitive meal for that matter, is worth the time. There are simple things that can make a bland meal extraordinary when eating dairy free and there are so many people sharing incredible dairy free dinner recipes that we can either use or tailor to our liking.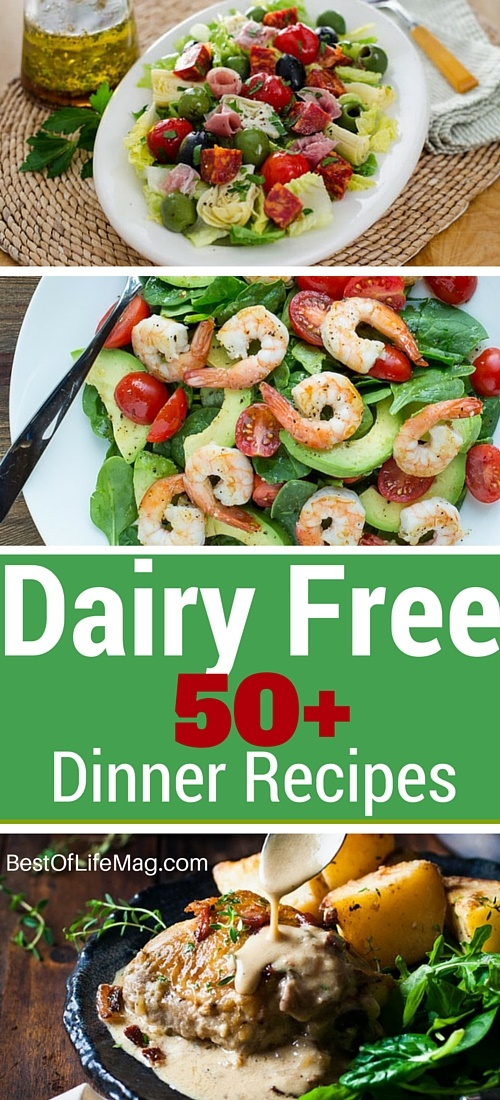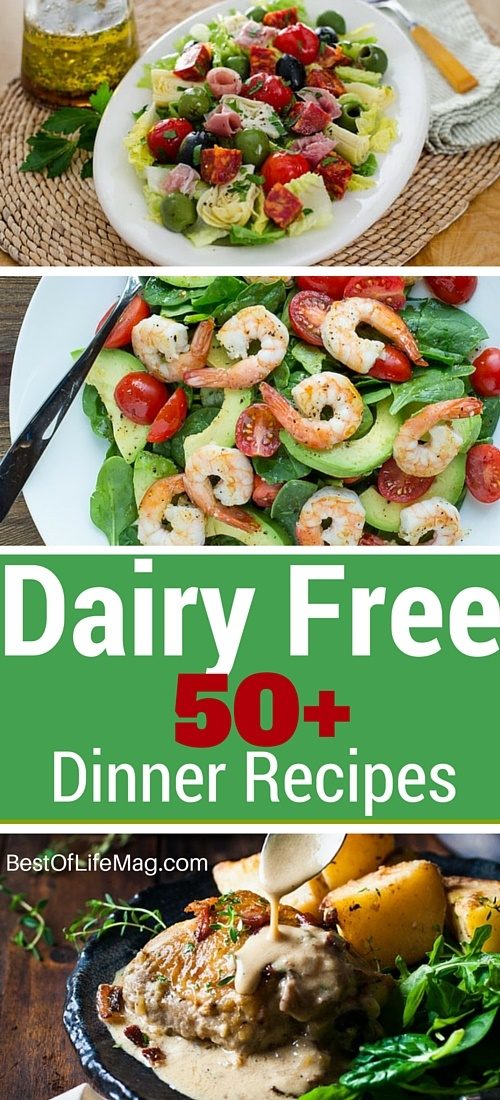 With over 50+ amazing dairy free dinner recipes to choose from there is something for everyone in this list to make cooking dairy free meals easy!
Make sure to stock up on these kitchen essentials before you get down to the business of trying all of these great recipes!
Dairy Free Dinner Recipes
Dairy Free Crockpot Chicken Fajitas – Best of Life Magazine
Crockpot Beef Roast with Vegetables | Best of Life Magazine
Dairy Free Shredded Chicken Tacos in the Crockpot | Best of Life Magazine
BBQ Chicken Pizza with Sweet Potato Crust-The Soccer Mom Blog
Chicken Piccata-Noshtastic
Artichoke Pesto Pasta-Pancake Warriors
Dairy free is no longer a restriction, it is a gateway that you can enter to live a healthier lifestyle. There are just so many recipes that will work and be just as tasty and satisfying as others.
Potato Soup-Tia's Kitchen
Scalloped Potatoes-Just a Pinch
Baked buffalo Cauliflower Bites-Life Tastes Good
Chicken Avocado Soup-Mealime
Honey Mustard Baked Chicken-Recipe Tin Eats
Paleo Italian Chicken Fingers-Tastes of Lizzy T's
Creamy Roasted Tomato Vodka Sauce with Penne-Go Dairy Free
Rosemary Braised Short Ribs-My Natural Family
Slow Cooker Louisiana-Style Red Beans and Rice-Kalyn's Kitchen
Creamy Garlic Mashed Potatoes-Brooklyn Farm Girl
Best Chicken Soup Ever Recipe-Budget Savvy Diva
Even some of your favorite recipes with dairy can easily be altered to fit into a non dairy diet. This is easier than it sounds and could even improve your dairy free dinner recipes.
Oven Roasted Sea Bass-A Healthy Life For Me
Vegetable Quiche-Gimme Some Oven
Apple and Butternut Squash Soup-Smile Sandwich
Fiesta Quinoa Quick Meal-Begin With Nutrition
Antipasto Salad-Cook Eat Paleo
It's easy to find recipes for dinner that fit into just about any diet. While an increase in the number of people with food allergies isn't a great thing, it does challenge us all.
Turkey Tacos with Apple Salsa-Real Food Whole Life
Homemade Hamburger Helper-Whole New Mom
Macaroni and Peas-Daily Garnish
Chicken Detox Soup-A Spicy Perspective
Lobster Chowder-I Breathe I'm Hungry
That increase also means more people are working on recipes that will fit into any restrictions you may have. Then there are those who just want to leave dairy behind for the many health benefits.
Crab Stuffed Whitefish-Bam's Kitchen
Mushroom & Black Bean "Meatballs"-The Fit Foodie Mama
Paleo Salmon Cakes-A Healthy Life For Me
Creamy Vegetable Leek Soup-Leelalicious
Pizza Soup-Jay's Baking Me Crazy
Even the pickiest eater can find multiple recipes that fit into their dietary restrictions. Even the kids can't deny something like pizza soup or buffalo chicken nuggets. What this means for parents is getting kids to eat healthier is so much easier.
Asian Noodle Salad-Linda Wagner
Spinach Shrimp Avocado Salad-Mealime
Easy Lasagna-Mama Shire
Buffalo Chicken Nuggets– A Healthy Life For Me
Roasted Cabbage With Lemon-Kalyn's Kitchen
No more nightly battles over finishing the food on the plate. Possibly the best part is that they won't even know they're eating a healthy meal. Now that's a well-kept secret.
Biscuits and Gravy-Go Dairy Free
Cilantro Lime Brown Rice-Back To Her Roots
Lazy Day Vegan Tomato Bisque-The Vegan 8
Cream Chicken and Rice Soup-Back For Seconds
Chickpea Tikka Masala-Foodie With Family
Many dairy free dinner recipes will also fit into a vegan or vegetarian lifestyle. If you want to start transitioning into a particular lifestyle eating dairy free is a good place to start.
Pulled Pork Lettuce Wraps-Fashionable Foods
Smoky Broccoli Potato Soup-The Vegan 8
Lemony Kale Chickpea Avocado Salad-The Kitchen Girl
Paleo Chicken and Dumplings-A Healthy Life For Me
Chicken Curry-My Natural Family
Even if you don't need to eat dairy free due to a health restriction, you can try replacing meals with dairy free recipes and slowly transition into a healthier diet. Combine this new meal plan with a workout regimen and you will surely see a big improvement in your physical appearance.
Mushroom Soup-Pancake Warriors
Cauliflower Soup-Recipe Tin Eats
Coconut Rice-Connoisseurus Veg
Quinoa Pizza Bites-Live Well Bake Often
Pot Pie-Milk Free Mom
There are some people who realize that eating dairy free changes their lives in different ways. While others feel the restrictions more so. Luckily, there are recipes for just about every meal.
Dairy free dinner recipes have grown in number because it's easy to adapt. Enjoy eating healthier by using any of these recipes and grow to love your dietary restrictions.
Pineapple Chicken Skewers-The Butterfly Effect
Crab Stuffed Portabella Mushrooms-A Not So Simple Life
Baked Avocado Fries With Garlic Aioli-Yummy Healthy Easy
Living a dairy free life doesn't require much sacrifice with these dairy free dinner recipes. Sure you may not have ice cream as it has always been made, but there are desserts that utilize dairy free recipes. Breakfast is usually paired with milk, but there are dairy free breakfasts as well. Now you can get through a full day with no dairy and little sacrifice.
Save
Save