This site contains affiliate links. Please read our Policies for information.
Car shopping. It can either be an exciting and fun experience or one that is stressful. We usually find it is stressful unless we focus on what we really need and identify the non-negotiable items on that list.  Once we do that the real shopping begins and the list of potential cars to buy actually gets narrowed down pretty quickly.  We partnered with Mitsubishi last month to test drive their new 2016 Mitsubishi Outlander to take a look at it from a family perspective; our review includes what we look for in our own vehicles when we purchase them.
When searching for a car for your family, there is a lot to factor in. Our family review of the 2016 Mitsubishi Outlander will help.

The Drive
Initial torque and acceleration is slow with a 2.4L 4 cylinder engine so it is important to plan on that when taking off and merging onto highways in busy areas.  On the flip side, the build is solid allowing for a quiet and smooth ride inside the vehicle; I love the sound of a solid door closing on a vehicle and the 2016 Mitsubishi Outlander has that.  The Continuously Variable Transmission enables a ride that is smooth and controlled providing for a safe and secure driving experience for everyone in the family.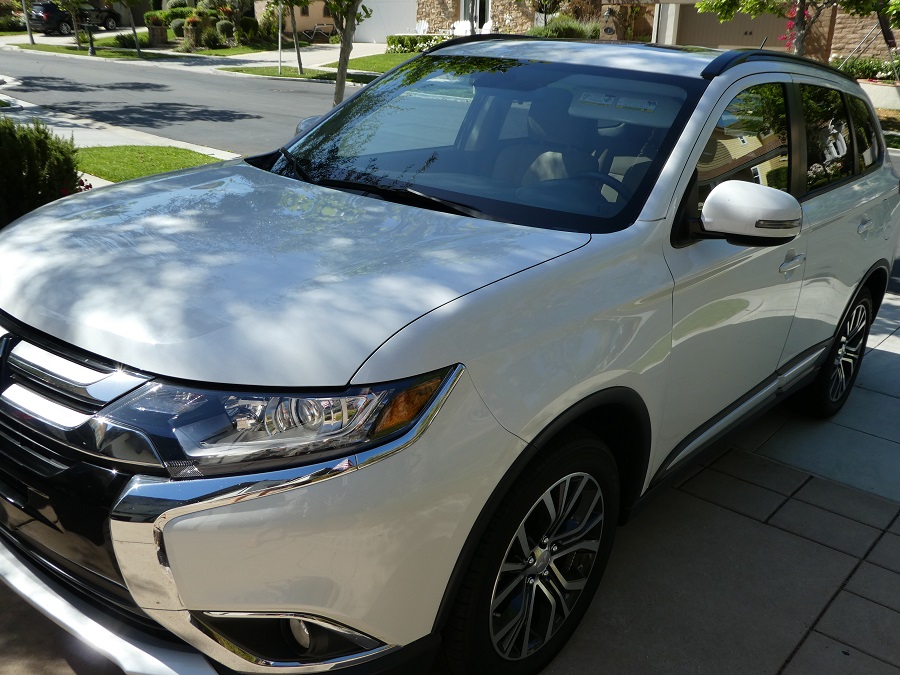 Exterior and Interior Style & Design
This is definitely where the 2016 Mitsubishi Outlander excels in my mind; when it first arrived the first thing I thought was that it was an Acura MDX (which I like so that was a good thing 🙂 ).  The leather options are all classy and add a touch of luxury to the interior and paired with the Diamond White Pearl pain on the exterior made for an overall look to impress. You can easily customize the interior options to your specs and desires as well. For the kids the only complaint they had was that there were no air vents in the back seat. That is a deal breaker for us because we spend so much time in our car and get so much sun in California.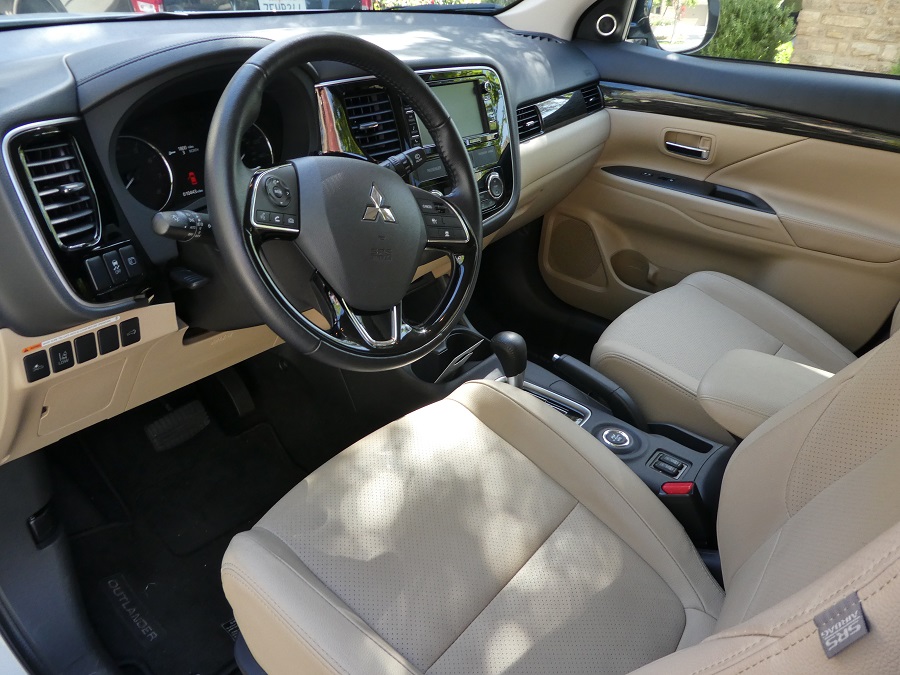 Safety and Tech
Most vehicles these days are loaded with tech options galore and the Outlander is no different. You can add an option for an entertainment package which includes a rear seat DVD player, remote and infrared headphones for $1695 which is priced appropriately compared to other manufacturers.  Some auto makers have started adding a navigation system into this package which we personally dislike so it was nice to see that Mitsubishi had not done that. Why force people to get a DVD system if they only want the navigation system?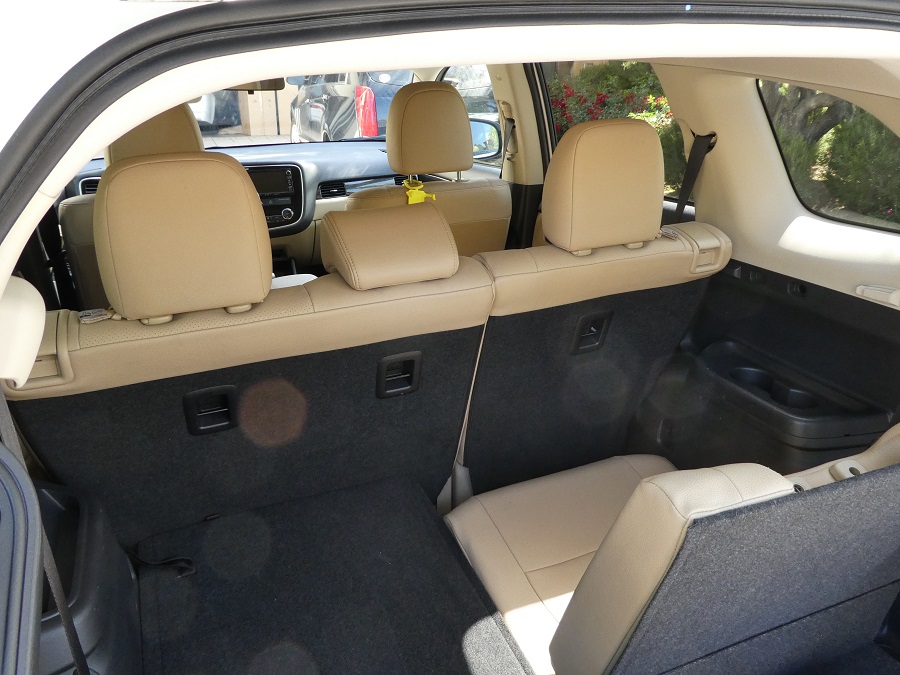 Overall Size & Space
The 2016 Mitsubishi Outlander offers a third row which while not large enough for average sized adults is plenty big for children. Even our twelve year old sat back there and was fine for going back and forth between sports.
A third row is a quandary for many families, especially those with two kids.  We don't need it, but once our kids get in sporting and after school activities a third row becomes a very nice option to have.  The Outlander offers just that without adding bulk and a ton of extra weight to the car.  If you are on the fence or transitioning down from a minivan, the Mitsubishi Outlander is a great option to consider.
Models and Pricing
The Outlander Sport starts at $19,565 whereas the regular Outlander starts at $22,995 as it seats seven. We test drove the Outlander with the Sportronic option and when building a new vehicle with that feature as well as the touring and entertainment packages pricing ends up just under $37,000.  At this time Mitsubishi is offering a 0% financing option in our area which is a fabulous deal and makes for a very affordable monthly payment of $462.00.
Overall, the 2016 Mitsubishi Outlander offers space, comfort and features that all families will appreciate at an affordable price point well under $40,000 in a mid-sized car that is well designed for families.
Save