Louis Vuitton Batignolles Vertical: Review and Photos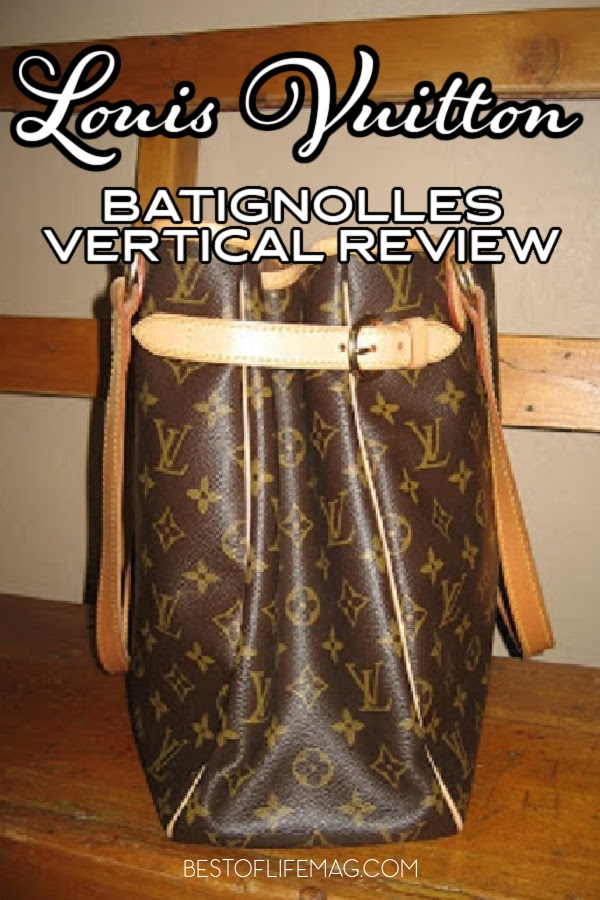 The Louis Vuitton Batignolles Vertical is amazing, just as all Louis Vuitton handbags are. I thought I would post a few pictures to help those who may be wondering if this handbag is for you. In my opinion, it is a great everyday bag. It can fit a little or a lot while not looking too large.
Louis Vuitton handbags always add a touch of luxury to everyday life. The great thing is that they cover everything from large and small bags to backpacks, wallets, and more. If you are a collector, you should also learn about authenticating Louis Vuitton bags so that you don't end up getting duped!
Add a touch of everyday luxury to your handbag collection with the Louis Vuitton Batignolles Vertical handbag. The Louis Vuitton Batignolles Vertical features the classic Louis Vuitton monogram canvas, leather handles, and brown canvas lining.
The tote straps have a drop of 10 inches which is a great length because I am able to get it on my shoulder without my elbow getting stuck. This makes for easy on and off for work or play.
Louis Vuitton Batignolles Vertical vs Horizontal
The Louis Vuitton Batignolles Vertical measures 11.8″ x 13.4″ x 5.5″ and is what I would call a perfect midsize handbag. I can carry documents, a book, or an extra magazine if I need to in my handbag without having to remove my daily essentials.
On the side, it also has natural cowhide leather straps to adjust the width of the tote. This photo is set on the middle notch. As you can see, there is plenty of room to expand if needed. While I was initially drawn to the Louis Vuitton Batignolles Horizontal, I ultimately decided on the vertical because I didn't want the extension lengthwise.
I wanted it to tuck right under my arm and not catch things off the ends, and the Batignolles Vertical seemed a better fit.
LV Batignolles Vertical Interior
The Batignolles Vertical features a hook closure, a pocket large enough to fit a small phone or other accessories, and a zippered pocket that is nice and deep. I am able to fit a travel Kleenex, keys, sticky notes, and sunblock in this pocket with plenty of room left over.
Carrying my daily essentials and then some are incredibly easy with the Louis Vuitton Batignolles Vertical. I carry a larger wallet (Shown here is my all time favorite, the Hayden Harnett Pompidou.), a carryall with my random small items, snacks, a water bottle for myself or the kids, and I have tons of room leftover for sunglasses and other items.
Here you can see it packed with more random things for a longer day out. As a woman on the go, I love that the LV Batignolles Vertical can easily hold a book or magazine. I consider the Louis Vuitton Batignolles Vertical (or Horizontal!) the perfect everyday handbag that offers function and the luxury we all have come to love from Louis Vuitton.
More Style
Louis Vuitton Totally MM Review | Louis Vuitton has a wide array of handbags to choose from, and each one adds a different touch to your style.
5 Classic Louis Vuitton Handbags | There are some classics that will never fade from style, no matter what year or even the time of year.
Louis Vuitton Rivington GM in Damier Ebene Handbag Review | You can rely on Louis Vuitton for the quality of its handbags.
Fine Hair Care Routine | Grow Long Healthy Hair | Style is not just a handbag; you can change things up easily with different hairstyles, too.
How to Whiten your Teeth at Home | A bright smile can help you feel more confident, no matter what handbag you have on your shoulder.
Save