This site contains affiliate links. Please read our Policies for information.
This post is sponsored by Kohl's. I was paid for this post and received the included Fitbit as compensation.
Exercising and staying fit has always been something we value as a family.  Regular exercise has been part of my weekly routine since I graduated from college.  Working out at home is my true happy place; with kids and running a business, I save a lot of time not driving to and from a gym and enjoy the varied workouts I can do in the comfort of our home.  But having a workout companion is still important and that's where the newly released Fitbit Versa Ruby comes in.
The Fitbit Versa Ruby is full of features to improve your fitness and overall life. It has many features of the Apple Watch for significantly less money.
In fact, my husband just asked me what I am always looking at on my Fitbit Versa Ruby; I guess I must use it to keep me in check more than I realized. I chose one of the Fitbit favorite screens that display a rainbow of colors that track my overall daily activity.
At a quick glance, I can see how many steps I have taken, calories burned, and my workout time against my workout goals that I set in the Fitbit app. I can also see my total distance walked in miles and how many flights of stairs I have climbed.  Oddly enough, it's funny how motivating that stair number is for me.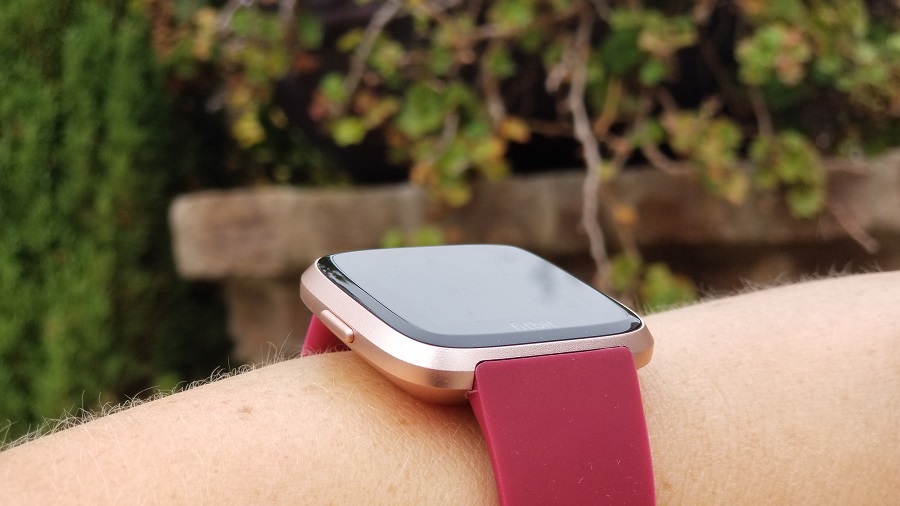 Favorite Fitbit Versa Features
We all know that smartwatches and fitness trackers continue to improve in their looks and capabilities.  The Fitbit Versa is no exception; here are some of my favorite features:
I love the modern and minimal design of the Versa.  Admittedly, I was a bit concerned about how heavy it would feel on my wrist but had zero issues as it is super light.  It's actually lightest metal smartwatch in the U.S. market.
The dashboard is simplified compared to prior models making it easy to access your health and fitness information.
The rose gold is classy and beautiful and makes me happy. 🙂
The Versa battery last around 3-4 days…and I have a lot of notifications enabled.
Personalized timed interval workouts are fun and a great way to get a little extra calorie burn in.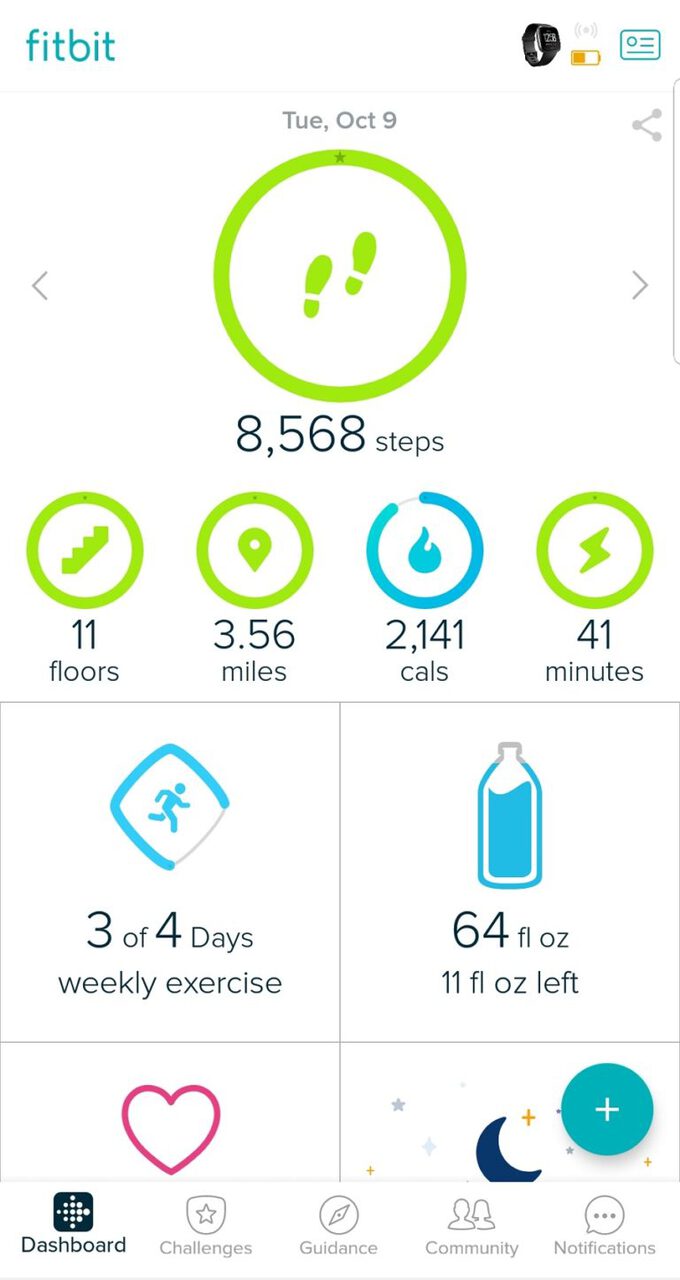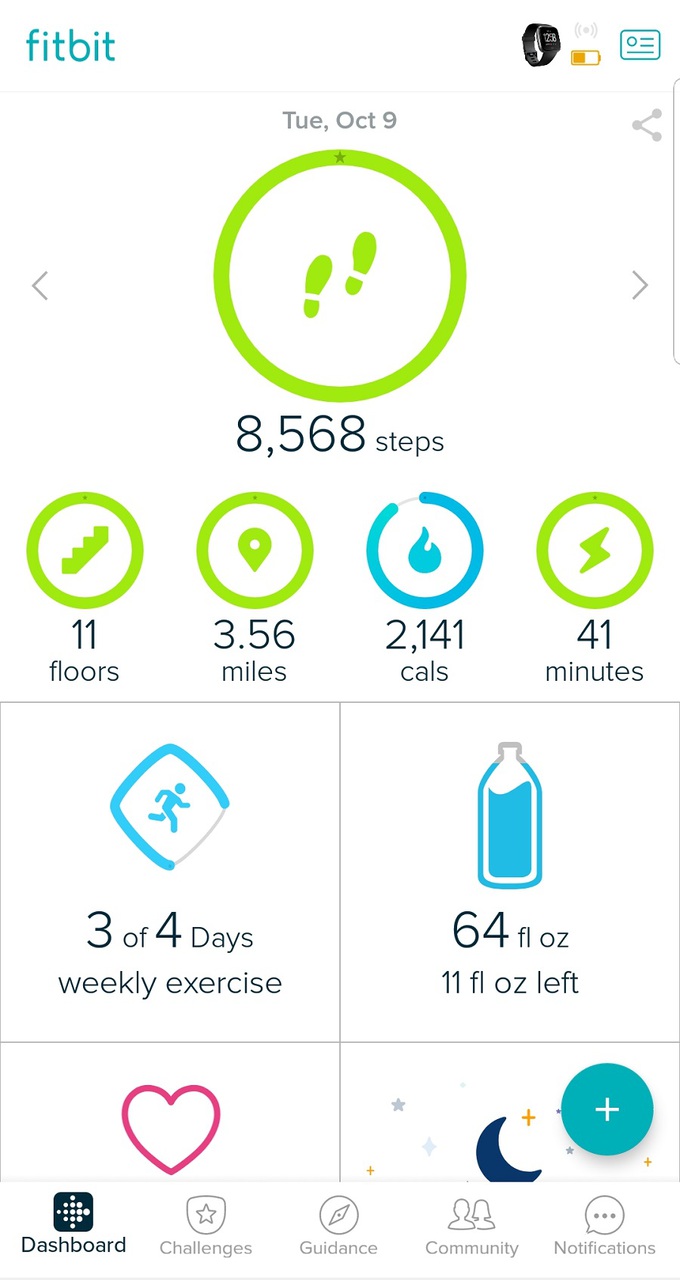 There are over 15 exercise modes you can use to track your workouts.
You can connect a ton of apps so you never miss a thing.
The Fitbit Versa is water resistant to 50 meters so I can wear it in the pool to track any water exercise and it can count laps.
Sleep monitoring!  I like that I can dig in and see how many minutes I was awake vs restless vs in a deep sleep vs the light slumbers that leave me feeling tired the next day.  Plus I can see how my times compare to women my age – and let me tell you. Sleep in your 40s is a whole different ballgame friends.  So anything that can help me feel normal and like I am actually doing pretty well is a win-win for me.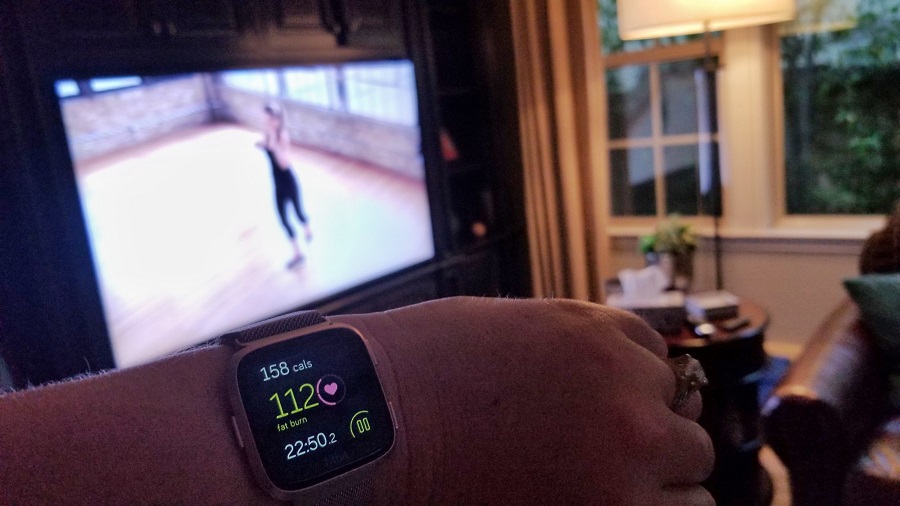 Fitbit Versa Ruby Price
Kohl's has amazing prices on Fitbit products!  The new Fitbit Charge 3 is $149.99 every day!
The new Fitbit Versa Ruby, a color exclusive to Kohl's and worn by yours truly, is $199.99 each and every glorious day.
You can earn Kohl's Cash as well! Earn 10/11 – 10/17 and redeem 10/18 – 10/28, earn 10/18 – 10/21 and redeem 10/22 – 10/28.
If the Fitbit Ionic is more your style, you can save $50 at Kohl's between 10/14 and 10/26 with a price of $249.99 (Reg. $299.99).
You can also choose between the Fitbit Ace, for children ages 8 and up, and Fitbit Alta for $79.99. ($20 savings!)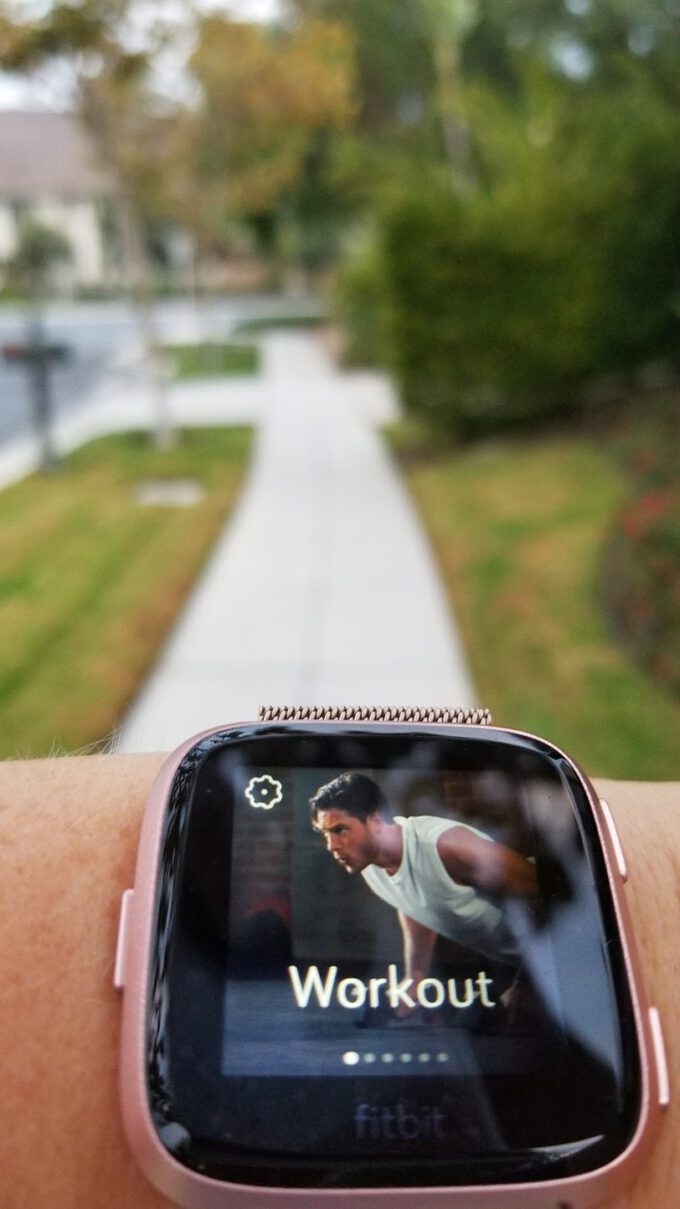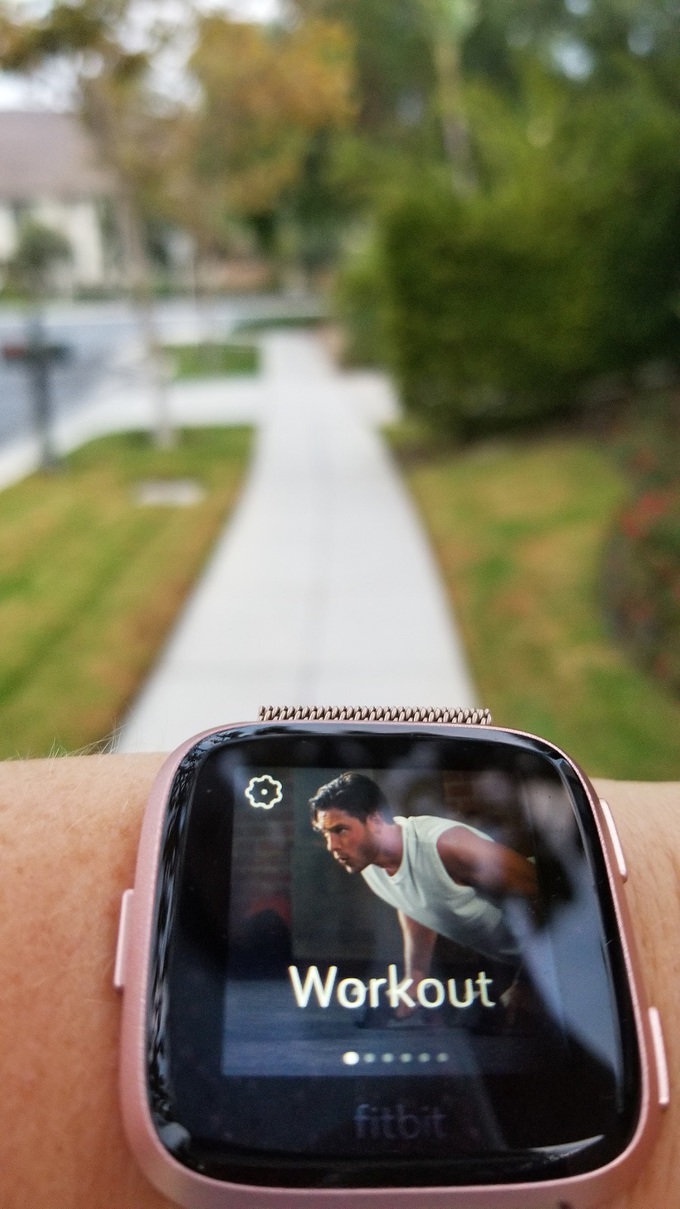 Overall Fitbit Versa Review
This is the third Fitbit I have owned and the Fitbit Versa is my favorite to date!  It's minimal design is a huge plus; I don't feel like I am wearing a fitness wearable.  The rose gold can dress up or down and there are a lot of Fitbit Versa features that I enjoy the benefits of each day.
Accessorizing is so fun with Fitbits; the Fitbit Versa has some fun bands that are easily interchangeable.  The gold band I bought looks great with the rose gold face and is great for a dressier look for work and meetings.
The Versa is comfortable to wear all day, throughout the night, and in the water.  Some have asked if I experienced any skin discomfort if I wore it in the water. No. None at all. I do dry my skin and the watch after I am in the water though.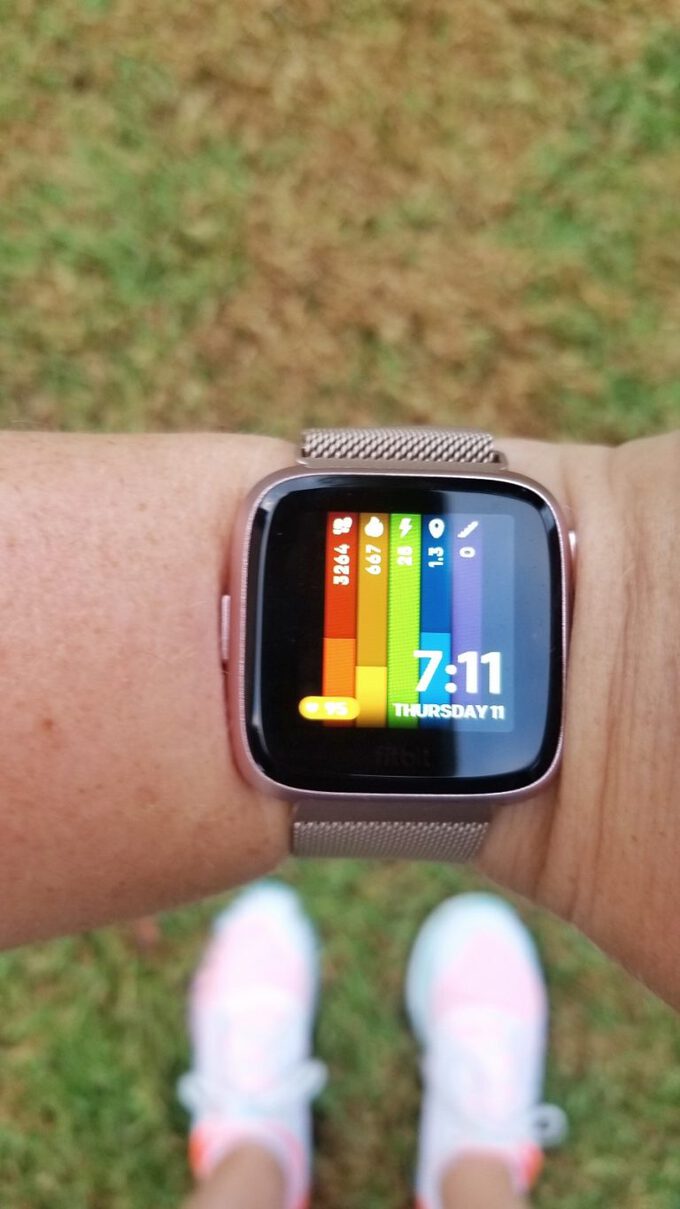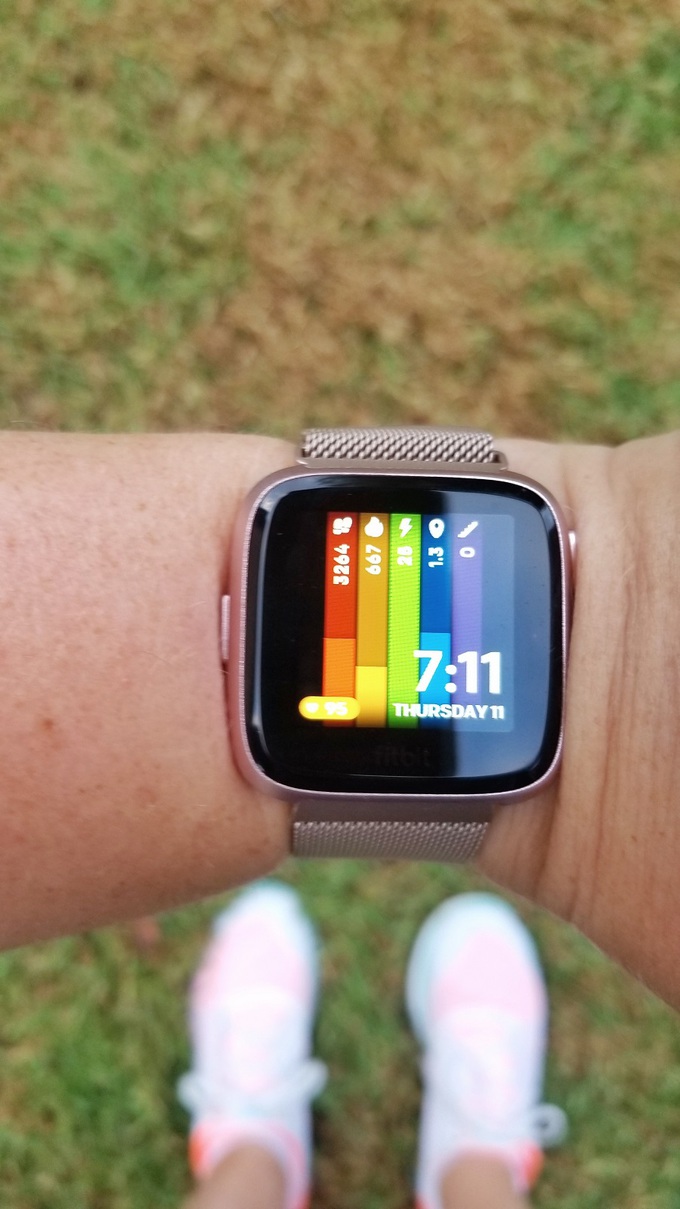 With the Fitbit Versa, I feel like I have my own personal cheerleader throughout the day…that is pretty to look.
My blog may contain links to other websites. I am not responsible for the privacy policies of those other websites. When you click on a link, your information may be collected by those websites so I encourage you to read their privacy policies. Any affiliate links are not associated with Kohl's.