This site contains affiliate links. Please read our Policies for information.
We are busy planning our trips for the rest of the year; with Big Bear, Disney's Aulani, and Turks and Caicos on the horizon, there is a lot to do. We absolutely love traveling as a family – the memories and laughter we experience are priceless.
After ten years of mastering our travel routine as a family, we have found a few key items for our "Planning a Vacation Checklist".
Plan one meal and one snack per day: This is even easier if you have a kitchen in your room. But even if you have a small kitchenette you can buy a few basics so you can have hot dogs, peanut butter and jelly, cheese sticks and nuts, or yogurt on hand for snacks and mini meals. Everyone will feel better because they are staying on a somewhat normal diet and you save money as well.
Plan one excursion: One of the best things about travel is exploring the world together as a family. Plan one sight-seeing event to learn about the area – take in a national park, a beach, or tour a museum.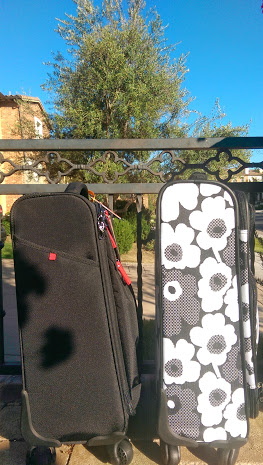 Use packing cubes to organize clothing into less bags: Less bags is key to easier travel, especially when traveling with children. Use different colored packing cubes for each family member to pack their clothes. You save space when you pack because you can fit them in places to use space efficiently. Then pull them out when you arrive at your destination and give everyone a drawer.
Use the right luggage: Well designed luggage makes life easier when traveling. Spinning wheels, gliding zippers, and design are features to consider. We are big fans of American Tourister luggage because it meets all of these features.
Find local deals ahead of time to reduce costs: Los Angeles is one of the Priceless Cities that provides exclusive offers for MasterCard cardholders. Do your research and find dining, shopping, shows, and sporting events specific to your city so you can save money and enjoy the perks you have coming. MasterCard offers a multitude of value-add travel benefits to its cardholders to help make the entire travel process simpler and more efficient from beginning to end.


Keep it simple: Don't overdo it. Less is more when it comes to vacation; everyone wants a break from the daily grind so take your days as they come and enjoy the family moments that happen at the most unexpected times. Plus, you save money in the process.
Use a concierge travel planning service: When you can't do it all, get help. You will be surprised how often you can get help for little to no cost as well! MasterCard offers their Concierge Service Member cardholders assistance that is most often found with a travel agency. From airline reservations to dining reservations and securing special items on your shopping wish list, they have you covered.
Join our Easy Vacation Planning TMOM Twitter Party on Monday, June 23rd at 9pm EST to talk more about easy family vacation planning. Follow the#TMOM #PricelessTravel conversation and @travelingmoms so you don't miss anything during the party.