This site contains affiliate links. Please read our Policies for information.
This black bean salsa with avocado recipe is one of my favorite party dishes. It's completely addicting and has so much amazing flavor to satisfy. An added bonus?  It is easy to make, healthy, and a guaranteed hit with whoever you may be entertaining. The Fiesta Flats are the perfect crunchy shell to keep each serving nicely contained and easy to pick up. I also like having a second option of clear plastic cups available just in case the guest prefers tortilla chips with Black Bean Avocado Salsa; they are also an easy grab and go snack while mingling.
Impress your guests with this black bean salsa recipe served in fiesta flats!

Tip: Rub the bowl with lime juice prior to mixing all your ingredients to help prevent the avocado from browning. In addition you can rub the plastic wrap with lime before putting it right on top of salsa. If you have guests that enjoy cheesy dishes we totally recommend serving this with our Black Bean Cheese Dip!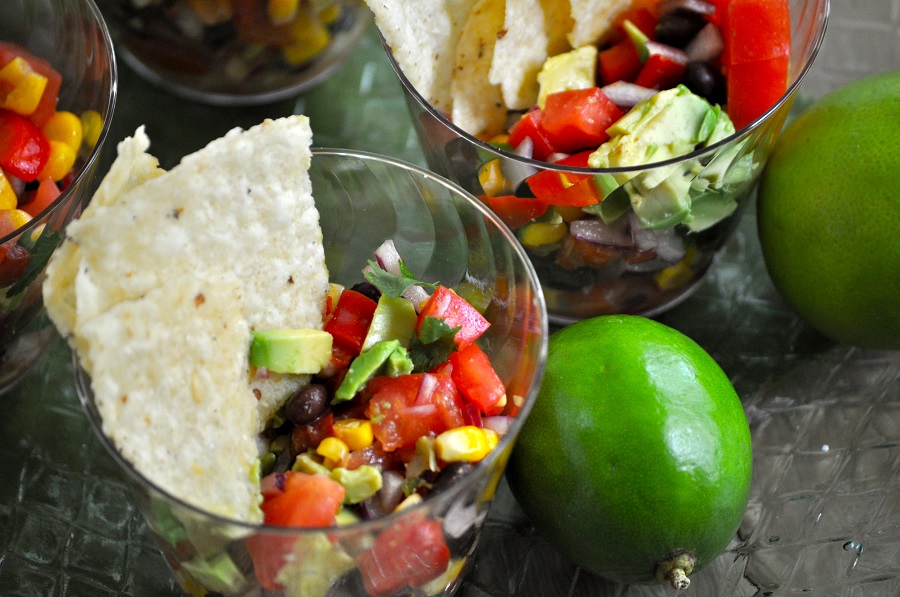 Ingredients for Black Bean Salsa:
1 (15 ounce) can black beans (such as Trader Joe's), rinsed and drained
1 (15 ounce) can whole kernel corn (such as Trader Joe's), rinsed and drained
4 roma tomatoes seeded and chopped
1 red bell pepper, diced
1 jalapeno, seeded and minced (I freeze mine to make it easier to dice)
1/4 cup chopped fresh cilantro
1/4 cup diced red onion
1 tablespoon minced garlic
1/4 cup fresh lime juice
2 tablespoons red wine vinegar
2 tablespoons olive oil
1 tablespoon tobasco
1 tablespoon cumin
1 teaspoon salt, 1/2 teaspoon ground black pepper
2 large avocados, diced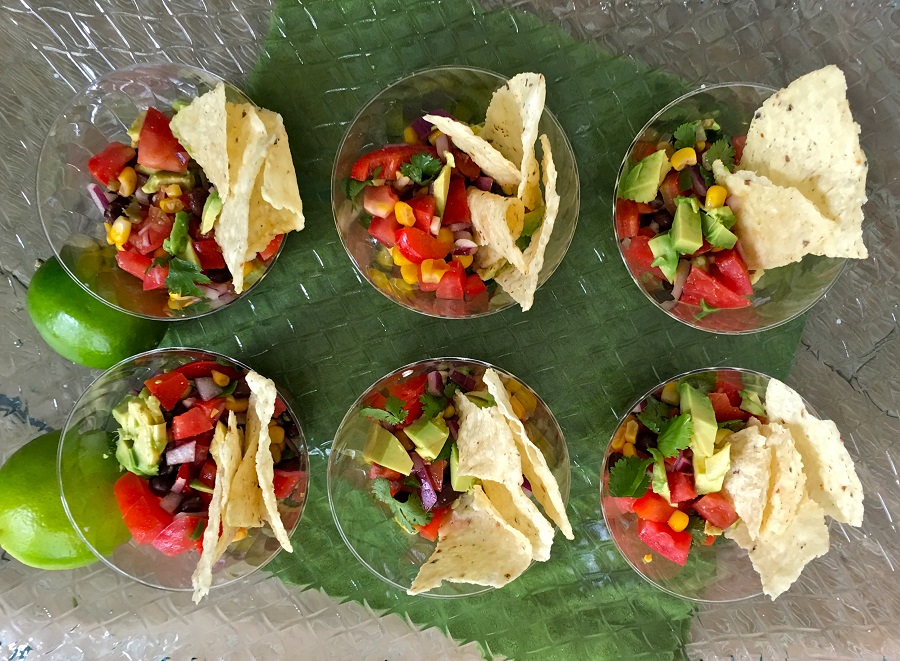 Black Bean Salsa Recipe Directions:
To make this Black Bean & Corn Avocado Salsa mix black beans, corn, tomatoes, red bell pepper, fresh garlic, jalapeno pepper, cilantro, and red onion, vinegar, lime juice, tabasco, olive oil, cumin, salt and black pepper in a medium bowl.
Next, add avocado and fold into the mixture.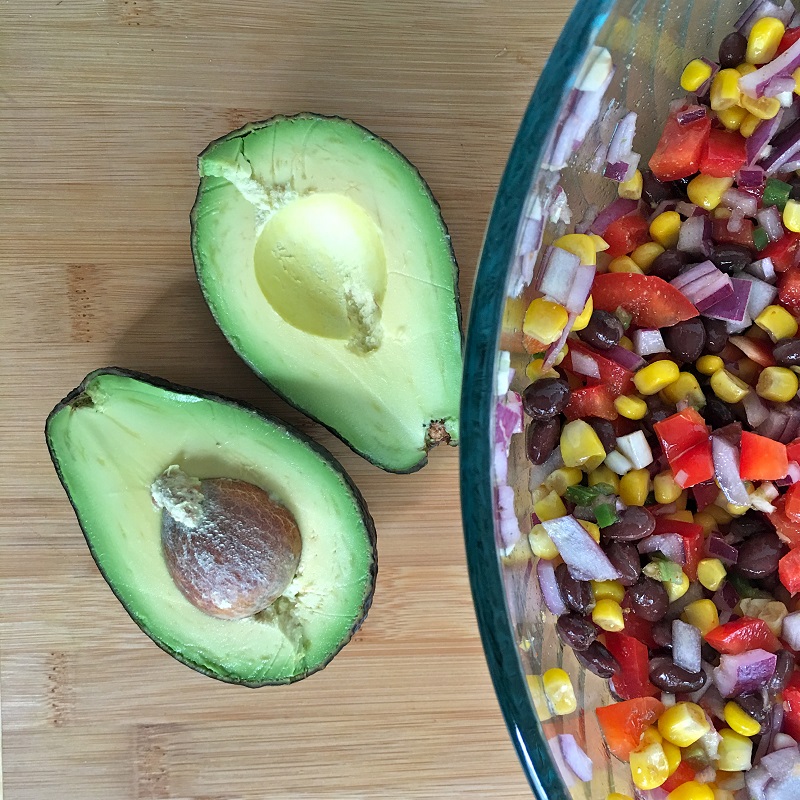 Cover bowl with plastic wrap, putting it right on top of the salsa; chill for at least 2 hours.
When you are ready to set up your food for your party you can bake or microwave the Fiesta Flats, and fill after they have cooled.
Fiesta Flats: directions on the box.
*If you prefer your salsa less spicy, then leave out the tobasco and jalapeno, or the seeds from the jalapeno. Be sure to serve with our easy margarita recipe!