This site contains affiliate links. Please read our Policies for information.
We love making paninis and sandwiches in our house; it allows each of us to personalize what we want or we can create a fun recipe together as a family for all of us to enjoy.  The key to any good sandwich though is the bread and we faithfully use San Luis Sourdough bread so are beyond happy to partner with them for this cheesesteak panini recipe.  San Luis Sourdough breads are locally made which we love and their slow baking process produces a taste and texture that truly defines Sourdough.
This cheesesteak panini recipe is easy to make and the leftovers can be used in many different ways if desired!

Ingredients for Cheesesteak Panini Recipe:
1 Loaf San Luis Sourdough bread
2 pounds skirt steak or ribeye steak (thinly sliced)
2 tablespoons vegetable or canola oil
1 green bell pepper cut into thin bite strips
1 medium brown onion cut into thin bite strips
8 medium cremini or button mushrooms (thinly sliced)
1/2 teaspoon salt
1/8 teaspoon pepper
8 slices white American cheese
Butter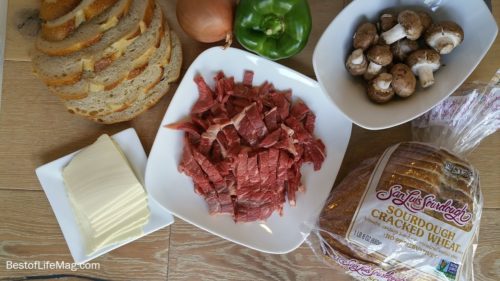 Cheesesteak Panini Recipe Directions:
Prepare and cut vegetables.
Heat 1 tablespoon oil in a 10" to 12" skillet to medium heat.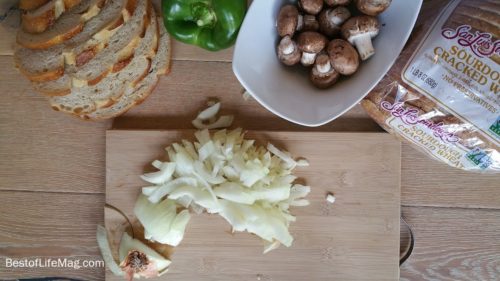 Add onion and green bell pepper and cook until they begin to soften, then add the mushrooms.
Season with salt and pepper and allow them to caramelize while continuing to stir.
Once they are cooked remove from the pan and set aside. Do not clean pan so you can keep the seasoning.
Heat 1 tablespoon oil to same pan to medium high heat. Add thinly sliced steak to pan, season with salt & pepper and let sit for about 4 to 5 minutes before stirring so the meat can brown.
After 4 to 5 minutes begin to stir and cook until fully cooked about 1 to 2 more minutes.
Once the meat is cooked, drain grease from pan into strainer and then return the meat, onions, bell pepper and mushrooms back to pan and stir to mix.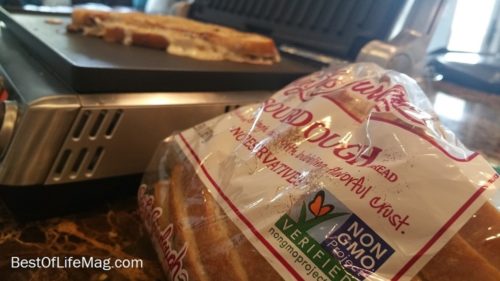 Heat up panini press.
Butter the outside of the San Luis Sourdough bread and lay butter side down on panini press.
Add meat mixture and 2 slices of white American cheese over top the meat.
Add 2nd slice of sourdough bread to top of cheese with butter side facing out and close press gently so the sandwich presses together.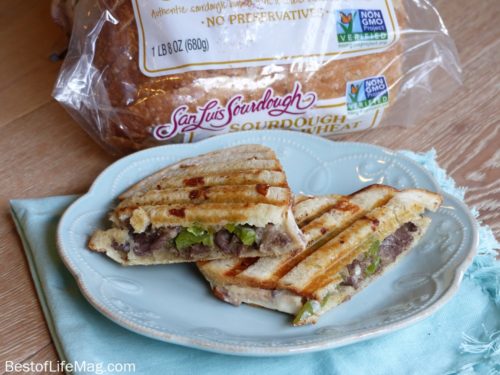 Cook for a few minutes until the cheese is soft and the bread is a crispy golden brown color.
Remove from press and enjoy!
Named for one of our favorites coastal California towns – San Luis Obispo, San Luis Sourdough breads has quickly become a favorite  because of its authentic sourdough flavor & bubbling crusts.  They were founded in 1983 by two artisan bakers and I adore that the true artisan baking process always remains for their breads.  Every San Luis sourdough bread is hand-formed and scored and takes two full days to create.   Baked with simple ingredients and no preservatives,  San Luis Sourdough breads have always been a favorite for our family. Some San Luis Sourdough breads are also Non-GMO Project Verified which you can learn more about on their Facebook page.