This site contains affiliate links. Please read our Policies for information.
We love spending days at Disney Parks together as a family, but you know what else I love? Starbucks. Disney Parks are now serving Starbucks, which I know gives many of us a reason to jump for joy.  Here is where you can find Starbucks at Disney Parks…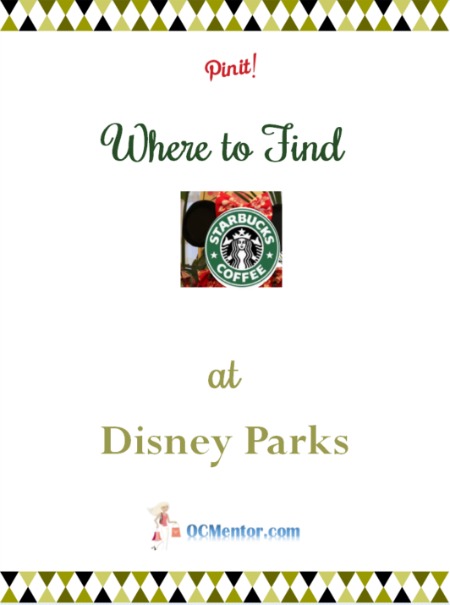 Wondering where to find Starbucks at Disney Parks? We have a list of locations for Disneyland, California Adventure, and Walt Disney World.
Finding Starbucks at Disneyland
In front of the west entrance to World of Disney
The Market House on Main Street – Yhey began serving Starbucks in late September when they opened.
Kiosk location
Finding Starbucks at California Adventure
 Fiddler, Fifer & Practical Cafe – Located on Buena Vista Street, this location is central and easy to access you can get your Starbucks fix.
Finding Starbucks at Walt Disney World
Fountain View in Future World at Epcot
Main Street Bakery at Magic Kingdom Park – Located right on Main Street as you enter the Park, this location is incredibly convenient and offers great items to pair with your Starbucks beverage.
New Starbucks locations are expected at  Disney's Hollywood Studios and Disney's Animal Kingdom at Walt Disney World!
If you find a Starbucks location that has been added, leave a comment with a location and I will add it to the list!
And don't forget to show your Disney Side with your Starbucks cup in hand while visiting Disney Parks.