This site contains affiliate links. Please read our Policies for information.
I am working with NewAir as a Brand Ambassador and am so happy to share this sponsored post with you. We used the NewAir Ice Maker to make all of the ice needed to make ice cream in a bag…that is low fat too! The kids were involved in every step of making our homemade ice cream and we had so much fun making – and watching this recipe come to life all on our own.
The kids and I are so excited to share this recipe with you for how to make ice cream in a bag!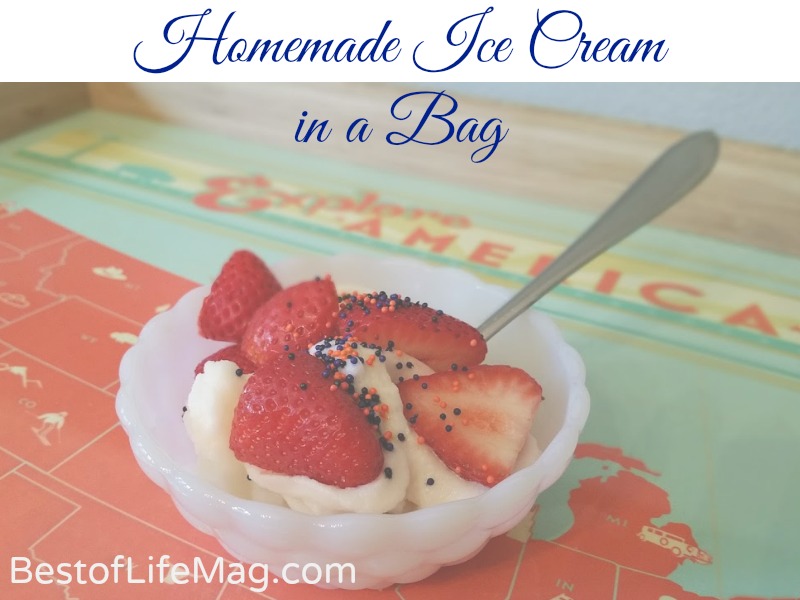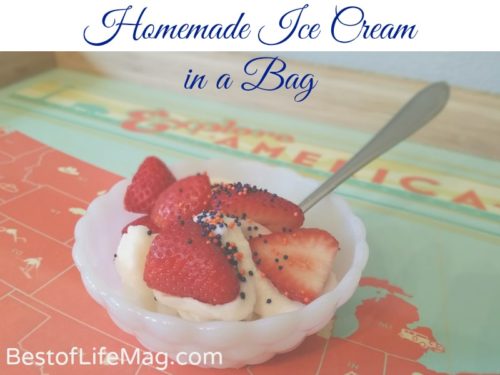 To get started, add milk, vanilla, and sugar into the small Ziploc bag. Set aside.
Some recipes call for half and half but we like to use skim milk because it provides a low fat treat and doesn't take much longer to make.
In large Ziploc bag, add 3 cups of crushed ice and 1/3 cup salt. Rock salt is recommended and will yield faster results but we used table salt and it worked just fine.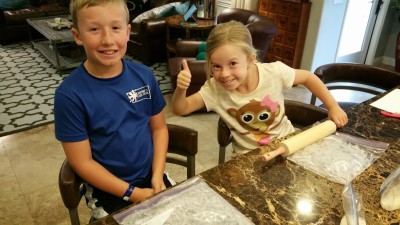 A fun way to involve the kids with this is to have them crush the ice! We made ice in our NewAir Ice Maker and I let the kids crush it with a rolling pin. They had a blast! 🙂
Ensure the small bag is closed tightly and place inside the large bag with ice and salt. Close the large bag tightly while letting extra air out. The NewAir Ice Maker keeps making ice even after you use the ice so it's easy to get more if you need it!
Massage the small bag into the ice – you basically want to roll the milk mixture around while surrounded with the ice. This process will take roughly 15 minutes from start to finish. You will feel the ice cream slowly harden and when it is done it will feel like a thick frosting.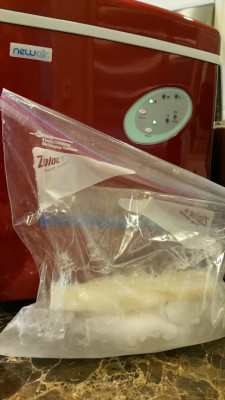 Remove the small bag and quickly rinse off the salt and ice from the outside. Lay the baggie out and slide your fingers along it to get all of the ice cream into the bottom half of the bag. Cut a small corner off of the bag and squeeze the ice cream out into a bowl. It will be a soft serve consistency.
Top with fruit and your favorite toppings and enjoy! If you want to add a light sweet touch on the side, our chocolate chip sugar cookies are perfect dipped in the ice cream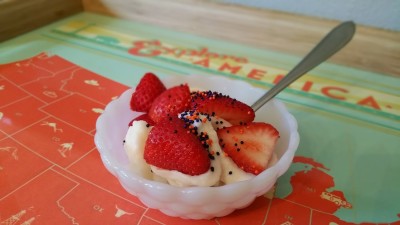 This lowfat homemade ice cream in a bag is simple fun for the whole family and guaranteed to make your kiddos happy! Will you make it with your kids?
Shopping List for Making Homemade Ice Cream in a Bag:
Save