15 Champagne Cocktails to Celebrate Any Occasion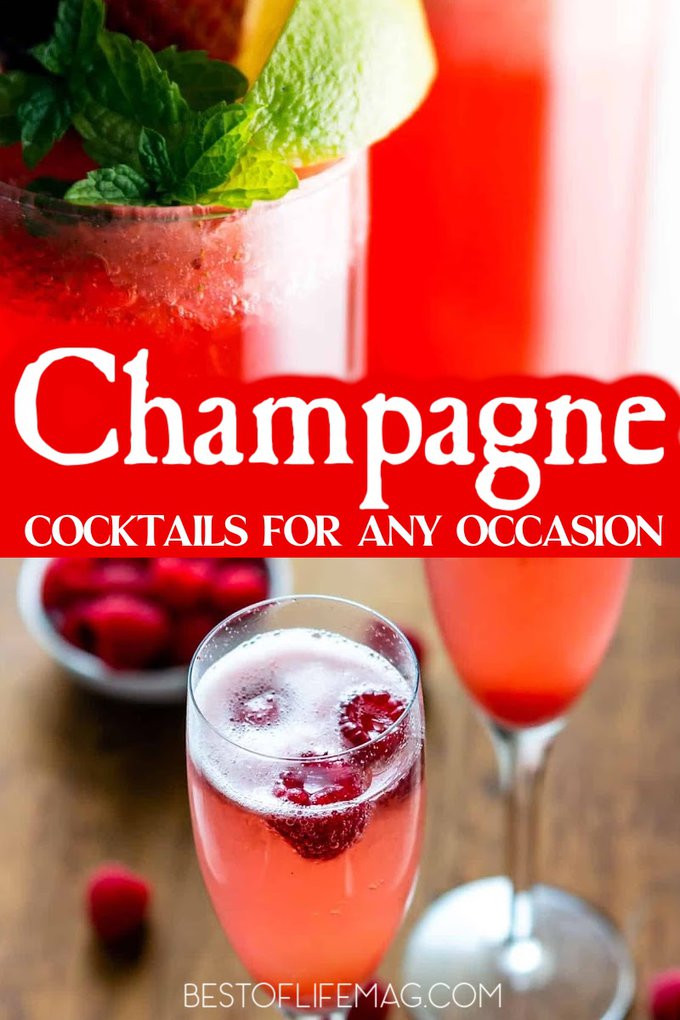 Whether sipping champagne at an early brunch or enjoying it at a party, there are unique and beautiful ways to turn your bubbly into champagne cocktails that will have everyone asking about them. A pop of color, a garnish that stands out, and an embellished rim will make people wonder if you are actually drinking champagne.
Dazzle yourself and guests during any occasion with these champagne cocktails that add a fun twist to a classic beverage. In fact, a champagne cocktail is like a fizzy drink but with an extra kick. You can make many different types of cocktails with champagne.
There are even some drinks that enact science into the experience of enjoying it. That is one of the benefits of using champagne in cocktails. You can pour champagne over a fluff of cotton candy in a glass and end up with an entirely new drink.
Of course, the question is, should champagne cocktails be used strictly for celebrations, or is this something you can enjoy whenever you want? Champagne is often used as a celebratory drink only. But we are completely changing things with cocktails.
If you plan on serving this cocktail or others, you can't go wrong with some basic supplies. A variety of glasses for margaritas, cocktails, mojitos, and of course, some wine glasses. I also like to keep some basic bar necessities on hand, like a shaker, muddler, cutting boards, knives, shot glasses, measuring tools, and a serving tray!
Classic Mimosa Recipe | Esquire
Champagne Limoncello Cocktail | Cooking Light
Champagne Pomegranate Cocktail | My Recipes
Sour Apple Champagne Cocktail | Will Cook for Smiles
Sherbet Sorbet Cocktail | Suzie's Sweet Tooth
Champagne Cocktails
Champagne is often used to celebrate. Believe it or not, we have been doing that since before 1789. The royal courts of Europe found champagne to be an expensive drink that gave someone status. That means people would only want to break out the champagne when they want to show off to guests.
You don't show off to just one guest, though, you want as many people as possible to know that you can afford that big screen tv with the lights and the curves, and I mean the champagne, of course. These days we see technology as a sort of status symbol.
But champagne once was, and that is why we use it for celebrations. Do we have to stick to that? Absolutely not. We are not in royal courts anymore.
Cotton Candy with Champagne | Lauren Conrad
Platinum Sparkle | Food and Wine
Cosmopolitan with Champagne | Epicurious
Blushing Mimosa Recipe | My Recipes
Strawberry Lime Champagne | Savory Nothings
Mixing with Champagne
We do need to be careful when making champagne cocktails. Champagne can get very explosive if shaken too much, and that means we will stick to stirring. Of course, there may be a reason to shake it a bit, depending on the recipe.
Just be sure to be careful when mixing the champagne with other ingredients. The last thing you want is a flat soda-like experience. In fact, many of the recipes will ask you to simply pour the champagne into the other ingredients that have already been mixed.
Champagne Margaritas | The Kitchen is my Playground
Champagne Mojito with Grapefruit | Call Me PMC
Champagne Punch Bellini | Crazy for Crust
Amaretto Mimosa | Mommy of a Monster
Watermelon Champagne | A Fabulous Fete
More Cocktail Recipes
Strawberry Margarita Recipe | Margaritas come in many assorted flavors, mostly fruit, and always delicious.
Easy Spicy Margarita Recipe on the Rocks | In fact, you can even have spicy margaritas on the rocks if you really want to, and we suggest you do.
Delightfully Smooth Casamigos Anejo Recipes | But sometimes you need a break from the fruity deliciousness that is a margarita. Casamigos Anejo cocktails are a good place to start.
Fireball Whisky Cocktail with Passion Fruit | Other times, you want something that will just make you feel great with very little effort. Just beware, Fireball has provided many people with amazing stories to tell.
Blood Orange Moscow Mule | Then there are the artsy drinks that are simple enough to make but seem higher class for some reason. You may want to invest in a copper mug, for this recipe tastes better than a classic mug.Save