This site contains affiliate links. Please read our Policies for information.
Whether sipping champagne at an early brunch or enjoying it at a party, there are unique and beautiful ways to turn your bubbly into champagne cocktails that will have everyone asking about them. A pop of color, a garnish that stands out, and an embellished rim will make people wonder if you are actually drinking champagne.
Dazzle yourself and guests during any occasion with these champagne cocktails that add a fun twist onto a classic beverage.


If you plan on serving this cocktail or others you can't go wrong with some basic supplies. A variety of glasses for margaritas, cocktails, mojitos, and of course some wine glasses. I also like to keep some basic bar necessities on hand like a shaker, muddler, cutting boards, knives, shot glasses, measuring tools, and a serving tray!
Classic Mimosa Recipe: Tried and true and a favorite of many / Esquire
Champagne Limoncello Cocktail: Also great with Prosecco and great with low priced champagne / Cooking Light
Champagne Pomegranate Cocktail: Refreshing and uses a touch of Brandy / My Recipes
Sour Apple Champagne Cocktail: Bright Green Awesomeness / Will Cook for Smiles
Sherbet Sorbet Cocktail: Ummm…YUM! / Suzie's Sweet Tooth
Cotton Candy with Champagne: This drink wins the best presentation award for sure / Lauren Conrad
Platinum Sparkle: Classy and elegant to the last sip / Food and Wine
Cosmopolitan with Champagne: So many yummies in this drink / Epicurious
Blushing Mimosa Recipe: Love the addition of grenadine and pineapple juice / My Recipes
Strawberry Lime Champagne: So refreshing and the colors are beautiful for table presentations / Savory Nothings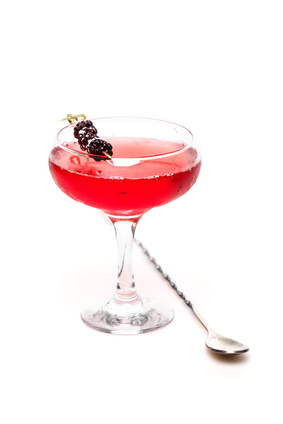 Champagne Margaritas: She had me at margarita / The Kitchen is my Playground
Champagne Mojito with Grapefruit: The colors in this are so beautiful / Call Me PMC
Champagne Punch Bellini: Love the raspberries in this! Perfect for the holidays! / Crazy for Crust
Amaretto Mimosa: Because Amaretto makes everything better / Mommy of a Monster
Watermelon Champagne: Beautiful AND refreshing! / A Fabulous Fete
Cheers! Which of these champagne cocktails will you sip next?
Save