This site contains affiliate links. Please read our Policies for information.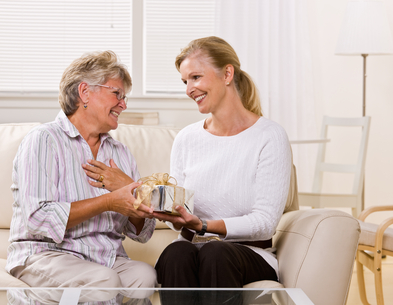 Finding the perfect Mother's Day gift is simply a matter of matching the item to your mother's personality type. While every mom is unique, thinking of a few general lifestyle categories can be a great help in your quest to pin down which gift and card will suit her best. Here are a few of Mother's Day Gifts to make the day special:
The Craft Lover
Try buying gifts from a site like Etsy, a marketplace for high-quality arts and crafts. Many of its artists products come in forms that are perennially popular on their own. Jewelry, purses, decorations and other female-friendly items are given an artsy touch. Gifts can range from $1 to hundreds of dollars; it all depends on what you're wanting.
The Earth Goddess
Combine environmental awareness and cooking with a pasta Bolognese canvas tote grocery bag from OneAndTheSameNYC.com ($26). It has the aforementioned recipe printed on the outside. Fill the bag with the raw ingredients for a truly unique presentation. Choose organic foods for a fresh effect.
The Traditionalist
Mother's Day is a traditional holiday in many homes. Tie into this feeling by sending flowers for Mother's Day by FTD ($25 and up). Moms of every generation will be glad to get a bouquet. Traditional moms also appreciate hand-written notes of affection, candy, jewelry, pendants and other keepsakes.
For this personality type, traditional designs should be chosen for jewelry and any other style-sensitive items. They like things that hark back to "how it's always been done" and won't appreciate efforts to bring them to the cutting edge.
The Nurturer
Some mothers love the idea of their kids being kids — long after they've grown up. Cater to mom's desire by presenting her with a Hen + Chick Growing Kit by Red Envelope ($59.95). The planters are in the shape of a large and small chick, and the theme is complete with included plants. Best of all, mom will get to nurture the flora — something she will be overjoyed to do.
The Candy Lover
Candy isn't just for Valentine's Day. Almost every mother will enjoy getting a box of fine chocolates at any time. Keep it classy — if you choose Godiva (prices vary). Godiva truffles are a delicious favorite, but the company offers plenty of great twists on the chocolate theme. Try some chocolate-covered pretzels for a present that won't be forgotten.
The Sentimentalist
Nothing speaks to sentimentality like photographs. Give this mom an album from Shutterfly or one of their other picture-printed items. They have something for every lifestyle — from standard photo greeting cards to picture-printed iPhone covers ($28).
Mix and match the above gifts to meet your unique mom's specific preferences and you'll have a hit gift that'll be remembered for years to come. If you order online, choose the "gift" option and have the company include a card or note. Your personal touch is not lost even if you're miles away.
Save