This site contains affiliate links. Please read our Policies for information.
Blackberries and mint work together in this light and refreshing blueberry mojito with cherries. A mojito is a classic cocktail that many love and this mojito recipe allows you to show off your cocktail skills as you make your own simple syrup. The colors are perfect for a summery cocktail and brighten up a holiday table with the beautiful colors! Rum works anytime of year in our household making this blackberry mojito a wonderful drink that can be enjoyed year round during happy hour or parties.
Beautiful and filled with flavor, this blackberry mojito recipe with cherries is perfect for parties or just a cocktail at home alone.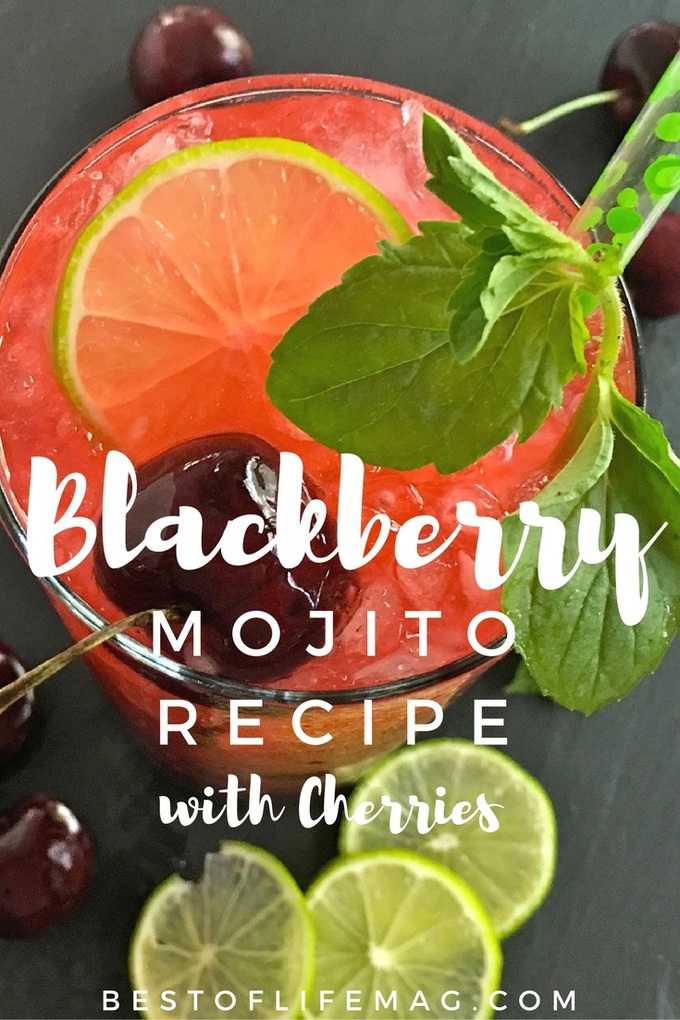 Now on to the fun part! It's time to make some awesome Cherry Blackberry Mojitos. You'll need a few items to make these delicious drinks: a shaker, some mojito glasses, simple syrup, club soda, lime juice, and of course some festive straws will all come in handy for this recipe. If you love mojitos you have to try our low cal mojito recipe! Of course there are other awesome low cal cocktail recipes to try here as well!
Cherry Blackberry Mojito Recipe Ingredients:
3 Cherries, stems removed, pitted
3 blackberries
10 mint leaves
2 oz Bacardi White Rum
2 oz simple syrup
1 cup crushed ice
1/2 cup club soda
1 lime (lime juice from 1 lime per drink)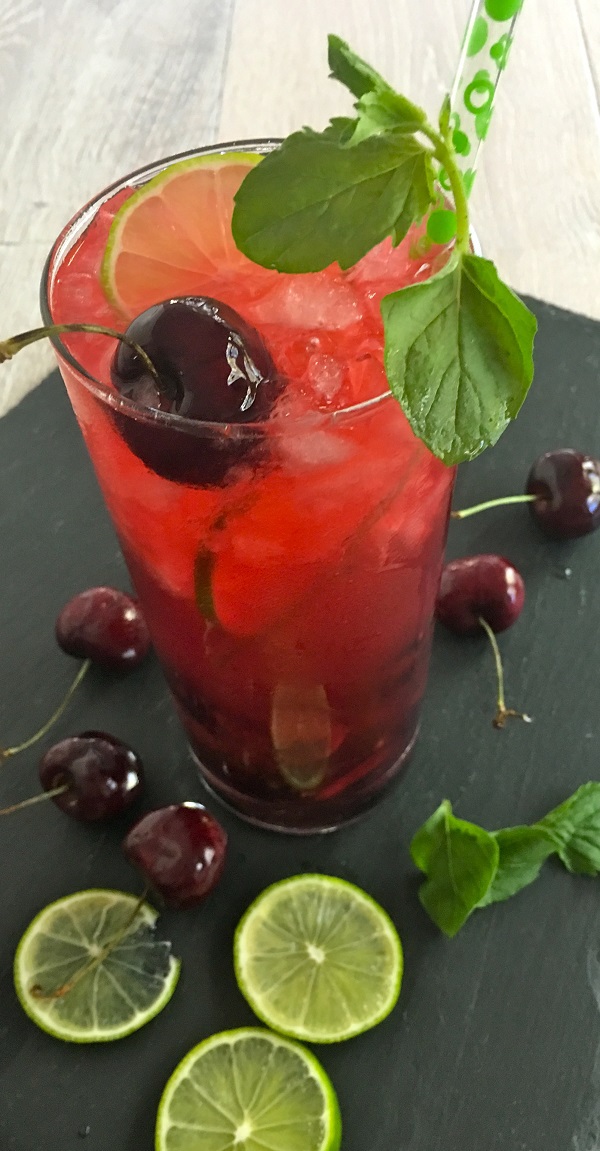 How to Make Simple Syrup
1 cup granulated sugar
1 cup water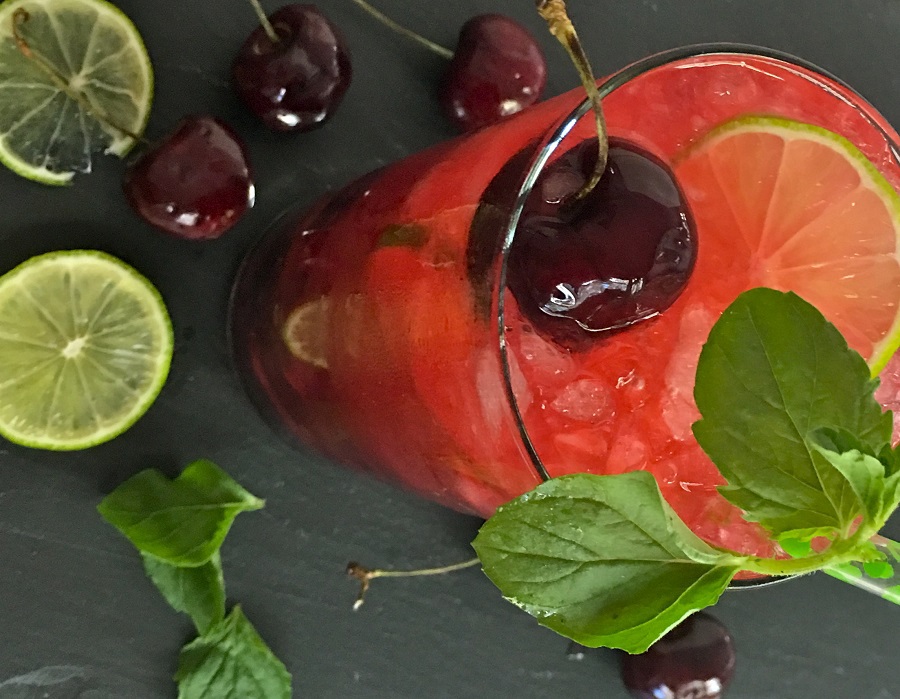 Garnish
lime
mint leaves
fresh cherry
fresh blackberry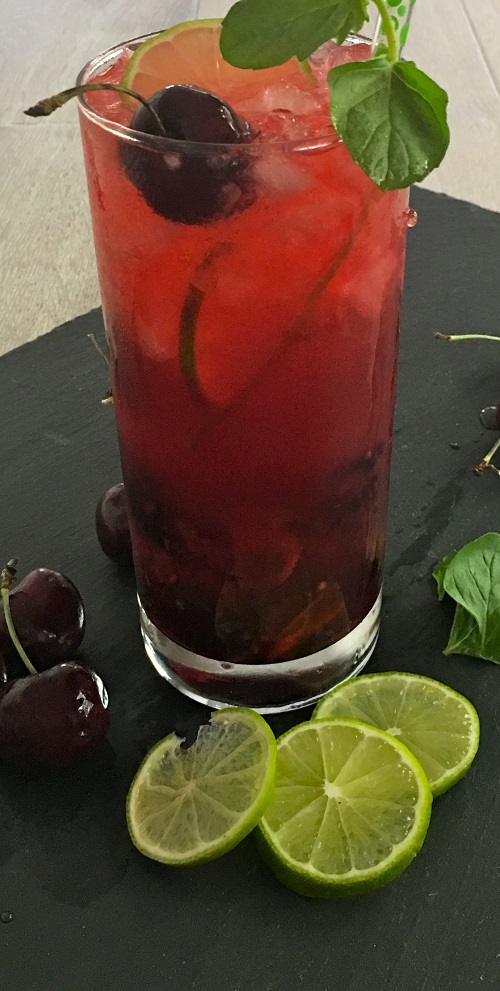 Instructions for Cherry Blackberry Mojito Recipe
To make simple syrup, combine 1 cup sugar and 1 cup water and bring it to a boil. Stir to let sugar dissolve and remove from heat. Let syrup cool.
Use a 12 to 16 oz firm glass, combine cherries and blackberries, mint leaves, white rum and simple syrup. Muddle the ingredients to extract the juices from the mint leaves and fruit. Add lime juice from one lime, ice and soda water to fill the glass. Garnish with lime, mint and fruit.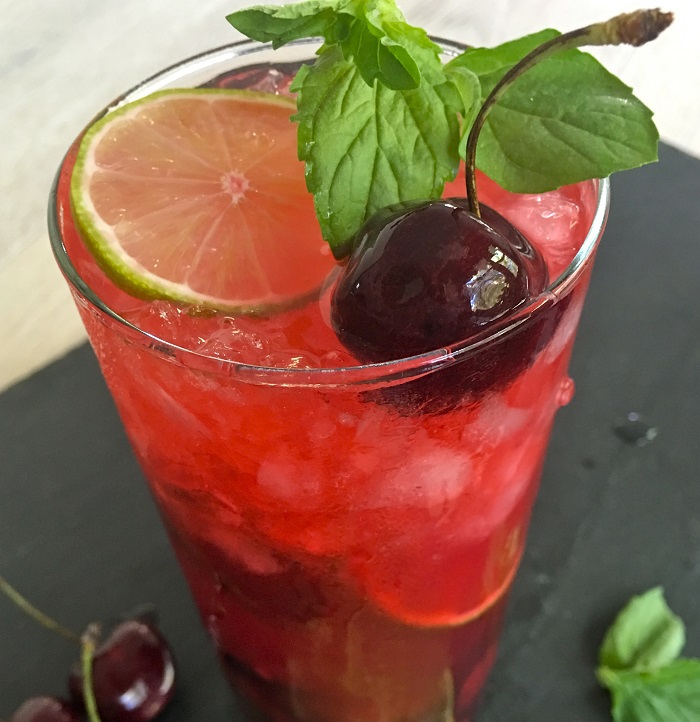 If you love making mojitos check out this perfect mojito shopping list so you always have what you need on hand!
Save