This site contains affiliate links. Please read our Policies for information.
HTC has done some great things in attempting to achieve the impossible, improving the best. Their new flagship device, the HTC One M8 is beautiful and sturdy, stunning and strong, well designed and well-built. However there is one thing that has changed, that will affect everyday use of the HTC One M8. That change is the Sense UI, and it is actually a collection of small and big changes that create an amazing experience for every user. Let's dive into Sense 6 or as HTC calls it, their sixth sense, and see where HTC has made some changes.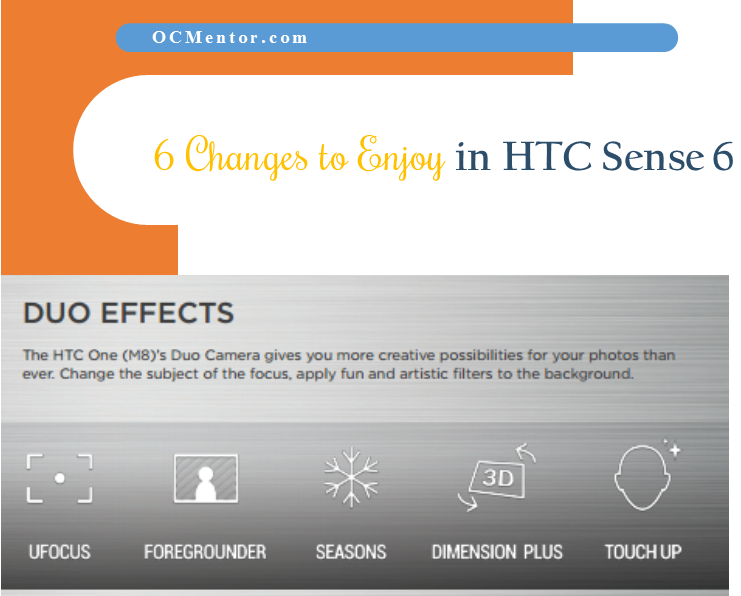 Let's dive into Sense 6 or as HTC calls it, their sixth sense, and see where HTC has made some changes. As we pull HTC Sense 6 apart, you will notice
As we pull Sense 6 apart, you will notice that some of these changes seem very small, but remember, to have a great experience, you need to pay attention to details, and HTC does that really well.
Capacitive Buttons
There are plenty of things that you will notice when turning on your HTC One M8, but there is a change to Sense 6 that actually allowed for physical changes on the M8. HTC has moved the old capacitive buttons, to on-screen buttons. This means you will not see the home or back button on the front of the device like on the HTC One M7, instead, you won't see them until you wake the screen. They have also made sure to not add a black bar behind the on-screen buttons, so they float at the bottom. This is especially good when going into a full screen app. Details like that make this version of sense beautiful and more quiet, like the flatter clock/weather widget. While other changes allow for customization from the big picture down to little conveniences.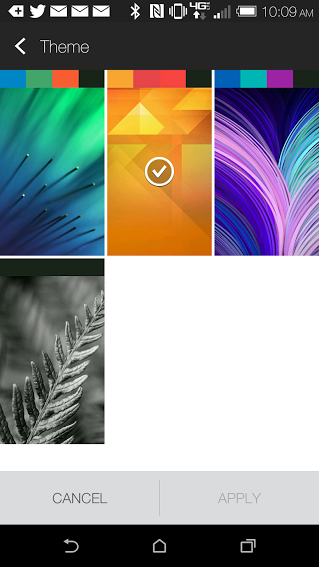 Themes
Themes have been around on HTC Sense for some time now, it is an easy way to get apps organized and the wallpaper changed based off of a theme. Themes still exist and are better than ever. Select the theme you like best, and you will notice changes everywhere, from the colors used in your Blinkfeed, to the colors used in your settings menu. Have we mentioned that HTC has paid close attention to details yet?
Gestures
Once your device is turned on, there are easier ways to get to your things without having to use that power/wake button on the top. HTC is calling them gestures, and you can access things from voice search to your camera using these gestures. Easiest to remember is double tap the screen, and it will wake to the lock screen. You can also swipe from left to right and it will automatically open into Blink Feed. If you swipe from left to right it opens up to your last known screen. You can also swipe up from the bottom to unlock to home screen, or down from the top to open up voice search. There is also the option of turning your device to landscape position while the screen is off and hold down the volume up button. That motion will launch the camera, once there, you can take photos using the volume up button as well. Could things get any easier, or cater to you more?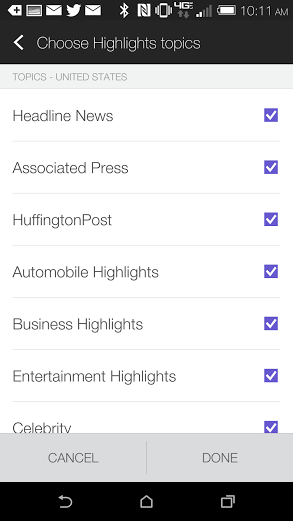 BlinkFeed
Speaking of Blink Feed, they have updated and expanded Blink Feed to fit you more so than ever. You now have the options to add keywords for things you want to show in your Blink Feed. As always you can select preset news and sites to follow, but they have also expanded that list as well.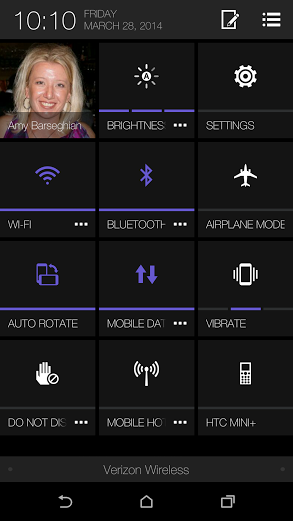 Notifications Drawer
The notification drawer is helpful in many instances from quick options to emails and texts, down to weather info and power warnings. However, if you use two fingers you can get to a different section of the drawer that has quick settings tiles. These have been there for a couple of versions now of Sense, but they have made that easier to customize as well. Simply use two fingers and swipe down from the top, and you will see the quick tiles, then at the top, you will notice a clipboard icon. Use that Icon to add or remove tiles from your settings drawer, or rearrange them for ease of use that caters to you.
Extreme Power Saver Mode
Sense 6 has added the option for extreme power saving when switched on this mode will not only turn off excessive settings though. When activated, and you can customize when it kicks on, you will have a completely different interface. Allowing only access to phone, email, messages, calculator, and calendar. This is said to give an extra 30 hours of standby time while at 10% battery, pretty impressive if true.
Don't miss the camera changes as well. We covered the changes in the camera with Sense 6 and these add to the beauty of the HTC One M8. Making the device stunning and the UI simple yet detailed is why we love HTC. They have done the impossible, making the best, better. If you haven't checked out the device for yourself, you should, be prepared though, because you will more than likely want it, and be jealous of those who already own the HTC One M8.