This site contains affiliate links. Please read our Policies for information.
Whether becoming a new parent or adding a new member to the family, every parent needs and wants the best gear. They help us get around, take care of our children and just make day-to-day life that much easier. It can be hard to figure out which gear is the best but those who are already parents know that investing in 
high-quality baby gear
 is well worth it for key items like a stroller.  After all, it will get regular consistent use and if you buy the right one, it will last you through multiple children.
The Thule Urban Glide Stroller provides parents with a the safety they need and the style they want making it a natural choice when buying a stroller.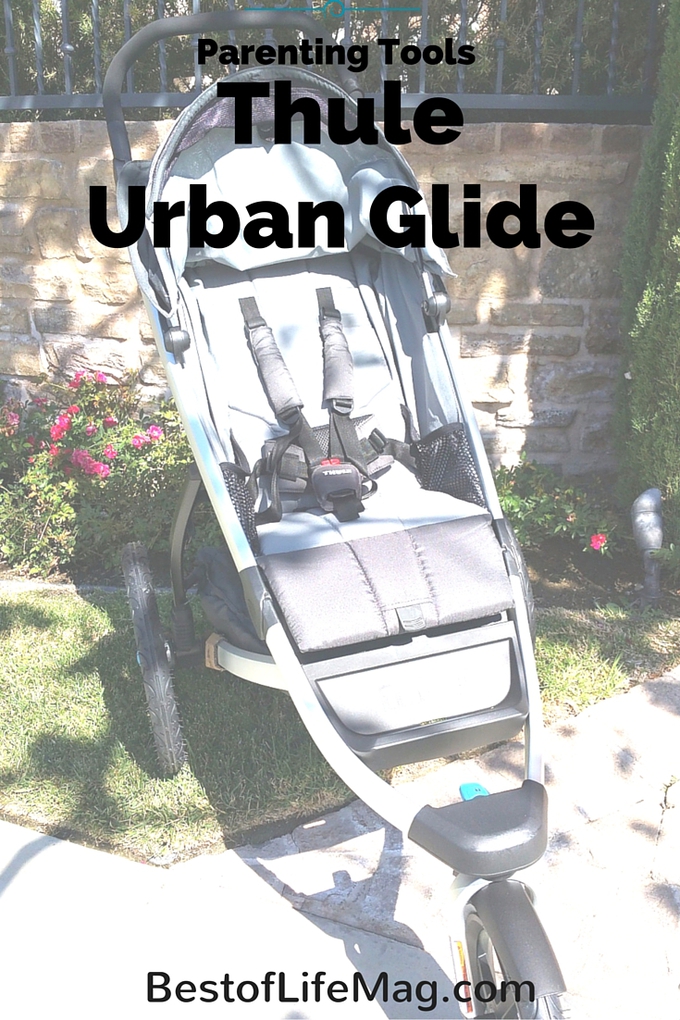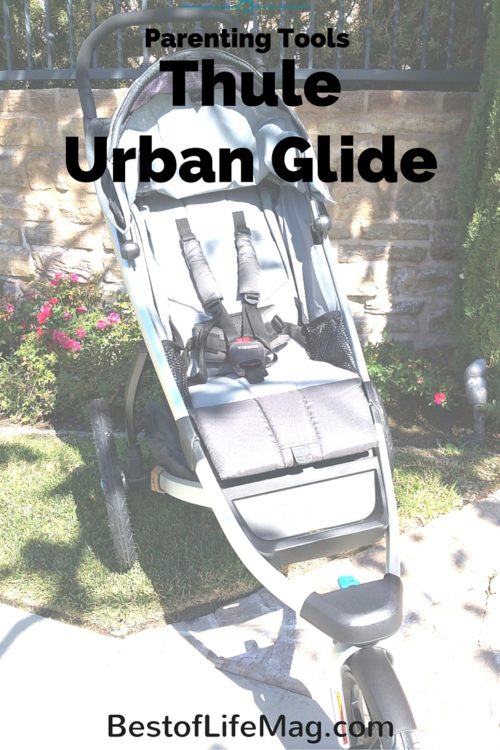 Safety and Comfort
Safety is the biggest factor when it comes to any type of baby gear. When it comes to Thule Urban Glide safety is the top priority which is evident in their secure harness system, solid suspension and an intuitive braking system.
The Thule Urban Glide Stroller has soft breathable fabric that will keep baby comfortable as well, whether out for short walks or an all day affair. There is plenty of room for your child to spread their legs out, keep their snacks and drinks close at hand and they can recline in comfort for a nap if they need it. To help with naptime, the Thule Urban Glide has a top shade that is perfect for protecting baby from the sun.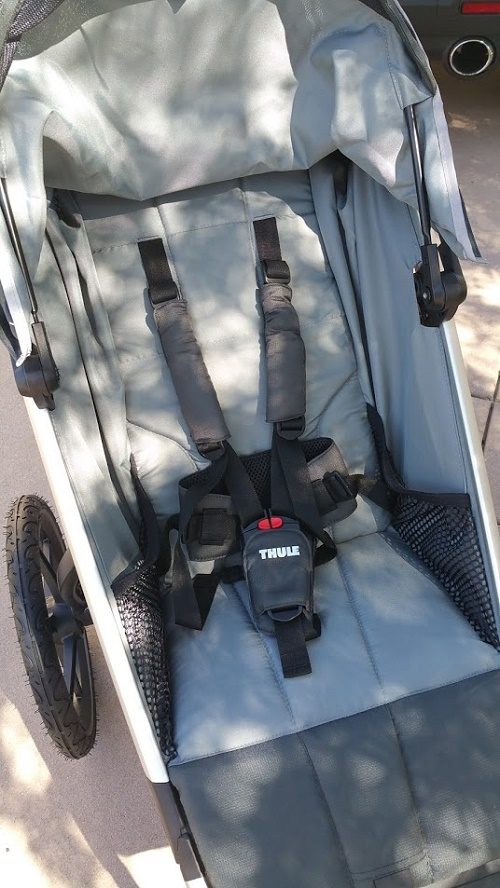 Thule Urban Glide is a stroller that has it all. As an all-around sports stroller with a sleek and lightweight design makes it perfect for urban mobility or jogging on your favorite path. Some parents need a little more room for their babies. The Thule Urban Glide comes in two different sizes – single or double. Some strollers sit two children one in front of the other, but we love the Urban Glide's positioning where children are sitting side-by-side because it is easier for the kids and more comfortable for parents.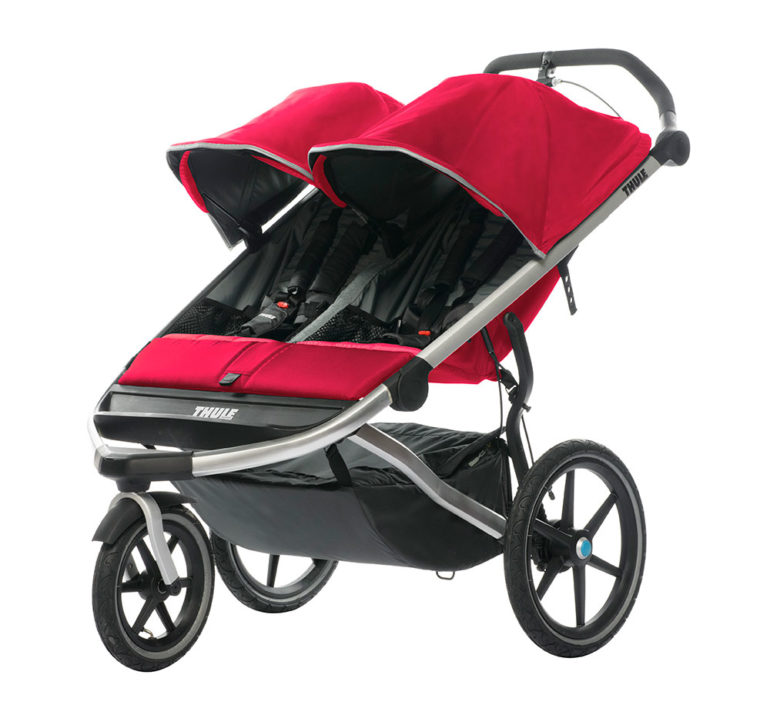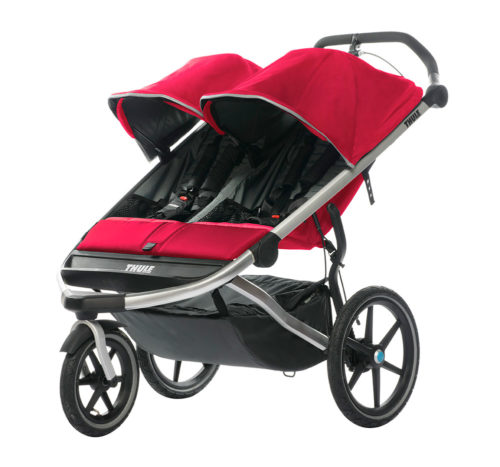 Features
Thule takes their 70 years of expertise in the outdoor industry and rigorous testing standards and applies them to the Urban Glide. That know-how and experience in heavy duty products makes the Urban Glide a great investment that will last. Thule offers safety, ease of use and perfect-fit features.
The Urban Glide is twenty percent lighter than the competition. One-handed folding combined with that light weight makes this stroller very easy to load into any car. The overall versatility of the Urban Glide is great for any needs a family may have on any day.  The ergonomic handlebars are height adjustable, making it a perfect fit for anyone, and there are plenty of areas to hang or place your diaper bag or handbag.
For families that have two little ones, the Thule Urban Glide 2 is a great double stroller option. Giving the same comfort and stability as the single-rider stroller was the goal with the double-rider. Then there are those looking for a power run with the security of a fixed front wheel. The Urban Glide features aerodynamic design and rear suspension for a smooth and comfortable ride at any running speed.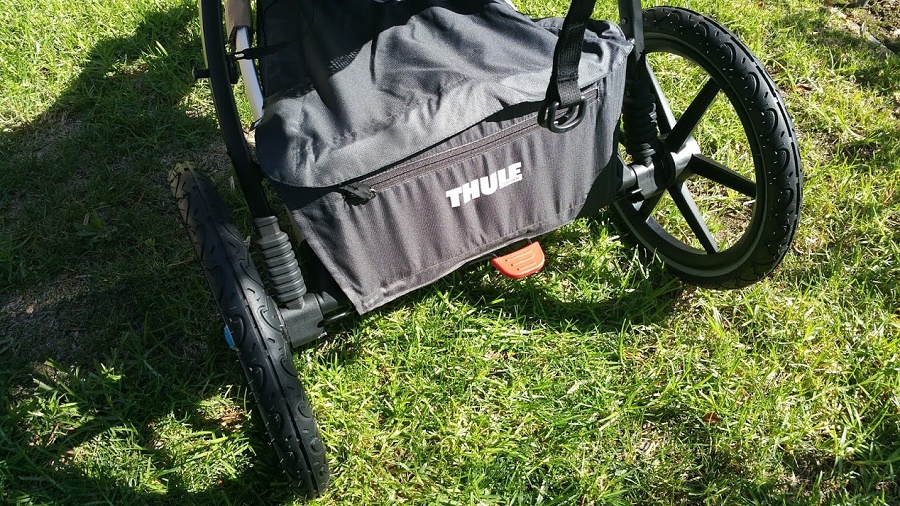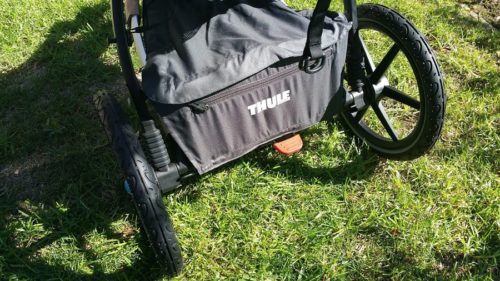 The swivel wheel in the front of the Urban Glide is lockable, which is a key difference between the Urban Glide and any other stroller. You can lock the front wheel for jogging, or unlock it for maneuvering through the store. You can choose what color your stroller is from Dark Shadow, Thule Blue or Mars Red. The colors are fashionable yet classic making them great for both mom and dad and your baby whether it is a girl or a boy. All of the features of the Urban Glide make it a great choice for those parents who exercise daily or just go for strolls in the park.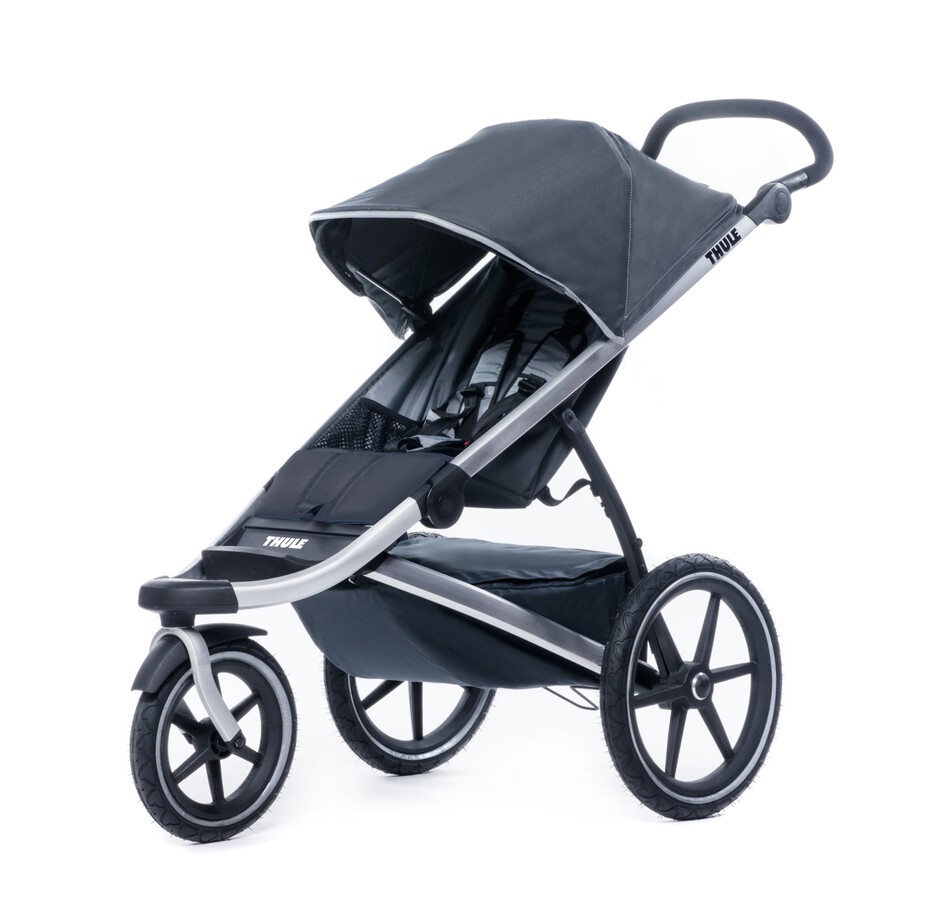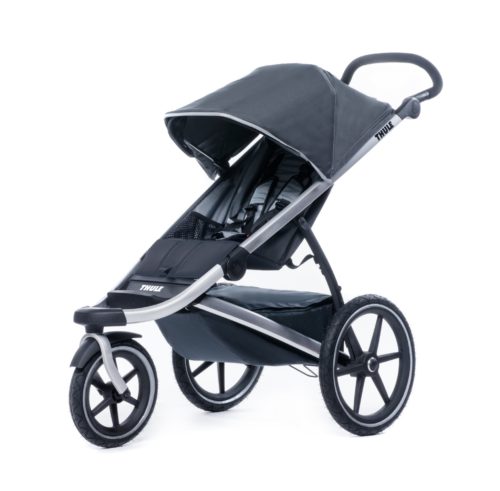 Accessories
Some features aren't always necessary, so they come in the form of accessories. You can trust that the Thule-built accessories are made with the same quality as the stroller. The rain cover that keeps your child dry while out in the rain, or the mesh cover that helps keep your child shaded as well as clear of particles. Then there are the accessories for you, like the cup/snack holder add-on or the entire console that has a cup holder, zippered pouch and tray. There are accessories for just about every need a parent may have with their stroller. The Thule Car Seat Adapter helps make the stroller even more versatile and easier to take on trips.
Wear and Warranty
Saving a few dollars now may results in costly replacements later. Thule takes the durability very seriously, which is why they use materials that will wear well over time. Even the fabric used is made to wear down slowly and even look good as it does out of the box. While Thule can trust that their products will last you a very long time, they have a great warranty in place. The ten-year warranty is sure to keep you moving and your child safe well after he or she has outgrown the stroller and you're reusing it with your newest family member.
A good stroller should last you years AND multiple children if you have them within a year or two of each other. Thule's strollers are built to stand the test of time.
Save