This site contains affiliate links. Please read our Policies for information.
When it comes to electronics, we're finding it harder and harder to go anywhere without them. Our laptops need to be near for work, smartphones for communications, cameras for memories and then there's all the chargers and wires needed to power them all.
The Case Logic 14″ Laptop backpack protects your tech gear whether going on a long trip or simply on a day outing.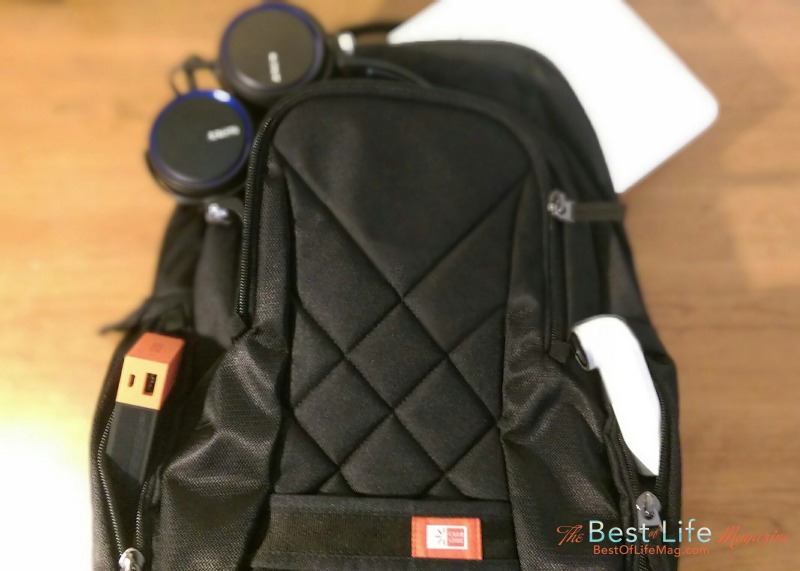 Specs
The 14" laptop backpack by Case Logic is made out of polyester materials and designed for laptops with a 14" display size. We found that the backpack would actually fit a laptop with a 15" or 16" display size as well. The backpack also has padded straps and a back piece for comfort, a padded front to protect devices, as well as a "Strap Management System" to help manage the strap adjustments.
There are multiple pockets, the main compartment with a padded divider to keep your laptop safe, and a front pocket with an organizational panel for any smaller devices. There's also a felt-lined top pocket for smartphones or sunglasses and two side pockets for cords or chargers.

Comfort
During our trip, we had our hands full, which is why we specifically wanted to try a backpack. Flying from San Francisco to Seattle with 8-month old twins is no easy trek, and having our electronics was essential.
Here's what we packed in the Case Logic 14″ backpack:
HTC One M8 smartphone
HTC RE Camera
Sony headphones
Moto 360 smartwatch
Chargers
two pairs of sunglasses
4 boarding passes
even a couple pacifiers
baby toy for each of the twins
While the 14" laptop backpack may sound small, it carried all of it easily and kept the weight distributed pretty evenly. The padded straps helped absorb the weight, and the "Strap Management System" keep the extra long strap adjusters rolled up nicely.
Traveling anywhere with babies can be a bit daunting with everything you need to bring along with you. However, using the Case Logic backpack meant we were organized AND hands free to carry bottles, toys, push a stroller, feed the baby, carry the baby or enjoy a coffee to equalize our energy with that of the children.
Having a felt-lined pocket meant we didn't have to worry about scratching our smartphone display or the lenses in our sunglasses. Even better, the size of the backpack wasn't intrusive, feeling almost like nothing was there, and being able to store it under the seat on the plane. Additionally, the backpack is nicely sized as a carry-on.
Likes
Easy to use
Light weight
Distributes weight evenly
Size allows for easy storage no matter what type of transportation you take
Cushions on front, back and inside pockets make for safe travel
We liked the ease of use of the 14" laptop backpack by Case Logic, especially the lack of set up required unless adjusting the straps. Everything slides nicely into it's designated place, smartphones here, chargers there, laptop here and boarding passes there. This makes travel organization fairly straight forward which is perfect for traveling with kids, because everything else will be a bit of a mess. Knowing that our electronics were safe meant more time to worry about the safety of the children. These are all things that make traveling with the backpack less stressful and more simple. The only dislike we had centered around the system meant to make things easier.
Dislikes
The strap adjusters were fairly long, Case Logic knows this to be an issue so they created the "Strap Management System" to help. The way it works is at the end of the straps, there's a tab that folds over itself and velcros shut. This means you can roll the straps up and then secure them by pressing the velcro together around the remaining portion of the strap. Problem is, in order to quickly take the backpack off, you need to completely unravel the straps. If you've traveled on a plane, you know that there's not a lot of room in the aisle to move around without hitting someone. So this quickly became both a like and a dislike for the 14" laptop backpack.
Verdict
If you're looking for an easy way to bring all of your electronics with you, then this Case Logic backpack is a great option. While there was that minor dislike we had, the good outweighed the bad. We were able to travel with our hands-free while still being comfortable. If you have a bigger laptop, don't worry, Case Logic makes them in different sizes as well.