This site contains affiliate links. Please read our Policies for information.
Remember that run you were on last month?  You know, the one where your headphones kept slipping off your ear because the cord got wrapped around your arm?  How about that bike ride when the bud you didn't have in (to listen for traffic) got caught in your spokes and shredded your whole earbud?
With Zipbuds you don't have to worry about either of those things happening ever again.
I tested my Neon Yellow Zipbuds for a month.  Two words: Freaking amazing.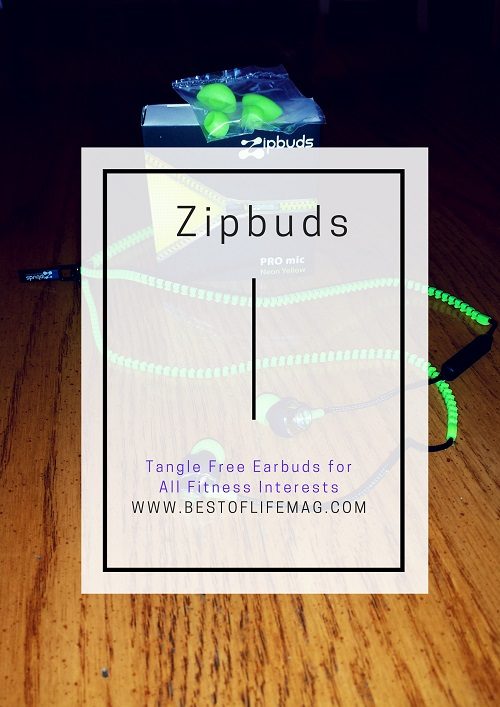 Initial Look.
They arrived in a small, solid box, neatly tied for transit.  Honestly, I chuckled when I removed them from the box.  A zippered cord system allows you to adjust the slack and V you want.  The zipper is well constructed, with a tongue that rivals a few jackets I've owned.  It's sturdy and will last. The buds are just over 3′ total length, plenty to get from your hip to your ears.
Comfort.
From the Zipbuds site, the earpieces are a "ComfortFit2 Technology combined with the rubberized (slip resistant) coating makes sure Zipbuds PRO mic earbuds will stay in your ears."   Totally agree:  The rubberized earpieces fit really well, and the option of three different sizes ensures everyone will have a comfortable, easy to insert, fit.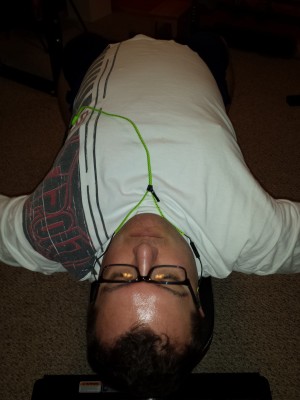 Usability.
I used Zipbuds three days a week for one month, through a combination of workouts including indoor biking, weight training and outdoor walking. One trait I especially appreciate on the Zipbuds is the cords.  They aren't the usual rubber or plastic. They are a nylon weave, much like a thin rope.  What does this mean?  They are flexible and move with you, not against you.  Again, a simple, very effective, feature.
About me:  I wear shorts in the winter. I always feel warm.  When I work out I sweat. A lot (but not so much I am gross.) The Zipbuds remained in place, without slipping, regardless of what activity I was doing.  My phone fell out of my pocket while weight training, previously that meant any buds or headphones quickly followed suit.  Not Zipbuds.  The rubberized earpiece combined with the nylon cords gave the strength and flexiblity to keep them in place.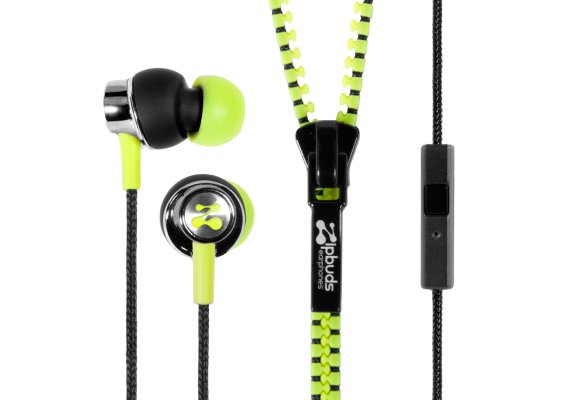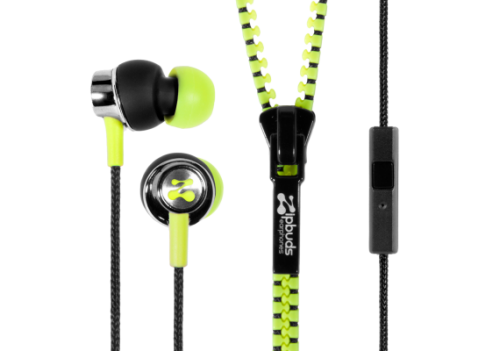 Zipbuds also feature a built in PRO Mic ™ suitable for usage during phone calls. I don't normally make calls with a headset, but did for this review so I could let you know how it worked.  The mic works great, the recipient said my voice was very clear. I did have to raise my normal speaking volume just a bit, but I wasn't yelling.  Call it more articulating than yelling.  I will suggest you keep only the right earpiece (the one with the Pro Mic ™) in while on a call. The earpieces fit so well I could hear myself breathing, which distracted me a bit.
Sound.
I'm not a guy who is going to spend hundreds on headphones of any kind, much less for a set of buds I'm going to wear while working out and sweating.  Every other pair of buds I've had always sounded hollow or tinny. Again, Zipbuds surprised me here, too.  Deep bass, rich sound.  The earpieces (you get a choice of three to ensure perfect size) fit my ear perfectly.  Even while biking on my trainer I could hear the quieter parts of songs without using full volume.
If you are looking for an affordable, durable, quality set of earbuds to round out your workout, Zipbuds are the answer.