This site contains affiliate links. Please read our Policies for information.
Ready for your ride?
This is the first of a three-part series, sharing some basic tips and prep for bike riding. This article covers packing for your ride. July will also feature riding gear and safety accessories.It's the first week of July. We're halfway through the year. For many of us that means we're halfway through the riding season as well. Perhaps you've not been out on your bike as much as you'd like, or, like me, not at all since April. I know, don't judge me. Well, ok, judge me. I can take it.
I finally got back out this week and as I did my walk-through to ensure everything was working and connected properly, I got to thinking that perhaps some of you may not be aware of what to take with you on a ride.I can tell you this: there are a ton of options out there. Each rider has their preference. Some like to go lightweight and rely on friends to pick them up if something fails. Others go all in and take just about everything they can think of. I prefer to be prepared for me.
I thought I'd share what my travel pack holds for a bike ride of three different lengths.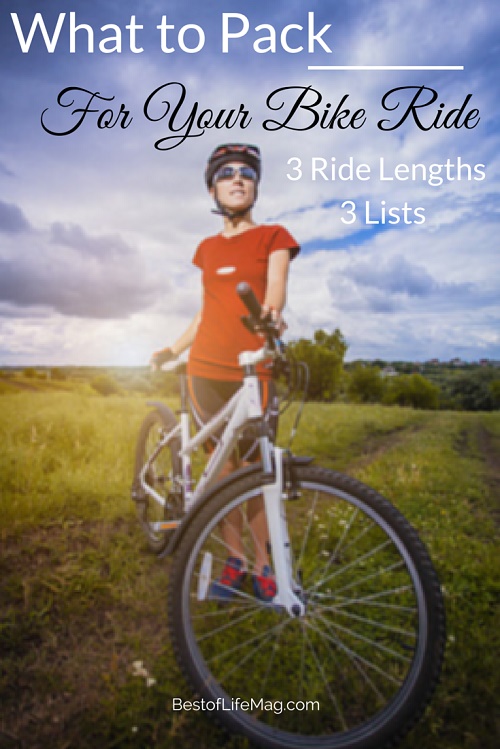 I break my rides into three categories:
Around town – rides of 10 miles or less, always near civilization, on well-established paths or routes
Middle distance – rides between 15-50 miles, definitely not around home, sometimes in the country, always on roads
Long haul – rides in excess of 60 miles, always away from homes and businesses
Let's look a little closer at each, focusing on the middle distance.
Around town
I use my single speed bike for these rides, riding at a very casual pace, usually with my family or running errands. I bring only what I need for the ride and destination: my wallet and a backpack. Pretty simple.
Middle distance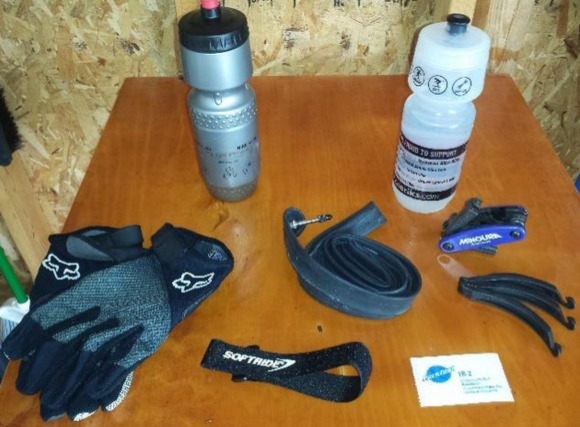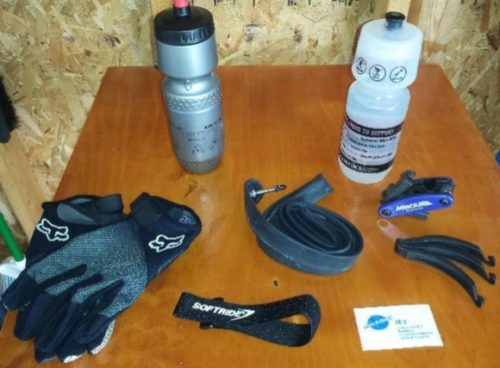 During the week, I'll get out on 25-30-mile rides twice a week and head out for 50 on a weekend. For these rides, my pack remains constant regardless of distance.
Cash – bring $10-20 with you. You never know when you may need it. Gel block, water, sports drink, candy bar, emergency cab. Have cash.
Water bottles – most bikes have mounts for two bottles. Use them both, and use the full-size bottles, not the shorties. A 20 oz bottle of water should last you no more than 20 miles. Hydrate even if you aren't thirsty, you'll save yourself some pain later by keeping your muscles and brain lubricated. Tire levers – sold in packs of three, these are used to lever your tire off in the event of a flat. These are inexpensive and a must have.
Food – be sure you pack a protein energy fuel source of some kind. There are all kinds on the market, find what you like and bring them along. You should plan on stopping every 15-20 miles to stretch and eat. Keeping energy up is important. Plan your route distance and bring enough food for X+1, where X is your planned stops.
Phone – GPS and an ability to call for help is important if something really drastic happens. Bring your smartphone!
Extra tube – also a must have. On the road or woods, if you blow a tube it's faster to just replace than to patch. Remember to always carry your old tube out with you, don't throw it in the ditch.
Pump – frame pump, CO2 pump, your call.
Tire repair – not the tube, the tire. If you blow a sidewall or rip the tread you're it's a
long walk home. I blew a sidewall last year (somehow managing to stay upright as I stopped, thankyouverymuch). The Park Tool TB-2 Emergency Tire Boot got me back up quickly. I didn't inflate to full pressure and I rode slower, but I wasn't walking. These are inexpensive and available all over the internet. Highly recommend.
Multi-tool – this can be optional. You should always check your bike before each ride, making sure everything is tight. On the ride bumps happen and every once in a while something may shake loose.
Optional items – sunscreen, chafing cream, bug spray. I sunscreen before I leave. I don't personally bring chafing cream or bug spray. I know people who swear by it.
I know what you're thinking: "Dude, this is a huge list, no way I'm carrying all that on my bike!" It doesn't take up much space at all, trust me. I've included a pic of my gear and my bike, packed and ready.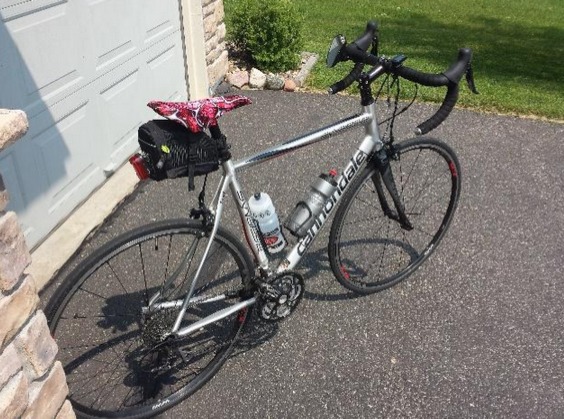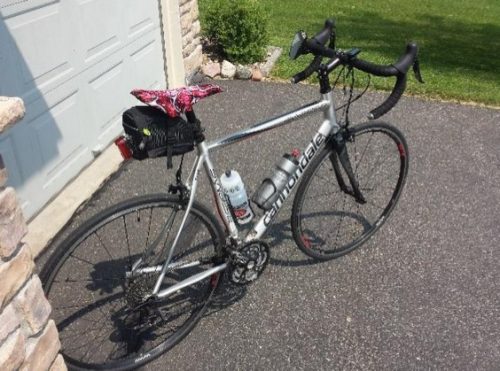 Long haul
During the season, I'll do a handful of solo century rides (100 miles). My longest day ride was 123 miles. Nothing beats time on the bike to clear the head and get some exercise.
Everything from the middle distance ride, plus
Phone charger – running GPS on any phone will drain your battery. Don't be caught with a dead phone and risk getting lost or crashing and having no way to reach someone.
Extra gloves – after the first 25 miles your gloves will be sweaty and gross. Give your hands a clean, dry refresh at your halfway point.
That's it! What do you bring on your rides?