This site contains affiliate links. Please read our Policies for information.
CES or the Consumers Electronic Show is always full of so many electronic devices from televisions to watches and everything in between. There's so much to check out, that they throw the event in Las Vegas, and even then there's so much to see. While there are plenty of tech options that fit the bill for top ten, twenty or even top 100 products at CES, we don't want to bombard you with product after product. Instead, we've worked hard to put together a list of top ten CES 2015 products.
WattUp Wire Free Universal Device Charger-
Many of the devices at CES need power, but wires covering the floors at the show would just be a mess. That's why we've chosen the WattUp Wire Free Universal Device Charger to start off our top ten list. Unlike any other wireless chargers currently available, the WattUp doesn't even require you to place your device on a charging pad. Instead, set this device up in your home, and any device within 15 feet will be charged. This is just the technology being shown, so no consumer product is actually ready. However, the company is working with router manufacturers to bring this into every home.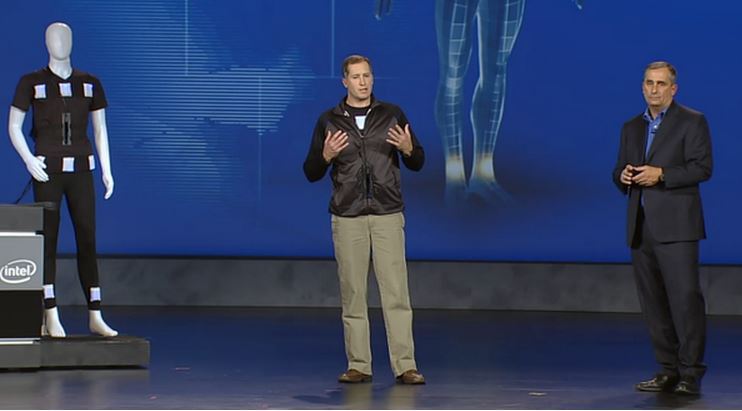 Intel-
Among all of the products, at CES, Intel has a long list of products that all deserve to be on the top ten list. Problem is, there's just too many amazing things to add them separately. Instead, we will just list a few of the Intel innovations here. First up is Real Sense which allows for motion gestures to be recognized by your devices. The Sprout, which is a team effort between Intel and HP to bring new heights to 3D printing. The Curie, which is a wearable computer the size of a button. A Real Sense empowered jacket that could help visually impaired people to get around worry free. There's so much more from Intel as they are a company that is truly and physically at the core of so many great innovations at CES.
HP ZBook Mobile Workstation-
The HP ZBook is of course, powered by Intel, which makes this device an even more perfect device to own. HP has created these 14 and 15-inch Ultrabooks that use the power of Intel to make your work just as mobile as you. The 15-inch ZBook only weighs 4.23 pounds and the 14-inch model 3.77 pounds. Both ZBooks run Windows 8.1, the 14-inch has touch screen options, and both are certified workstations.
Panasonic 85-inch 4K Work Screen-
Panasonic is fast becoming a common name for those looking for workplace technology. One example of that new focus is the 85-inch 4K work screen. While you may think this display is a bit too big for your desk, keep in mind it's intended use is for multiple people- at once. This touch screen can handle multi-touch in a great way, allowing multiple people to touch the screen and get responses. Even better, the screen works both vertically and horizontally, so your office can definitely get great use out of this display.
Withings Active Pop-
Last year we saw smart watches and fitness bands gain their footing in the markets. This year, we will see them expand and really take off. One example of that expansion is the Withings Active Pop, a smart watch that looks almost exactly like a fashionable watch, with some smartness to it. The Active Pop will tell time on the big display, and track both fitness and sleep sending all the info you need to your smartphone. Best of all, the Active Pop is made for the active life being waterproof, so you can definitely get your sweat on and clean it later.
Asus Transformer Book T300-
Asus has really advanced their Transformer family, and with the power of Intel, the Transformer Book T300 is a great advancement. Currently the thinnest convertible laptop ever, the T300 has a 12.5-inch HD display. Inside is Intel's new Core M Chips, 128GB hard drive, and 8 hours of battery life. The keyboard (which is detachable) is included and adds little to no weight.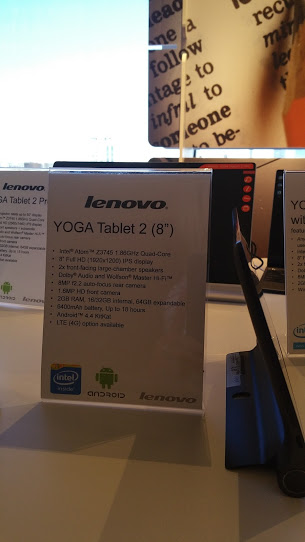 Lenovo Yoga 2 and Yoga 2 Pro-
Lenovo has plenty to offer, and we've covered their ThinkPad X1 Carbon additions, but there's also the Yoga 2 and Yoga 2 Pro. The Yoga 2 is an 8-inch Windows tablet that has as IPS HD display. Powering the Yoga 2 is Intel's Atom quad-core processor and a battery life of 15 hours. One of the best features of the Yoga 2 tablet is AnyPen technology. This allows you to use any ball-point or pencil to write directly on the display and the tablet will recognize whatever you write. The Yoga 2 Pro is also a great option that adds a projector to the mix. So that presentation you've been working on, can be shown off easily.
Binatone Smart Collar-
We've been seeing so much in the advancement of wearables for humans, but what about Rex? Binatone has developed a smart collar that your dog can wear. The smart collar called Scout5000 allows for gps tracking, alert system, and even a speaker so you can talk to your dog. The Scout5000 will be sold by Motorola in June and is a great option for any dog owner.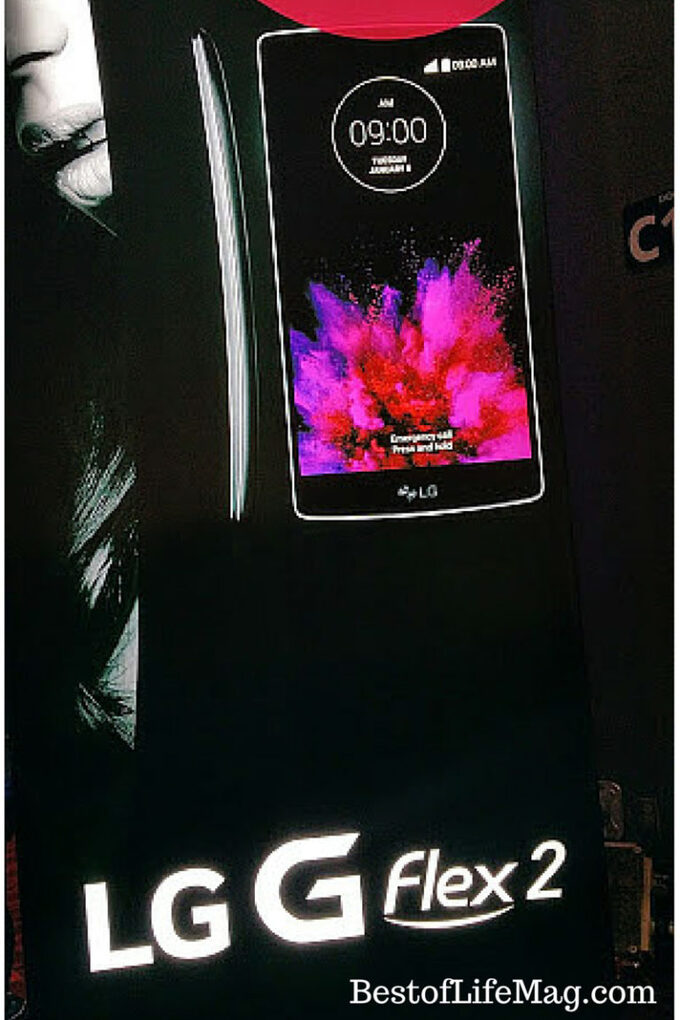 LG G Flex 2-
We've covered this beautiful, curvy smartphone already, but it definitely belongs on our top ten list. LG shows off it's curves with style and power that LG has perfected over the years with the LG G Flex 2. This 64-bit, self-healing, curvy beauty is the first smartphone to use the SnapDragon 810 Processor. That all makes this smartphone the most powerful smartphone coming to market so far this year.
Belty-
Belty is one of those products from CES that just needs to be talked about because of its difference from any normal product. Belty is a smart belt that has the ability to expand and retract based on your ever-changing waistline. The kicker is, the belt will keep track of your fitness, and waistline in such a way that it can even alert you when it thinks you need to get a walk in for the day. So while it could be the perfect belt size every time, Belty will also be unafraid to tell you that you're getting a little thicker.