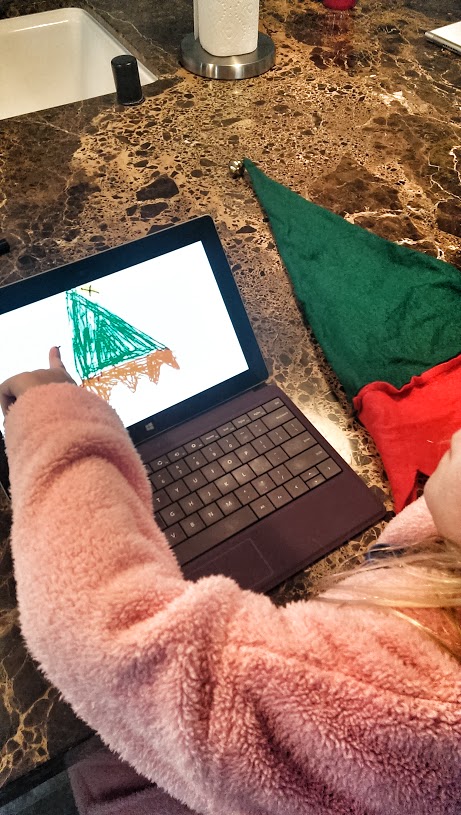 This site contains affiliate links. Please read our Policies for information.
You can find all of the specs you want for the Surface 2 when you read all of the Surface 2 reviews out there.  We received the Surface 2 to test and share with you and after using the Surface 2 for almost three months, I am tossing the specs aside and focusing on the reality of using the device in your home…with your family. Because I bet there are a few things you may not realize about the Surface 2.

I am tossing the specs aside in this Surface 2 Review and focusing on the reality of using the device in your home…with your family.
Your Kids can Use the Surface 2 for Homework
Really. It's true.
We have spent far too much money as a family on tablets in hopes that they will offer full functionality.  Alas, they never did.
Until now.
Our children use our Surface 2 for all of their school and homework needs.  They can practice their typing and math games outlined by the district and their teacher because the Surface 2 has full flash capability.
Our son takes him jump drive to school with his assignments and projects on it, brings it back home, and plugs it right into our Surface 2 to continue working where he left off.
Oh, and if your school allows or encourages laptops like ours does, the Surface 2 does everything they need and is lightweight for easy transportation back and forth.
The Surface 2 costs only $449 and is Loaded with Extras
The Surface 2 starts at a base price of $449 for 32 GB of storage or you can upgrade to 64 GB for $549.  Tons of storage, especially compared to the iPad Air, for a low price.
For that low price, you get a 3.5MP front-facing camera and 5MP rear-facing camera.  One of our absolute favorite features is the built in dual position kickstand because it allows for true comfort and flexibility when using the Surface 2 on a table or on your lap.
We transfer photos to our server with total ease using the 3.0 USB port and love having the flex to add a mouse if we want as well.
You can also add up to 64 GB of storage if you need using the microSD slot.
The Surface 2 Can Replace a Laptop
The most common question I get about our Surface 2 is, "Can the Surface 2 really replace a laptop?".
The answer?
Yes.
Microsoft Office 2013 RT software allows for full Office functionality.   Full Adobe Flash Player support makes browsing a breeze, the aspect ratio is like you would experience on a laptop, and with the Type 2 Keyboard, the Surface 2 is both a tablet and laptop.
And if you are curious how the Surface 2 compares to the iPad Air, I have you covered there as well.