This site contains affiliate links. Please read our Policies for information.

The technology world is ever changing and advancing making it easy for tech enthusiasts to satisfy their needs whenever they wish.  Given how quickly technology changes it is important to understand what products offer and their benefits to know if the product is right for the given needs.  Google's latest Chromecast family member, Audio, is here any many find themselves asking, "What is Google Chromecast Audio and how can I use it?"

Stream your music anywhere and fill your home with crystal clear music with Google Chromecast Audio which works with the apps you have come to love.
Because of the space I work in, I would not consider us top tier tech enthusiasts, but our friends and family see it differently.  When they see a new tech device, they often come to us asking our what we think and for more information on how it work.
The same can be said for Google Chromecast Audio, which you can purchase at Best Buy.  The features of Google Chromecast Audio are plentiful and bridge the gap between old and new tech with complete ease.

What Can Google Chromecast Audio do?
Since technology moves at a very fast pace, it can be hard to keep up. You could easily spend thousands of dollars and still not be at the height of the technology movement. Google Chromecast Audio helps you bridge the gap between old and new when it comes to streaming music. You can plug the device into old speakers and turn them into wireless, WiFi-enabled speakers.
Once plugged in, you can stream music from your phone, laptop, tablet or computer to your speakers. The Chromecast Audio uses Bluetooth or WiFi to receive data, so it works with many of the devices you already own. One of the best features of the Google Chromecast Audio is that you can connect to multiple Chromecast Audios at once.
Listen to Hi-Res sounds on every speaker system that has a Chromecast Audio plugged into it. Now you can easily fill every room in your home with synchronous music. Simply group Chromecast Audio devices together so you can listen to the same song on multiple speakers.

Benefits and Ease of Use
In trying out the Chromecast Audio, we found that the sound is crystal clear and can be appreciated by audiophiles everywhere. The reason for the clear sound is the WiFi option. At a basic level, when you select the music on your device, you're telling the Chromecast Audio where to get the music, and it pulls it on its own.
The music is selected from your devices and streamed from the cloud which means all of your favorite music is only a few taps away. Since you're using your phone, tablet or computer to find and select the music, it's very easy to use.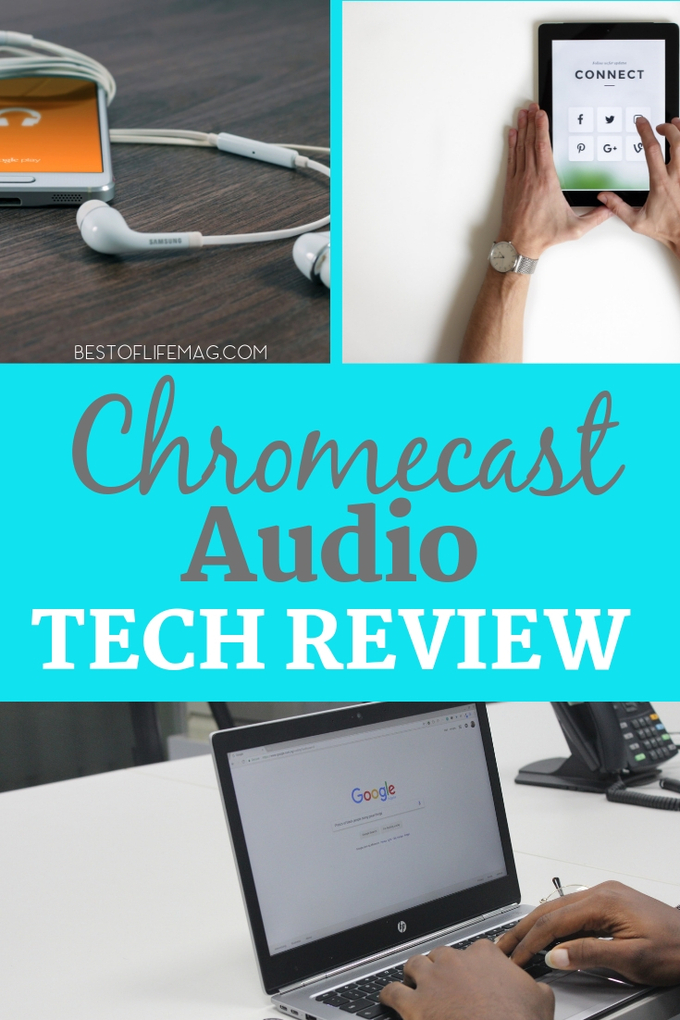 If you're using your phone, you don't have to worry about calls coming in or going out. The Chromecast Audio will know the difference, and the music will continue to play even during your call. Another benefit of using your phone is it's easy to play, pause, or change the volume from anywhere in the home.
You can also use many of the apps you already use for music or podcasts. Stream millions of songs, radio stations, and podcasts through apps like Pandora, Spotify, YouTube Music, and Google Play Music. Find all of the compatible apps and more at chromecast.com/apps.