This site contains affiliate links. Please read our Policies for information.
Finding the right tablet is something on many of our to-do lists.
After years of using our own Android and Apple tablets and now testing the Surface 2, there are some key differences, and thus reasons, to buy Surface 2 instead of the iPad Air.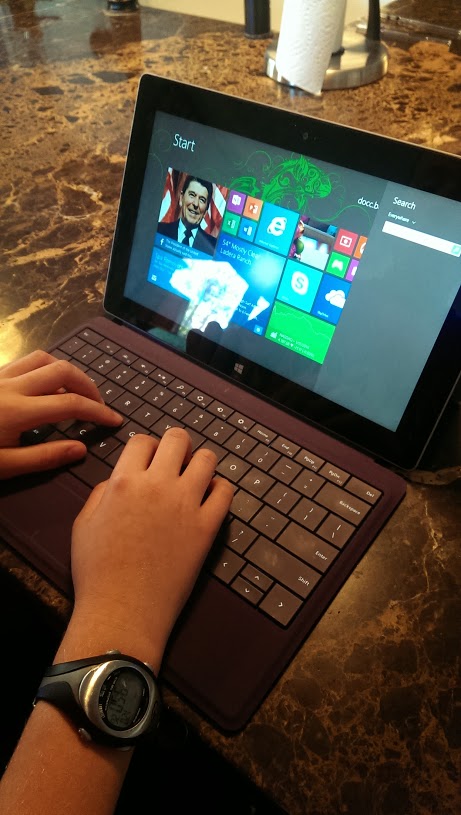 1. The Surface 2 is A Tablet AND a Laptop
Apple tablets are just that – tablets.  They are not designed to function like a laptop and offer the convenience and comfort that people have come to depend on in their laptops.  Thus, because the Surface 2 is a "tablet" that actually bears numerous similarities to a laptop – it just feels natural.
You also have full Office functionality software even with Microsoft Office 2013 RT and Full Adobe Flash Player support (both Modern UI app and desktop).
The Surface 2 is a tablet when you want it.
And the full functionality of a laptop when you need it.
2. Type 2 Keyboard
The Surface 2 is designed to be comfortable and efficient and the Type 2 Keyboard makes it even more so.   It is fully functioning when compared to the on-screen keyboard and we love that you don't lose any precious real estate when using it.  We are able to use it with the same speed and comfort of our laptop keyboard and the backlit Type 2 allows us to accomplish whatever we need wherever we are.   It is very similar in size and feel to the iPad Air Smart Case with one major improvement.
You get a fully functioning backlit keyboard that also serves as a cover.   This is a must have accessory.
3. USB and microSD ports
The fact that the Surface 2 has a USB port (3.0) is huge because it is yet one more feature that allows it to function like a tablet or a full functioning laptop.  Users can connect a mouse if desired, connect devices, add documents and photos to a jump drive, and enjoy the convenience of downloading pictures with ease.
This feature is especially useful for our son who uses his jump drive to turn assignments into teachers and work on his PowerPoint presentations at both home and school.  The Surface 2 also features a microSD card slot allowing you to add up to 64GB of extra storage.
The iPad Air? Neither of these. 
4. Kickstand
My husband tested the original Surface Pro at work and truly loved it, but he always felt that the single position kickstand needed a bit more flex for optimal viewing and comfort.  We were really happy to see that Microsoft made this improvement on the Surface 2, which features two kickstand positions.
Flexibility and comfort that is all accomplished with the design removing the need to buy a case like the iPad Air.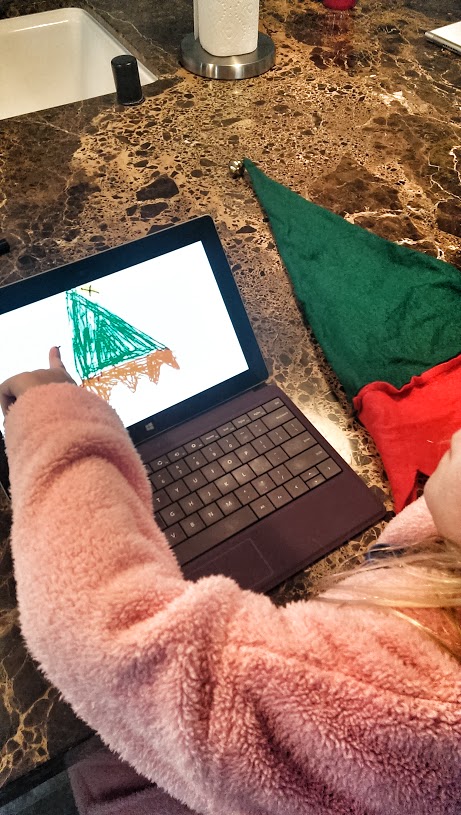 5. Camera
Let's face it. Life happens everywhere around us and the tech age we live in offers us the ability to capture it wherever we are.  Cameras are critical on all of the devices we use.
The Surface 2 allows users to take photos with a a 3.5MP front-facing camera or the 5MP rear-facing camera.
The iPad Air also allows for a 5MP rear-facing camera, but somehow decided a 1.2MP front-facing camera was adequate.  Each megapixel makes a huge difference in the photo quality so a difference of 2.3 MP is the difference between actually using the front-facing camera or not, especially when children will use it.
6. Price point
The Surface 2 starts at a base price of $449 for 32 GB of storage.
The iPad Air offers a starting price of $499 for only 16GB.  You can upgrade the iPad Air to 32GB for $599 or you can buy the Surface 2 with 64GB for $549.
Enough said. 
Honestly, we have been buying tablets for over five years just looking for the right one.  The right one that offered the convenience of the small size and lightweight design, but also allowed us to have access to everything we would normally access on our laptops.
The Surface 2 delivered and we finally have the tablet we need for our family.