This site contains affiliate links. Please read our Policies for information.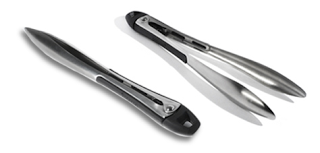 Any cooks out there looking for a new kitchen tool to make their lives easier? As you know, I am selling products that I review and love in my Open Sky Store. I purchased the Prepara Multi-position Table Tongs so I could take a closer look.
After many uses, they are among my favorites! We eat a lot of salads and they work great for putting them together. I love the spoon tips on the Prepara Multi-position Table Tongs. They are great for basting and cooking with sauces. I can grab my meat and vegetables and then spoon some sauce over my roasts and meats…without getting another utensil. It may sound silly, but that is a major perk for us. They work beautifully when cooking in my crock pot, too. You do need to be careful though because as with most tongs, they could scratch your pans if you get a little too crazy. 🙂
Another feature I enjoy is the three positions that can be used for actually holding and handling the tongs. They range from a narrow to wider fit, allowing everyone their own comfort level. Additionally, the multiple positions help you avoid that dreaded moment where you have been holding tongs a bit narrower than designed for…you go to set them down…and they subsequently spring open splashing food and sauces on whatever is within firing range. To close the Prepara Multi-position Table Tongs, simply push to lock. They offer total ease of use.
I have added the Prepara Multi-position Table Tongs to my Open Sky Store! If you buy them or already have them, I would love to hear what you think.