This site contains affiliate links. Please read our Policies for information.
Reservations are important when dining at any Disney park or property. The Makahiki Aulani Character Breakfast is no different, in fact, you'll want to make reservations well in advance! I make ours about two months ahead of time which seems to work well. If you fail to make reservations early enough, you may have to skip it altogether.

Planning a character breakfast at Makahiki at Disney's Aulani Resort and Spa? Be prepared with the best travel tips around!
We spent our fourth year at Disney's Aulani Resort this summer; being Disney Vacation Club Members is a blessing for our family because we get to surround ourselves in the Hawaiian culture and beauty while being pampered with Disney service. It's the perfect mix of elements for us and allows us to share travel experiences and travel tips with you, which makes it even more magical. This year we enjoyed breakfast with the characters and Aunt while at Aulani and hope these tips will help you if you have questions about the experience.
Arrival
When you first arrive at Makahiki for the character breakfast, you will wait in line in the Olelo Room.  This is where you check in and then stand in line to wait for a photo opportunity with Mickey or Minnie Mouse. Bring something to keep littles entertained because it can take a little while.
We recommend you get down here ten to fifteen minutes before your reservation time because this process takes a good fifteen minutes and if you have hungry kiddos, getting there early will help you get to the food that much sooner.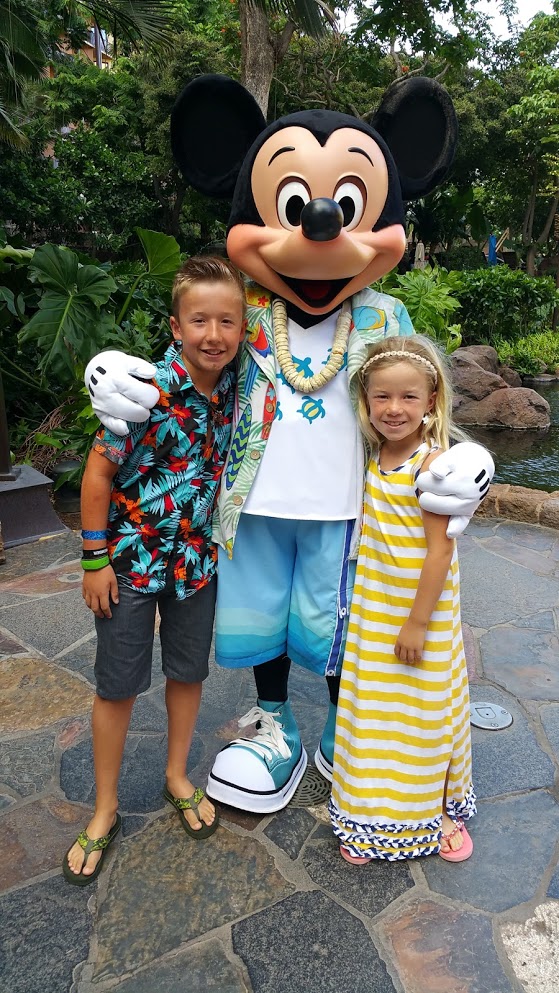 Photo Ops
Then it is time for your photo with Minnie or Mickey!  Don't forget to dress your kids in something beachy with a Hawaiian flare so you can take advantage of the photo opportunity!
How it Works
When you sit down at your table you are basically welcome to serve yourself at any time. There is a lot of food to eat so be sure you schedule your reservation for an early time when everyone in the family is hungry. Come on an empty stomach and put your money to good use.
The character breakfast with Aunty is very expensive for breakfast food; we made reservations the first year we traveled to Aulani and then skipped two years and just went this past year on our fourth trip. Honestly, we are all good and everyone agreed that we would rather dine at Ama Ama Restaurant which is actually a bit cheaper with killer views.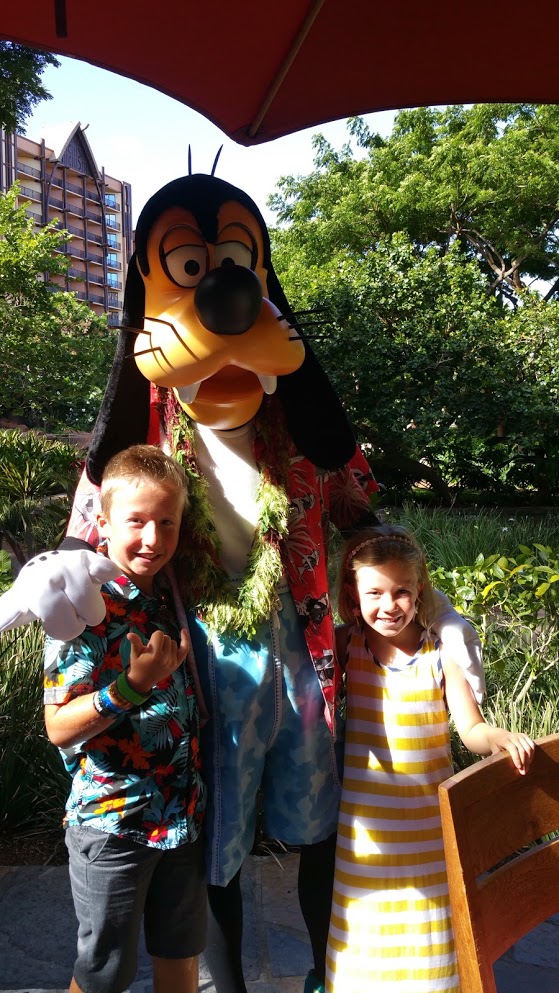 Final Thoughts
However, that being said, if you are traveling to Aulani and it is your first trip or you are unsure if you will return, make your reservations at Makahiki. It is a very special experience.
While you are eating Goofy will come to each table to visit your family which makes the entire experience SO much fun for children.  Aunty will also play songs and encourage the kids to get up and dance with her so make sure your kids are ready for fun.
And whatever you do, don't forget your camera!